There are some great deals at all kinds of stores this week!  What?  You didn't know that?  Well, check out Nicole's list of what's on sale this week and then you'll know!  And pick up some of that great produce on sale to make veggie trays, banana bars, blueberry cream cheese bread or just to munch on!
Using some of those sale items, here are some menu suggestions.
Main Dishes 
Oven Baked Barbeque Chicken Thighs – Chicken!  In the oven!  With BBQ sauce!  Get in my belly!  This easy recipe is quick to pull together.
Brautwurst – Don't have a grill?  No problem!  Bake them in the oven!  Growing up, I loved to dip my brautwurst in ranch dressing.  Try it – you'll like it!
Crockpot Chicken Tacos – This recipe is meant to make chicken for chicken tacos, but I like using any leftover chicken in Skillet Nachos.
Spaghetti Pie – My sister calls this Pizza Pie, but whatever you call it, it's a baked pasta dish that you can add all kinds of toppings to – whatever suits you and your family.
Pulled Pork Sandwiches – Just put it in the slow cooker and let it turn your house into an awesome smelling haven!
I'm always looking for good ways to serve vegetables – are you?  If so, here's a good one for you.  They're called Spanish Style Green beans and I don't know where I got the recipe, but it's a keeper!  They go well with lots of dishes, not just Mexican ones.  And this recipe doubles or triples really easily too – just keep multiplying the amount of beans and tomatoes that you use.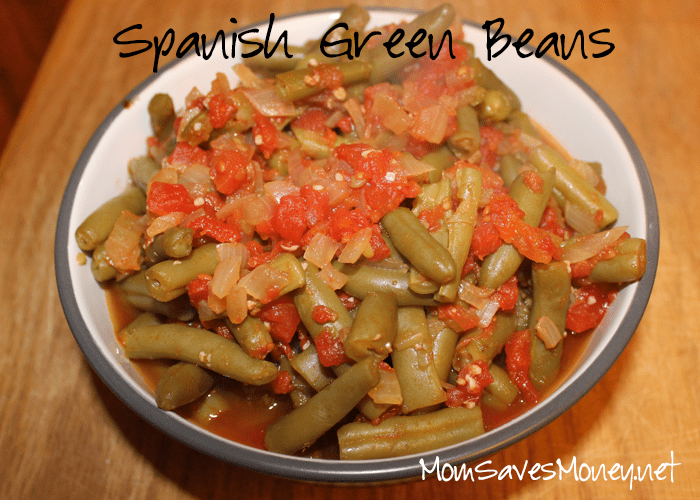 Spanish Style Green Beans
Ingredients
2

cans of green beans, drained (French style or cut – use cooked-but-used-to-be-frozen green beans instead, if desired)

1

can of diced tomatoes, not drained (I like the petite cut diced tomatoes myself)

¼ - ½

onion, diced

Garlic or garlic powder (optional, but yummy!)

Olive oil
Instructions
In sauce pan, put a little bit of olive oil on medium and start cooking the diced onion. Add in a little bit of garlic or garlic powder. Just for a couple of minutes to get them started softening.

Add in the green beans and tomatoes.

Stir.

Put the lid on and let cook for about 20-30 minutes. Stir occasionally.

Eat!
Jayme is a wife to 1 and a mother to two little boys and a third boy due in April 2015. She coupons, but isn't super extreme about it. She price matches and loves it! While she likes to cook, she's in the stage of life where simple is usually better! She never knows how many hands she'll have free at dinner time! You can find her at No Regrets Living.