Disclosure: Contains affiliate link
Okay – here's the last of my breakfast posts. At least for a while. Make sure you check out some of the other recent posts for other breakfast ideas, such as:
Banana Cake Mix Muffins
Freezer Ready French Toast Sticks
Pancake Bites
Sausage Breakfast Casserole
Freezer Ready Breakfast Burritos
Try a monthly menu plan if you're looking for more than just breakfast ideas.
Today's breakfast recipe isn't really a recipe at all, but more of an idea. Would you let your kids eat popsicles for breakfast? I do! Especially when they're homemade using yogurt, strawberries and juice! My 3-year-old loves popsicles, so for Christmas last year, I bought him popsicle molds from KidCo in hopes that it would be a good incentive for potty training. It wasn't. But it does make good breakfast popsicles! I've done 2 combinations so far: strawberry yogurt, strawberries, orange juice for the first one. The second one was vanilla yogurt, banana and orange juice.
There's no hard and fast rules with this one – make up whatever combination you want. And with these warm summer mornings, it's a good time to have breakfast on the back deck!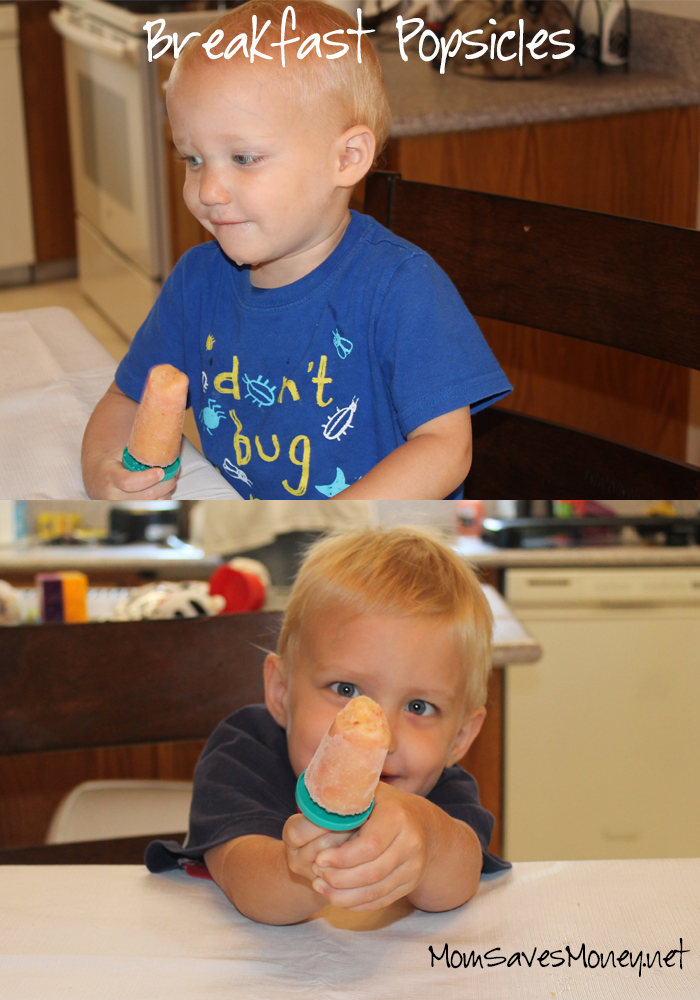 Breakfast Popsicles
Ingredients
Yogurt (any flavor)

Fruits (any kind)

Juice (any kind)
Instructions
Chop it. How much of each ingredient you want totally depends on how big your molds are and how many you're making. For the kid's size that I use, it only takes 1 small container of yogurt, a handful of fruit and just a little bit of juice.

Blend it. In a blender til liquid.

Pour it. Into the molds.

Freeze it. For at least a few hours.

Eat it. Grab a napkin!
Jayme is a wife to 1 and a mother to three little boys. She coupons, but isn't super extreme about it. She price matches and loves it! While she likes to cook, she's in the stage of life where simple is usually better! She never knows how many hands she'll have free at dinner time! You can find her at No Regrets Living.