The latest in my "Making Breakfast Easy" posts! This one is probably my favorite: French toast sticks! I'm a fan of French toast, but I rarely make it. And when I say rarely, I mean that I've made it once in the last 5 years. So, yeah, not often.
But these? These are awesome and really easy to make! When I have them in the freezer, I make them often because they are so easy. My toddlers (ages 1 and 3) eat 3 or 4 of them at a time. It'd be a lot of work to make French toast just for 1 or 2 slices. You can easily halve this recipe if you didn't want to make a lot, but I like to use the whole loaf of bread and then just keep them in the freezer. All told, it probably takes me 20 minutes and I get 10 days of breakfast out of them. Not bad at all!
And, oh yeah, need some recipes that are great for lunch or dinner too? Check out a monthly menu plan or lots of other recipes. It's never too late to be intentional about your menu and your grocery shopping!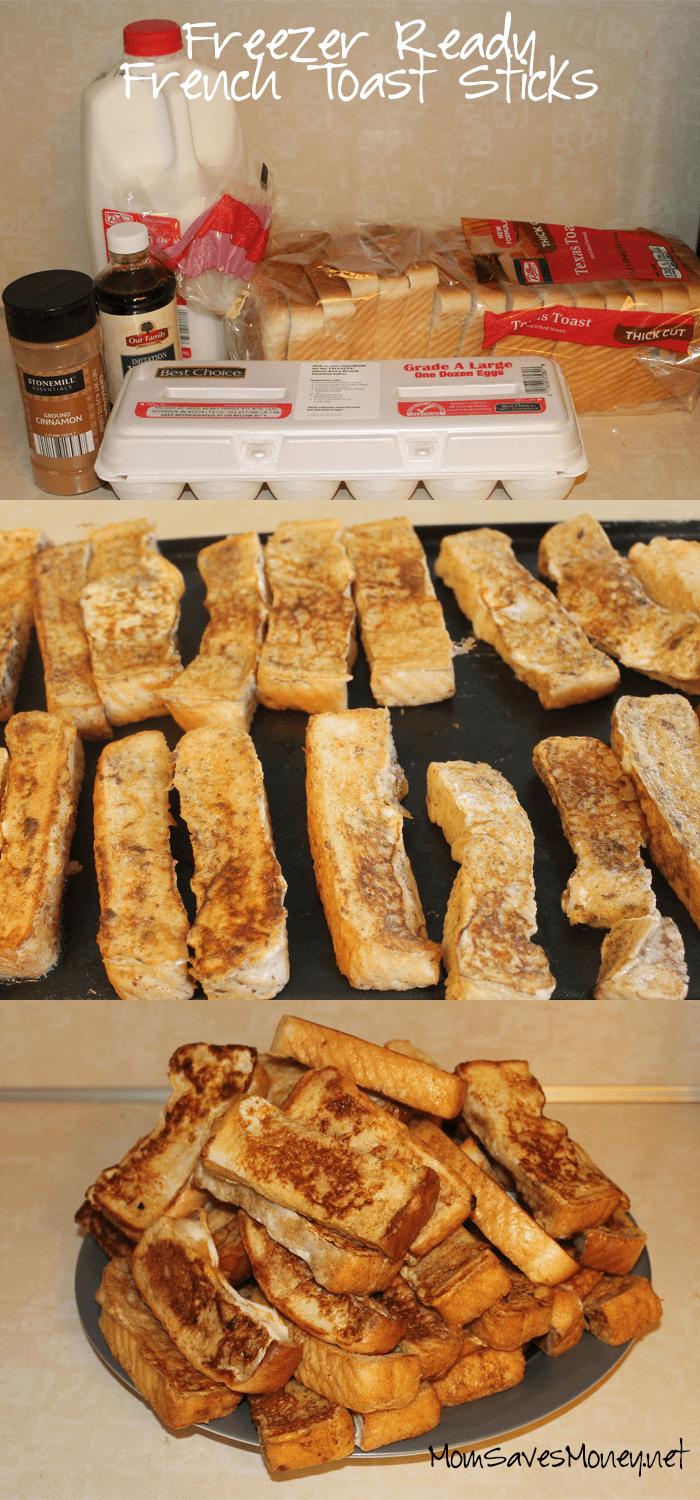 Freezer Ready French Toast Sticks
Ingredients
1

loaf Texas toast

8

eggs

1 1/3

cup

milk

2

tsp

vanilla

2

tsp

cinnamon

butter
Instructions
Slice each slice of bread into 3-4 sticks. I like 3 sticks per slice of bread to make sure they aren't too thin when you're dipping them.

Mix together the eggs, milk, vanilla and cinnamon.

Heat griddle to a medium-low temperature and heat butter on top of griddle.

Put slices of bread into the egg mixture and place onto the griddle until griddle is full.

Cook on each side until browned. Remove and set on a plate. Repeat cooking steps until all are done. It took me about 2 1/2 batches to do the whole loaf.

Eat warm with syrup for dunking!

To freeze: Lay cooked sticks on a greased cookie sheet such that the sticks aren't touching. Freeze for at least a couple of hours. Then put in a freezer bag. I microwave them for about 10-15 seconds (depends on how many I'm making).
Jayme is a wife to 1 and a mother to three little boys. She coupons, but isn't super extreme about it. She price matches and loves it! While she likes to cook, she's in the stage of life where simple is usually better! She never knows how many hands she'll have free at dinner time! You can find her at No Regrets Living.
Looking for more great breakfast recipes?

If you love this recipe, check out these: