Who here is a fan of Italian dishes?! I'll be honest…I'm not a big pasta gal. I'll eat it for sure, and it makes it's way into our meal plan on occasion, but it's just not my favorite. HOWEVER. We recently tried these slow cooker hot Italian beef sandwiches and wow. My husband took a bite and looked at me with raised eyebrows, "Ummm….this is DELICIOUS!" I guess you can't go wrong with hot meat and melty cheese on some toasted bread, can you?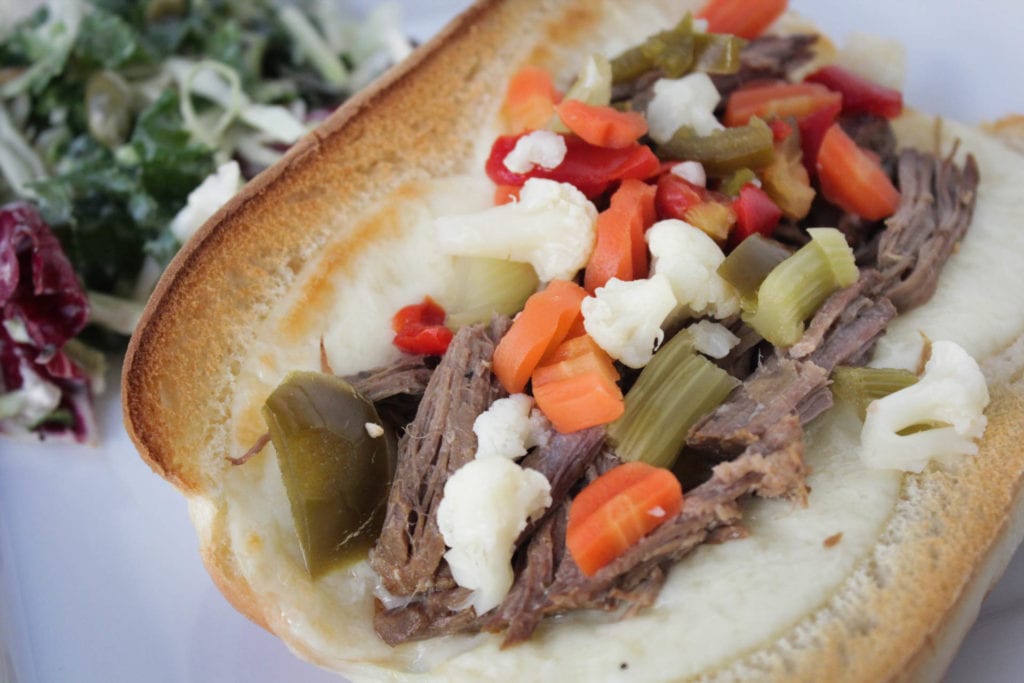 I've come to realize that sandwiches are my friend as the mom of young kids, but sometimes you really just need to branch out from your typical P,B & J or tuna melts. These were so easy, but felt more like we were getting take out. So classy enough for a casual stay at home date night, and easy enough for tired mom syndrome. It's not just me who wants a tasty dinner on the table in a hurry regardless of whether I'm feeding the whole family or just me and the hubs, right? This meal is that. You've got a few minutes of prep in the morning, a few more in the evening, and presto, dinner is served. It's hearty, it's filling, and it will tickle your tastebuds.
Toppings for Hot Italian Beef Sandwiches
I think my favorite aspect of it though is the toppings! I honestly think these are pretty similar to a philly cheesesteak, but we mixed it up this time and tried something new. I had never heard of giardiniera, but it intrigued me. Spicy pickled vegetables? Why not? I  confess, I was a bit skeptical when I saw it included cauliflower and celery….but, it was surprisingly good! Maybe I'm just biased because I love anything spicy, but it really added a delicious element to the sandwich. Feel free to add the toppings or your choice to this sandwich or just stick with meat and cheese. Anyway you serve it, this recipe is quick, easy, and delicious…you can't go wrong. Give it a try!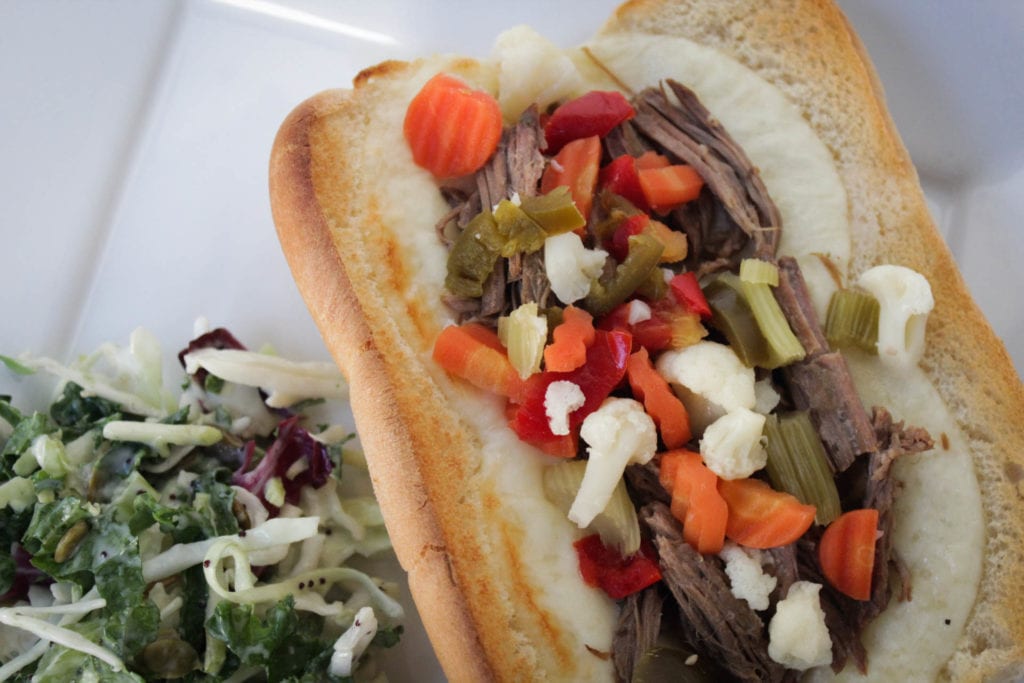 Looking for more hot sandwich ideas? Try these!
Hot Italian Beef Sandwiches
Cook the beef in the slow cooker and assemble the sandwiches for an easy dinner!
Ingredients
Slow Cooker Ingredients
3

lbs

beef chuck roast

trimmed and cut into chunks

3

tsp

minced garlic

2

tsp

dried oregano

1

tsp

dried basil

1

tsp

onion powder

1

tsp

paprika

1

tsp

garlic powder

1/2

tsp

red pepper flakes

1

tsp

salt

1/2

tsp

black pepper

3

cups

beef broth
Sandwich Ingredients
6

hoagie rolls

Provolone cheese slices

Giardiniera for topping
Instructions
Combine all the slow cooker ingredients and place in the slow cooker.

Cook on low for 5-6 hours until it shreds easily with a fork.

Place rolls on a baking sheet and layer each side with provolone cheese and broil until melty.

Top with beef and giardiniera. Serve and Enjoy!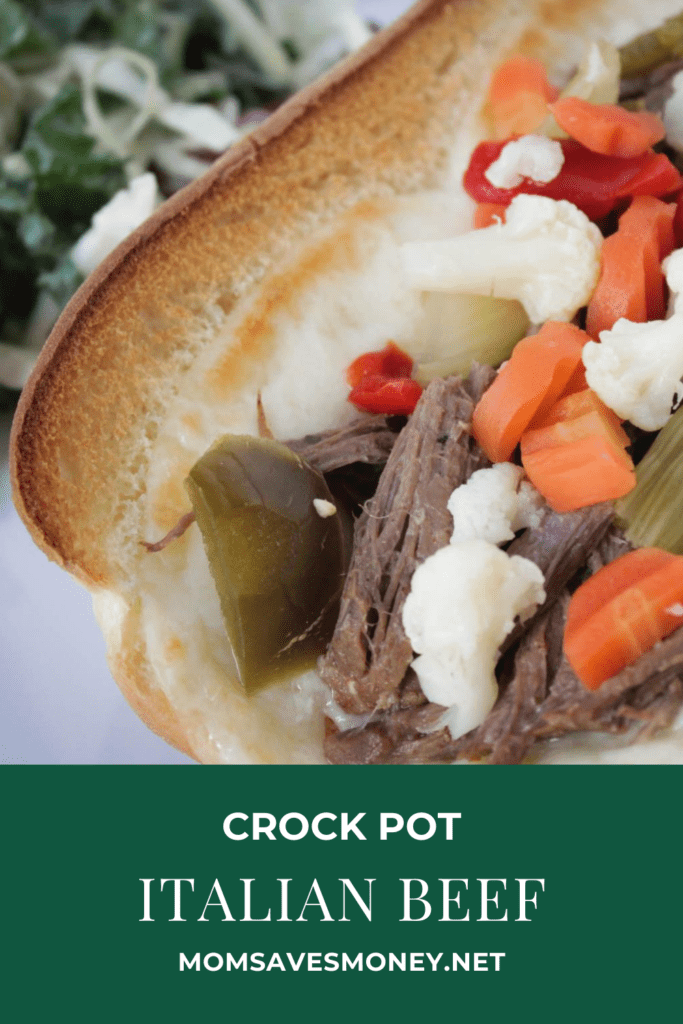 Jenny is a wife and stay at home mother of two. She loves good food, and enjoys experimenting in the kitchen. When she's not busy chasing kids, you can find her digging into a good book, enjoying the great outdoors, and trying not to kill her houseplants.