Are you a Manwich fan?  If so, making sloppy joes is really easy.  Just add cooked ground beef to the sauce and you're done!  The problem is that I've experienced homemade sloppy joes that I like much better.  I like when I find homemade recipes that are still really quick & easy to pull together.
To me, the biggest reason to make something homemade is because you can control the taste.  From the amount of spice to the quantities to ratio of meat to cheese – whatever the recipe calls for.  That's how sloppy joes are for me.  I like a sweeter sloppy joe, but still with some kick!
How to Make Sloppy Joes
Even though I've called it Slow Cooker Sloppy Joes, you don't have to actually make it in a slow cooker. It's just that you can make them in a slow cooker.  If you want something quicker, you can combine the ingredients in a big pan and let it heat up for about 20 minutes – it'll be great!  I just like the ease of the slow cooker and I really like the way flavors marinate over the course of a few hours. If you don't have a few hours, you can make these Sloppy Joes in the Instant Pot pressure cooker in about 30 minutes.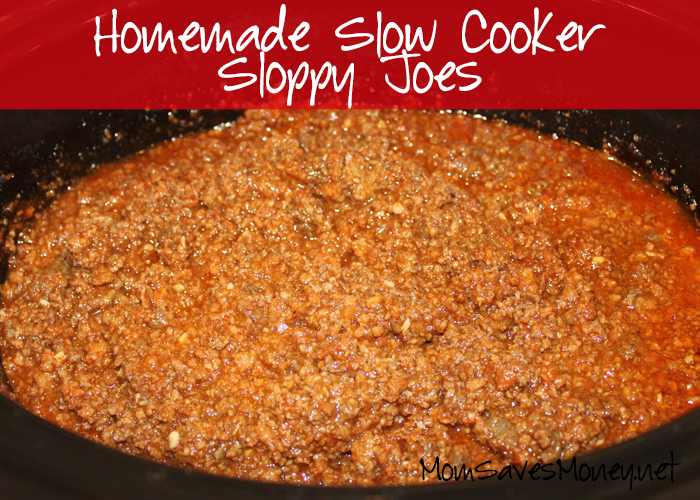 How to Freeze Sloppy Joes
As always, you can double or triple the batch and store some away in the freezer for another day! To freeze, cool completely or leave in refrigerator overnight before storing in freezer-safe bags or containers. If using bags, lay them flat in the freezer so they can be stacked for easier storage.
Use frozen sloppy joes within 2-3 months for best quality. To reheat, defrost overnight in the refrigerator, remove from bag, and reheat in microwave. Or, if you need a quick dinner, remove the frozen sloppy joes from bag and use the defrost setting on the microwave. 
Got more groud beef? It's easy to bulk cook and freeze or try one of these 50+ recipes with ground beef! 
Slow Cooker Sloppy Joes
Easy, homemade Sloppy Joes made in the slow cooker!
Ingredients
2

cloves

garlic, minced

1

pound

ground beef

1/2

onion, diced

1/2

green pepper, diced very small (optional)

8

ounces

tomato sauce

1/2

cup

ketchup

1

teaspoon

mustard

1/4

cup

brown sugar

2

tablespoons

Worcestershire sauce

1/2

teaspoon

garlic powder

1/4

teaspoon

onion powder

salt & pepper, to taste

1/8

teaspoon

red pepper flakes(optional)

Hamburger buns
Instructions
Brown beef with garlic and onion. Add in the green pepper, if using. Cook until beef is done and drain grease. (Or grab a pound of already cooked beef from the freezer!)

In slow cooker, combine the beef/onion/green pepper mixture with the tomato sauce, ketchup, mustard, brown sugar, Worcerstershire sauce, garlic powder, onion powder, salt & pepper. Add in the red pepper flakes, if using.

Cook on low for 2-4 hours, stirring every once in a while.

Serve on hamburger buns.

To freeze, put into individual freezer-friendly bags and let cool. Once cool, lay them flat in a freezer until frozen, then you can stack them. Make sure you label them!
Jayme is a wife to 1 and a mother to three little boys (soon to be 4!). She coupons, but isn't super extreme about it. She price matches and loves it! While she likes to cook, she's in the stage of life where simple is usually better! She never knows how many hands she'll have free at dinner time! You can find her at No Regrets Living.