This is a "soup" that really wants to be a stew.  How do I know that?  I know that because I came up with it based upon my favorite beef stew recipe.  I love, love, love my beef stew recipe, but I came up with this recipe when I was pregnant.  When I'm pregnant, I often lose my taste for meat.  It just doesn't appeal to me.  But veggies?  Love em!  Barley?  Love it!  A thick, home cooked soup?  Love it!
So I tried making this beef-less stew recipe and I've been so pleased with the results!  Made without the beef, it's definitely a more frugal recipe, but because it's so thick and hearty, it's still very filling!  I don't miss the meat at all.
And it works great in freezer – just freeze the "leftovers" and reheat when you're ready to enjoy!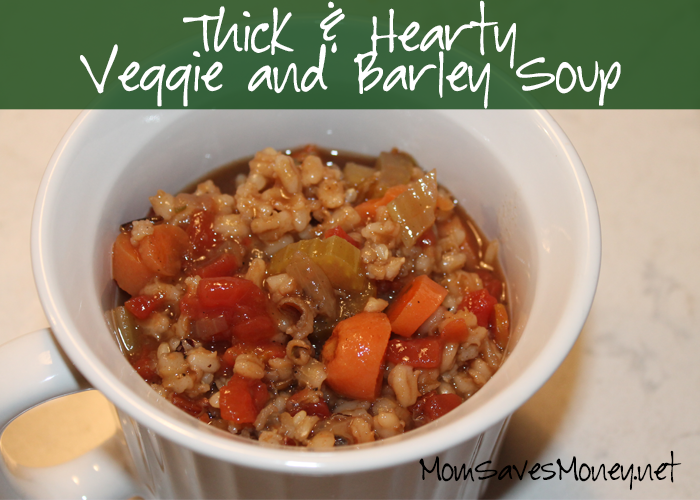 This soup does take a while to make – but that's what makes it so good.  The flavors simmer for a good while and the seasonings really make the soup sing!  The barley and wild rice are optional, but I really, really, really recommend the barley.  It might seem expensive at the store, but a small bag will make you several batches of soup.  It's just delicious!  I do have a hard time finding it in Omaha, but Bakers usually has it.
Thick & Hearty Veggie and Barley Soup
Ingredients
64

ounces

beef broth (8 cups)

1

onion, chopped

2

teaspoons

Worcestershire sauce

1

teaspoon

thyme

1

teaspoon

oregano

2

bay leaves

salt & pepper, to taste

1

(14 ounce) can of diced tomatoes, undrained

1

cup

celery, chopped

2

cups

carrots, chopped

1

cup

water

1/2

cup

barley (optional, but I love it!)

1/2

cup

wild rice (optional as well)
Instructions
In a large stockpot, bring broth, onion, Worcestershire sauce, thyme, oregano, bay leaves, salt & pepper to a boil. Reduce heat and let simmer for 90 minutes.

Add tomatoes, celery, carrots, water, barley & rice. Return to boiling, then cover.

Reduce heat and let simmer for 1 hour or until veggies are tender. Add more water if "too thick".

Remove bay leaves and serve!

Freezer directions: Let cool and and put in freezer-friendly bags. Make sure you label the bags! Lay flat in the freezer until frozen, then you can stack the bags.
Jayme is a wife to 1 and to four little boys. She coupons, but isn't super extreme about it. She price matches and loves it! While she likes to cook, she's in the stage of life where simple is usually better. She never knows how many hands she'll have free at dinner time. You can find her at No Regrets Living.