This was our dinner conversation the other night:
Jeff: "So….when are you making this again?"
Finn (age 5): "Mmph.  Mmph. Munch. Munch."
Stephen (age 3): "Chew. Chew. Chomp. Chomp."
Sam (age 2): "Yum.  Yum.  Yum."
Ben (age 1): "hmmmm…" while doing the "more-more" baby sign language sign.
Me: "I don't know.  I figured we should finish eating this dinner first before I plan future ones."
Jeff: "Well, we should definitely have this again.  It's great.  This sauce is awesome. You could say it's awesomesauce."
What was it that I was serving, you ask?  Well, you'll have to wait for that to be revealed.  But the key to making it (that awesome thing that I'll tell you about later) was this enchilada sauce.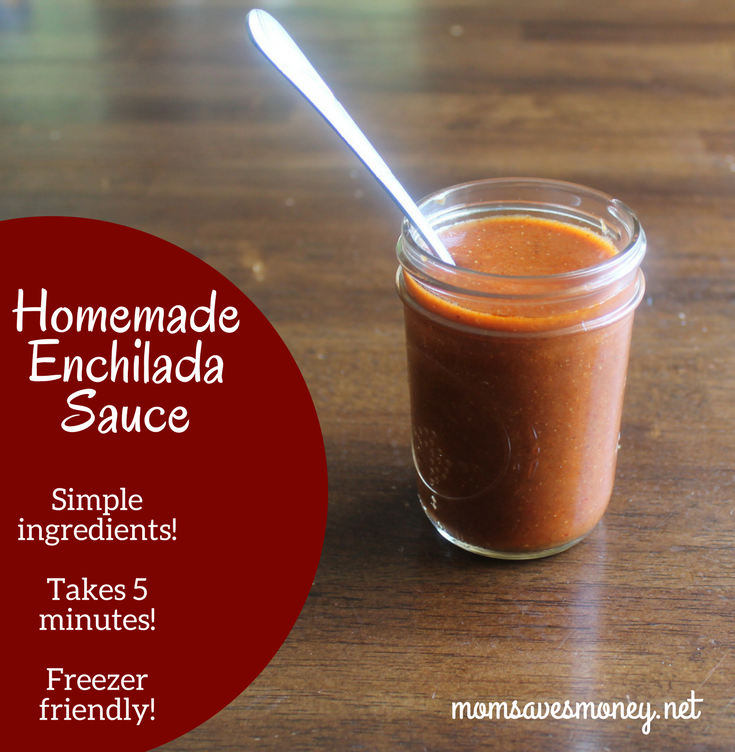 I got a thing for Mexican food.  I make a lot of it around here as I like it and my family eats it well.  From tacos to taco salad to fajitas to nachos to enchiladas – we like lots of it!
But, until lately, I haven't made much with a red sauce.  My current chicken enchiladas have a white (cream) sauce.  Mostly because I haven't found a canned enchilada sauce that I love, ya know?  I go to Mexican restaurants and I order things wtih a red enchilada sauce, but I haven't been happy with anything that I've made at home.
My trial and (subsequent) errors have kind of made me feel like Goldilocks from The 3 Bears.  "This sauce is too spicy".  "This sauce is too bland".  So I decided to give up the search for a good-for-Jayme canned enchilada sauce and instead, direct my efforts towards a good-for-Jayme homemade version.  It took a few tries, but I got a recipe that I love now.  And I love making things with it (as you'll see later!).
It really is awesomesauce!
Homemade Enchilada Sauce
This makes a pretty big batch - the equivalent of 3 cans of sauce. Freezes really well.
Ingredients
4

Tablespoons

vegetable oil

4

Tablespoons

flour

4

Tablespoons

chili powder

4

cups

broth (chicken or vegetable) - can substitute water

6

ounces

tomato paste

1

teaspoon

cumin

1

teaspoon

garlic powder

1/4

teaspoon

cayenne pepper (can adjust to make it more spicy)

1/2

teaspoon

salt
Instructions
In a large saucepan, mix oil, flour, chili powder until smooth. Heat until boiling slightly.

After a minute, add in broth, tomato paste, cumin, garlic powder, cayenne and salt. Let it simmer for a bit.

As it simmers, it'll thicken. Remove from heat when as thick as you desire. Taste to see if more salt is needed.
Notes
This is a fairly mild sauce, so if you like your enchilada sauce to be more on the wild side, add more cayenne pepper.
Jayme is a wife to 1 and to four little boys. She coupons, but isn't super extreme about it. She price matches and loves it! While she likes to cook, she's in the stage of life where simple is usually better. She never knows how many hands she'll have free at dinner time. You can find her at No Regrets Living.