Woo Hoo!  It's Baker's Mega Sale time!  For me, that's my time to stock up on Kraft Mac & Cheese Shapes!  I don't care which shapes, but its one of my favorite snacks – for myself!  I'm weird like that.  Anyway, check out what's on sale this week and maybe consider one of these main dishes:
Main Dishes
Spiral Ham – This would be wonderful for Christmas, but in case you can't wait, pick up a ham at Aldi's and give it a try!
Tuna Noodle Casserole – Put the cream of mushroom soup that's on sale to good use!  This is a total comfort food for me.
BLTs – It might not be a typical fall meal, but bacon and bread are on sale.  Add some tomato and lettuce and you have BLTs!  You can also add turkey lunch meat to make BLTTs!
Spaghetti Pie – Pasta's part of the Baker's Mega Sale and this recipe is a winner!  Easy to make, easy to freeze, this is a great time!
Cheesy Sausage & Potato Hash – Also, a comfort meal!  Only a few ingredients and easy to whip up.
When I'm grocery shopping, I like to check the "about to expire" bread section.  Occasionally, there are loaves of French bread or even garlic bread there.  When there is a loaf, I pick up one and freeze it for later.  But often, I just turn regular bread into garlic bread.  I've done it with hamburger buns, hot dog buns, hoagie buns or even regular slices of bread.  Just add butter, garlic powder and cheese!  It's a great way to use up a couple of leftover buns and very little prep time is needed!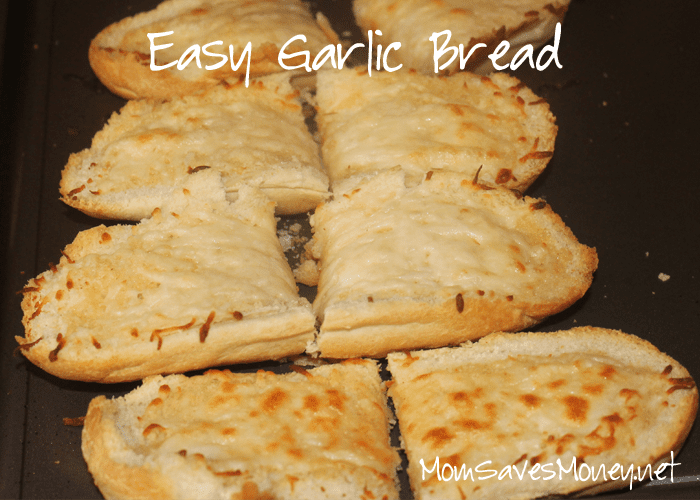 Easy Garlic Bread
Ingredients
Bread (hamburger, hoagie, hot dog buns or sandwich bread, can even mix & match)

Butter (room temperature)

Garlic powder

Shredded cheese (Mozzeralla, cheddar, colby jack, whatever you want)
Instructions
Preheat oven to 350 degrees. (You can also go higher if you're baking something else at the same time, just adjust the baking time.)

Butter one side of the bread or bun.

Sprinkle garlic powder on top of the butter.

Sprinkle the cheese on top of the bread.

Lay buttered side up on a cookie sheet.

Bake for 7-10 minutes. Might not take as long if you use a higher temperature.
Jayme is a wife to 1 and, so far, a mother to two little boys. She coupons, but isn't super extreme about it. She price matches and loves it! While she likes to cook, she's in the stage of life where simple is usually better! She never knows how many hands she'll have free at dinner time! You can find her at No Regrets Living.