This post was sponsored by the National 4-H Council as part of an Influencer Activation for Influence Central and all opinions expressed in my post are my own.
Eating nutritious foods and meals is essential for good health. It's easy for our family to eat fresh produce in summer and early fall when it is in-season, readily available and more affordable. When the garden freezes, farmers markets close and prices skyrocket in the grocery store it can be challenging to eat enough fruits and vegetables, especially on a budget. I will share my tips to eat healthy even in the winter months, but first I want to talk about an important program.
Did you know there are 16 million children living in US households that are food insecure, meaning they don't have consistent access to food through the year? This breaks my heart and I'm so thankful for the 4-H Food Smart Families Program. 4-H is helping families that need it most by empowering youth and families with knowledge.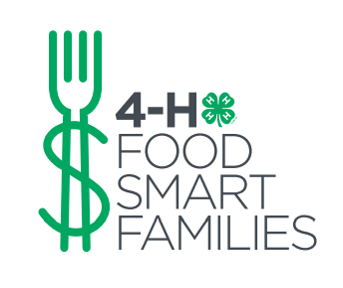 4-H Food Smart Families helps families bring more affordable and nutritious foods into households through education.  In this program, youth and families eligible or receiving SNAP and/or WIC are provided with nutrition education, cooking skills and food budgeting skills.  Since 2011, 4-H and UnitedHealthcare have educated more than 340,000 youth and their families in 14 states. Check out this infographic below to learn more and see how their program benefits communities.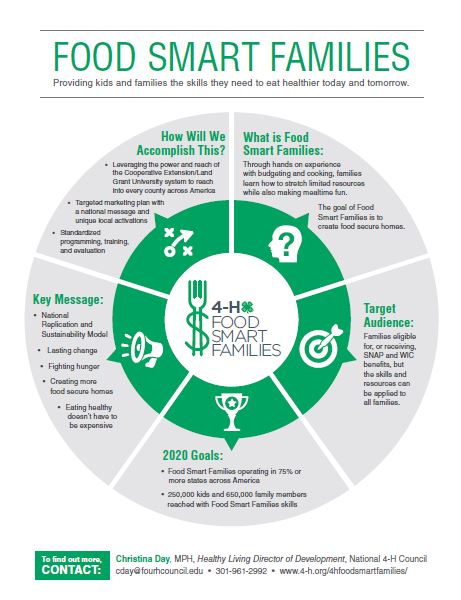 I want to raise my kids with lifetime healthy eating habits. One way I do that eating a family dinner together every night and always serving produce. Sometimes I sneak veggies into casseroles or stir fry and other times I offer a veggie or fruit as a side. I want to ensure my family is getting good nutrition, but I also understand fresh produce can be very costly in the winter. Here are some tips on what we do to eat healthy on a budget in the winter months.
How to Eat Healthy in the Winter on a Budget
Stock up on canned & frozen vegetables
Usually around the holidays there are stock up deals on canned and frozen vegetables. I always stock up when the cans are $0.40 each or less and the frozen bags are $0.85 or less. I can easily prep a vegetable side dish with any meal using my stockpile.
Buy in bulk
When produce is in-season you can buy in bulk and preserve it to enjoy through the winter months. For quicks nI regularly dehydrate bananas, apples and pineapples when they are at their lowest prices. I also freeze berries to use in recipes and smoothies.  My kids help with the preservation process and it's a fun family activity that is teaching life skills. (My youngest son loves lining up all the fruit on trays for freezing or dehydrating.)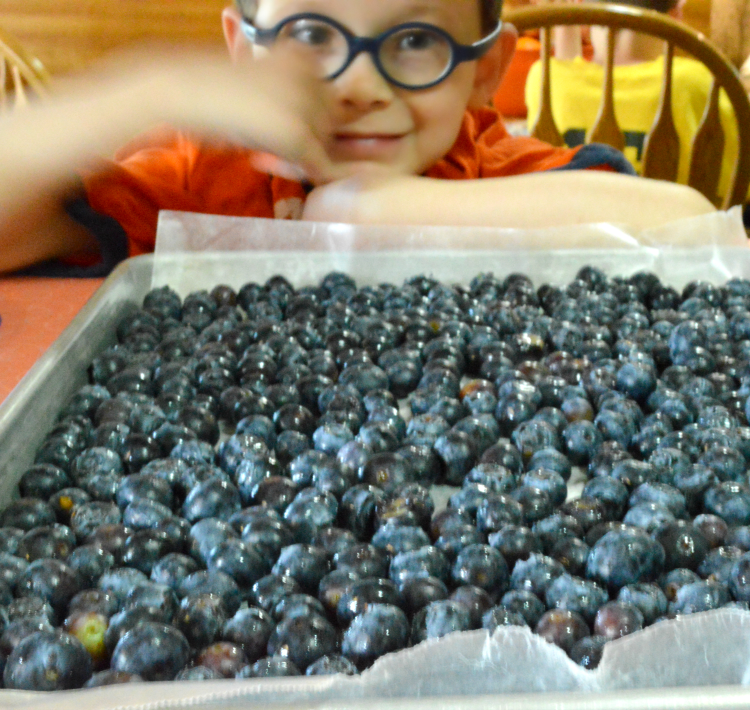 More citrus
Citrus is one produce item that is in-season during the winter and prices tend to drop. My kids love clementines so I buy those in the winter as our fresh fruit option. I've found if I have fruit that is easy to grab on-the-go my kids are more likely to choose it for a snack. The small citrus fruits are easy to peel and my kids devour them.
Look for markdowns
Some stores will mark down close dated produce up to 50% off. If you know your family will eat the produce before it goes bad this is a great way to save big bucks at the grocery store. Almost every grocery trip I pick up a close-dated salad to enjoy with the family that night.
Participate in a food coop
Some locations offer year-round food coops for produce. I personally use Bountiful Baskets and love getting a variety of produce for under $20 every other week. Through this program I can also buy some produce in bulk at great prices.
I hope these ideas help your family eat more produce during the winter months. Check out more tips to encourage healthy eating habits.
Learn more about 4-H and the 4-H Food Smart Family Programs:
4-H Food Smart Family website – https://4-h.org/get-involved/partners/foodsmartfamilies/
4-H on Facebook – https://www.facebook.com/4-h
4-H on Twitter – https://twitter.com/4H
4-H on Instagram – https://www.instagram.com/national4h/
4-H on YouTube – https://www.youtube.com/user/national4H
What other ways does your family eat healthy on a budget in the winter months?