Editor's Note – Updated April 2021. 
Some of you may know I actually live in Bellevue, Nebraska just south of Omaha. What you may not know is that our town of 50,000+ residents has some AMAZING locally owned restaurants. In fact, most of the restaurants in Bellevue are locally owned and it was really hard to narrow it down to only 10 of my favorites.
These are our family favorite restaurants and I encourage you to take the short drive out of Omaha to try some of the amazing food Bellevue has to offer.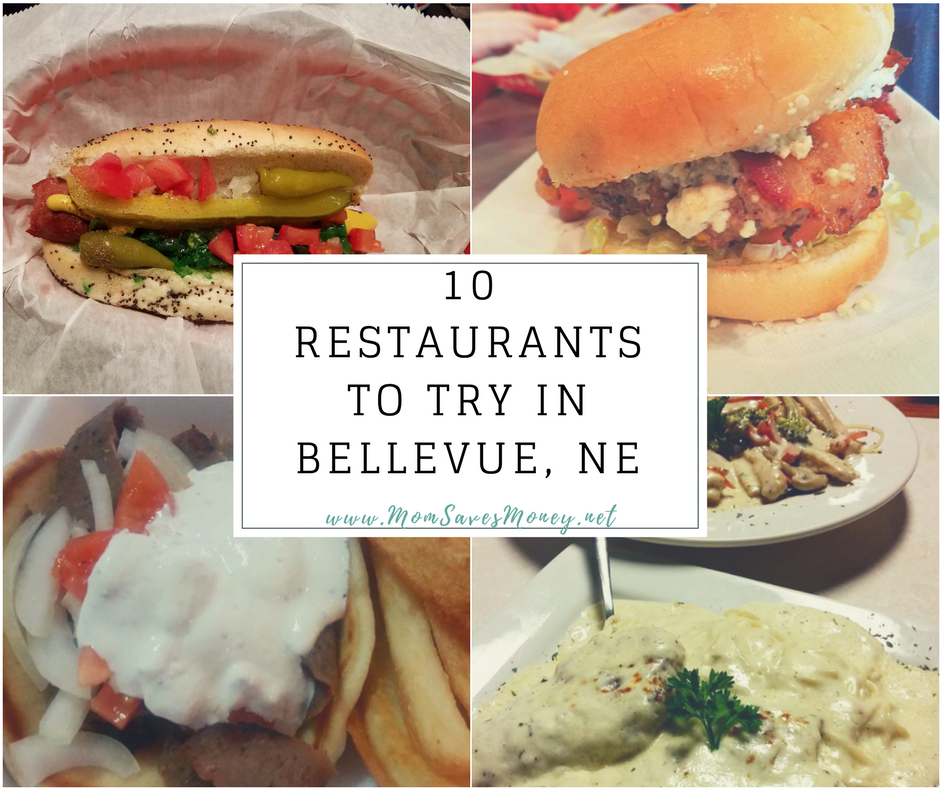 The Best Locally Owned Restaurants in Bellevue, Nebraska
Umami Asian Cuisine – Located on Galvin Road, Umami offers sushi, hibachi and Asian cuisine. With an extensive menu with authentic Japanese and Chinese, this is a must try restaurant in Bellevue. Check out their discounted lunch menu and satisfy your sushi cravings!
For the Love of Food Truck – This is actually a food truck, not a sit down restaurant, but is one of my local favorites open for breakfast and lunch most days. The food is amazing! If you love biscuits and gravy, this is a must try at this food truck with homemade biscuits and real eggs. For lunch, enjoy a scrumptious burrito the size of your arm. I'm not kidding, these burritos are HUGE and made with fresh ingredients daily. You will find them parked at the corner of Galvin Rd S & Harlan Dr in the O'Reilly Auto Parts parking lot just South of the Walgreens. Check their Facebook page for their daily specials.
Golden Bowl – If you love Chinese food, you need to try Golden Bowl. They recently moved to a larger location on Ft Crook Rd where Lums used to be. Try their house specialty honey walnut chicken for lunch or dinner.
John's Grecian Gyros – John has been making authentic Greek gyros for over 30 years at Southroads mall. Even though most retail stores have left that old mall on Ft Crook, John's restaurant remains on the lower level. There are no signs to this restaurant, so it's definitely a hidden gem in Bellevue. Just park in back of the mall and follow your nose downstairs.
Papa Reno – If you are craving pizza, you need to try Papa Reno's now located off 36th St and Hwy 370. My husband loves their crust and unique topping options. I've heard their pork tenderloin subs are amazing.
Roma Italian Restaurant – Enjoy delicious Italian food at this restaurant just off Ft Crook Rd. They have lunch specials during the week and their rolls are amazing. Their food is rich and filling and they have a large, recently renovated dining area to accommodate a crowd or enjoy a cozy, romantic dinner.
Stella's – Stella's has been an integral part of the Bellevue foodie community since 1936 winning numerous awards and is on my top 10 lists of restaurants to try in Nebraska. There are no frills here with scrumptious burgers served on napkins (just look at the pic below and drool). Get there early or be prepared to wait for a table. Stella's is a very popular place to eat in Bellevue, but I promise you, it is worth the wait.
Swine Dining BBQ – This amazing BBQ joint is located in Old Towne Bellevue off Mission Avenue and is must try for meat lovers. Grab a BBQ meat sandwich or enjoy a full slab of ribs and make sure to try their corn bread. It's so delicious.
The Special – If you love home cooked comfort food try the Special just off Ft Crook Rd. Their chicken fried steak with country gravy is my favorite, but they also have some delicious sandwiches and burgers. Make sure to check their daily specials and desserts.
Uptown Bakery – If you are in the mood for donuts or a sweet treat, check out Uptown Bakery off Ft Crook Rd just north of Cornhusker Rd. This is my kid's favorite place to visit on the weekend for breakfast.
All of these restaurants mentioned are locally owned and you will often meet the owners working when you visit. When you support local businesses, you are supporting your community and helping other families live their dreams as small business owners. Make sure to check out these restaurants on your next visit to Bellevue. You will not be disappointed.
Note – This is not an all-inclusive list since there are many more popular locally owned restaurants in Bellevue, including Quick Bites Soul Food, Jade Palace, The Lodge, Big Mike's BBQ, Ixtapa Mexican Grill, Cubby's, American Heroes, Golden Dragon, Catfish Lake, IPHO #1 The Noodle House, Luigi's and more. This list is comprised of local restaurants I've personally tried and love and I hope you do too.
What is your favorite locally owned Bellevue restaurant?