Bellevue has some amazing fun for kids! Our city of 50,000+, just South of Omaha, has unique and exciting places to visit. I've raised all three of my kids in Bellevue and here are 16 places we enjoy visiting as a family. Next time you're wondering what to do with the kids in Bellevue, check out this list!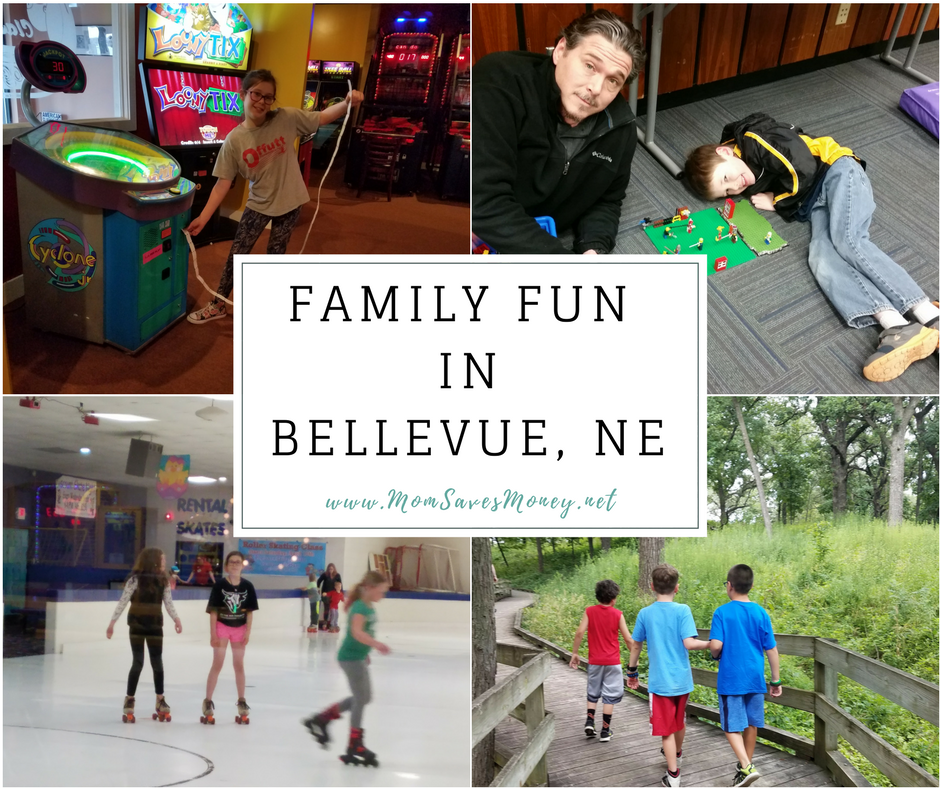 Bellevue Berry Farm & Pumpkin Ranch – Pick in-season strawberries, red raspberries and blackberries. During Halloween season, visit the Great pumpkin roundup and play outdoors, take a hayrack ride, and pick your own pumpkin.
Bellevue Early Childhood Center (ECC) – This amazing and free play area on Hwy 370 and Ft Crook Rd in Bellevue is for children ages 8 and under who live in the Bellevue Public school districts or are active duty military families. This educational center features two indoor play areas with gross and fine motor skill activities and a beautiful outdoor play area. Spend the morning or afternoon at ECC with your kids and check out toys and resources to enjoy more fun at home. My kids and I spent many hours playing at the ECC in Bellevue.
Bellevue Farmer's Market – The Bellevue Farmer's market is every Saturday from 8am-noon during season. Located at Washington Park at 20th & Franklin, the market features local vendors and produce growers, and free music in the gazebo from 9am-11am. Kids can enjoy the multiple play areas at the park and special events. In the past, my kids have enjoyed pony rides, a petting zoo and bounce houses at the weekly Farmer's Markets.
Bellevue Public Library – The library is my favorite place to be in Bellevue with an outstanding children's department with fantastic programs, including arts & crafts, Book Bingo, Pawsitive Reading (reading to dogs), Lego play time, story times, and more. In the summer, kids can participate in their reading program and earn fun prizes. If you're not visiting the Bellevue library, you are missing out on an amazing and free resource. Check out the video of some fun we have had at the library.
Bellevue Public Pools – Bellevue has four public pools open during the summer and located throughout the city. Pools include Cascio (1500 Lawrence Lane), Dowding (14th & Washington Streets), Gilbert (29th Avenue & Jackson Street), and Sun Valley Pool (52nd and Aspen Drive). Gilbert pool was recently renovated and fun water structures were added in their zero entry area for little ones. This pool also features two fun water park style slides and a poolside basketball hoop.
Bellevue Splash Pad – Our community fundraised for several years to bring the first splash pad to Bellevue. It is located Banner Park in Northwest Bellevue, just west of 50th and Virginia Street. The park features an interactive splash pad, covered picnic area, park, and walking trail. This is a fun and free activity on hot summer days.
B&B Classic Dogs – B&B Classic Dogs is a locally owned restaurant featuring yummy gourmet Nathan hot dogs and a fun arcade for kids. All the machines take quarters, so need for a fancy card or special tokens. Mom and dad can enjoy sports games on their multiple TVs or play Keno while the kids enjoy some classic video games and arcade fun. This is a popular spot for birthday parties in Bellevue.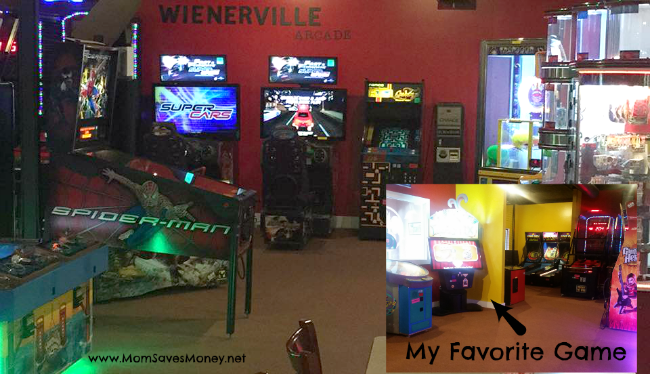 Chick-fil-A Indoor Play Area – The local Chick-fil-a on 20th and Cornhusker Road has a fun indoor play area for little ones. Grab a meal or some ice cream and let the kids run off some steam in this free play area.
Fontenelle Forest – Enjoy the great outdoors with miles of hiking trails and an educational center located in Eastern Bellevue near the Missouri river. The forest has a 1-mile stroller friendly boardwalk that is great for some fresh air and a walk with kids. Bonus, when it's hot outside the canopy of beautiful trees keeps you cooler during your walk. Kids can play in their outdoor area featuring a treehouse, climbing areas, building blocks, and xylophones. Make sure to check out the basement designed for kids with educational displays and an indoor play structure. I love going here during bad weather to let the kids climb and burn off some energy. For a small fee, you can join their Mud Pies program with your children 5 and under featuring a weekly natural science topic with station-based activities, free play, and a guided walk. Check out our video about Fontenelle Forest.
Gifford Farm Education Center – This is an educational, working, 400-acre farm in the Fontenelle Forest area. This is a very popular place for classroom outings and they average 30,000 students visiting every year. The farm is open for educational tours and farm animal encounters during their Fun Family Saturdays. They also offer birthday parties for kids ages 8 and up.
Leopard Lanes – Lace up your bowling shoes for some old fashioned fun on the lanes. Leopard Lanes also offers birthday parties, a small arcade, keno, and food. Check their website for specials.
Lied Activity Center – Located on Hwy 370 and Ft Crook, the Lied Activity Center will help keep your family active. For a low yearly fee, you can have access to their gym, indoor track, youth programs and swimming pool. They have open swim times at their indoor zero depth entry pool for an additional cost.
Marcus Theatres at Twin Creek – Catch the latest flicks at Bellevue's movie theatre. They have many specials, including $5 Tuesday (with free popcorn), $6 student admission on Thursdays, and a military discount. Check their calendar for family fun days when new kid's movies are released. They also offer birthday parties.
Public Parks & Trails – Did you know Bellevue has over 30 parks for kids to enjoy? Check out this guide and click on each park to see location and what each one offers. One of our favorite trails that offers miles of fun is in Bellevue. We usually park in the lot behind Culver's off 36th St and the kids can ride their bikes with us on the scenic trail.
Sarpy County Museum – If your kids go to school in Bellevue, they have probably visited the Sarpy County Museum with their class. The oldest still standing train depot in Nebraska is adjacent to the museum. The museum is a great educational outing with the family. Best part is admission is free.
Skate City – Lace up your skates and hit the skating rink at Skate City just off Ft Crook. If skating is not your thing, enjoy their arcade style games, grab a pizza or let your little one play in their jungle gym. Skate City also offers kid's birthday parties, roller hockey leagues and skate lessons.
These are our favorite places to visit in Bellevue. Hope your family has some great fun in our city!
What is your favorite place to visit with kids in Bellevue?