Years ago (at least a couple of decades ago now), my grandma used to hand out homemade popcorn balls to Trick-or-Treaters on Halloween night.  She'd probably spend a good portion of her day making them.  She'd wrap them individually and include her name and address on them.  Most of her trick-or-treaters were from her neighborhood and probably felt safe eating them.  These days?  Times have changed. You can't even bring homemade treats to the classroom anymore!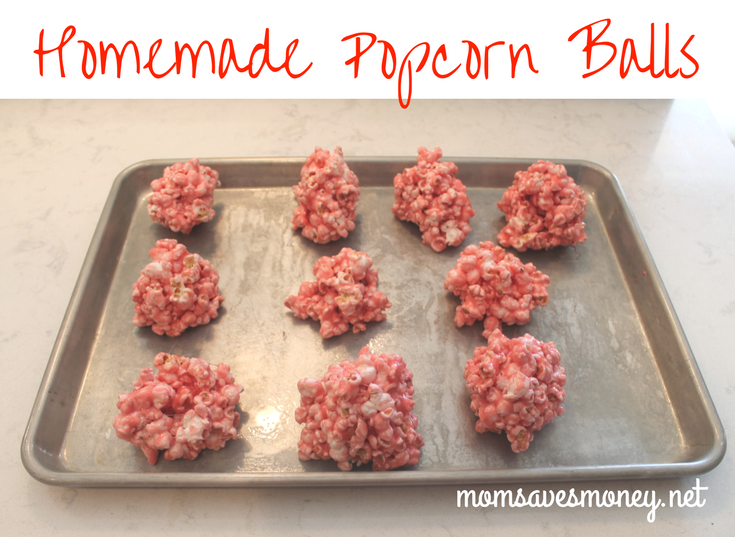 What hasn't changed is that these popcorn balls are FUN!  They're colored and flavored from Jell-o so you can make any flavor that Jell-o comes in.  Make red & green ones for Christmas.  Red, white & blue ones for Independence Day.  Green ones for St. Patrick's Day.  Match a birthday party theme.  Lots of options there!
I made a batch over Christmas to give to our neighbors that have 5 kids and for our friends who were visiting over Christmas break.  I pop my own popcorn on the stove using coconut oil & popcorn seeds, but you can use store bought.  If you use store bought, just make sure you don't get a flavored one.  And if you can, get salt-free as it will seem a little out of place in a popcorn ball.

Homemade Popcorn Balls
Ingredients
9

cups

popped popcorn (stove popped is best, no flavorings like salt or butter)

1

stick of butter

10

ounces

marshmallows

1

small package of Jell-o (any flavor)
Instructions
Pop popcorn. Put into a large bowl.

On the stove, melt the butter and marshmallows together. Really low heat, stirring often.

When melted, add the Jell-o. Mix it in.

Pour over popcorn. Mix it in. Really quickly.

Let it cool just a bit - it will be very hot! Spray a cookie sheet with baking spray.

Form the popcorn mixture into balls. I like to put butter or cooking spray on my hands so it doesn't stick too much. Put on cookie sheets.

Wait til completely cooled and set (30 minutes), then wrap with Saran Wrap.
Recipe Notes
If you're going to err anywhere, be overly generous on the amount of popcorn you use and be stingy on the marshmallows. You don't want them to be too sticky.
Kids will probably want to help you make these, but be careful. Sometimes the mixture can be really hot.
I usually get about 10 popcorn balls, but I don't make them very big.  How big you make them will determine how many this makes.
If you use a green or a yellow color, you may want to add food coloring to the mixture so that the color is more vibrant.
Jayme is a wife to 1 and a mother to four little boys. She tries to coupon, builds a smart stockpile, and always meal plans. While she likes to cook, she's in the stage of life where simple is usually better – she never knows how many hands she'll have free at dinner time! You can find her at No Regrets Living.