Many, many moons ago (many years ago, in fact), I worked in Corporate America in a job that wasn't going well.  I had been there for years and had loved it, but things were quickly going down hill when we took on WAY more work than we could get done.  Truth be told, I had taken on WAY more work than I could successfully handle.  I was single and had no kids and quickly, had no life.
It was that time that I found a cartoon that said "Stop Me Before I Volunteer Again".  Man, did that resonate with me!  I hide that cartoon up in my cube in a semi-hidden space and tried to remember to say No before taking on more than I could chew.  I wasn't very good at it, so I eventually left that company.  But it had been a wonderful place to work before that.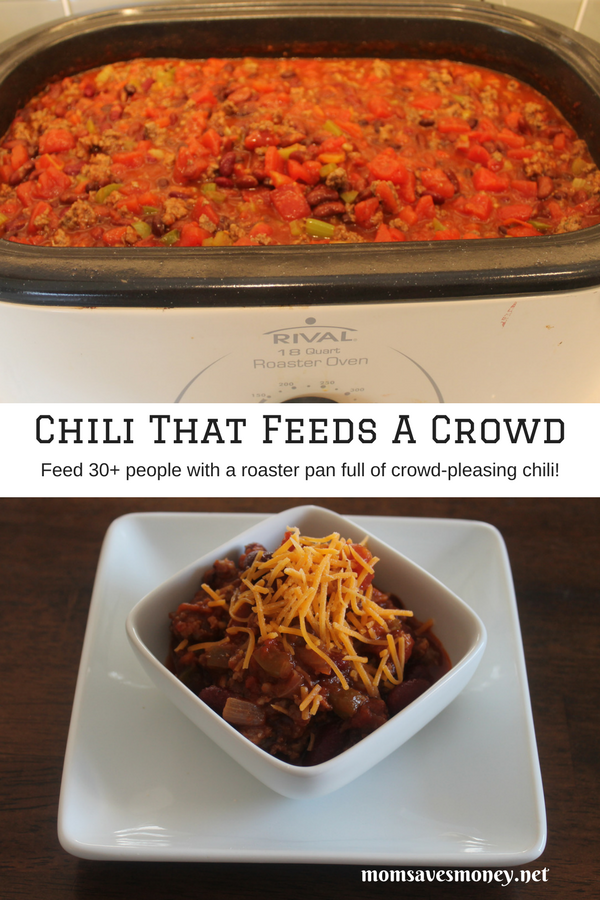 That said, I felt that way again last month.  My son's preschool does a big Chili Feed kind of thing as a fundraiser for their preschool.  It raises LOTS of money for the preschool.  With games, food and bounce houses, it's a good time for the church and the families that go to preschool there.  They get volunteers to run a booth by decorating it and providing chili.  Another family volunteered to decorate and man the booth and I volunteered to bring the chili.  10 gallons of it.  I quickly learned that's ALOT of chili!  Over 2 roaster pans full.
I googled.  I pinterested.  I looked for a recipe that was:
Fairly economical to make.
Easy to double.  Quadruple.  And then some.
Appeals to the masses as kids to adults were going to eat this chili.
In the end, I found the perfect chili. It's my own chili recipe!  But I just had to figure out how to multiply it to make 10 gallons!  So I did the math.  And I bought supplies.  And then I started making the chili.  Then I realized that I was wayyyy off!  Considering I had never measured my original recipe in terms of gallons, I was just guessing what I had to multiply it by.  Ultimately, I had only about half the ingredients that I was needing.  After an emergency trip to the grocery store, I got all that I needed.
Now, it isn't often that you need to make that much chili.  But it might be common to want a big roaster pan of chili.  For things like:
Chili Feeds
Family Get Togethers
To save you the trouble of having to do the math and figure it out, here's what it takes to make an 18-quart roaster pan of chili.  Filled to the brim, that's 4.5 gallons of chili, which would feed about 30-40 people, depending on what else you're serving.
Chili For A Crowd
Easy chili recipe to feed a crowd

Ingredients
5

pounds

ground beef

5-6

onions, diced

2

green peppers, diced small

5

stalks

celery, diced small (or 2 more green peppers)

102

ounces

diced tomatoes

56

ounces

Rotel tomatoes with chiles

90

ounces

tomato sauce

3

tbsp

chili powder

2

tsp

paprika

2

cans

black beans, drained & rinsed

or 4 cups cooked beans

3

cans

red kidney beans, drained & rinsed

or 6 cups cooked beans
Instructions
Brown beef with onion, bell peppers, and celery. Drain.

Add all ingredients to roaster pan. Mix well. Cook on 400 for 3-4 hours to ensure all flavors mix well and chili gets hot.
Notes
Makes enough chili for an 18-quart roaster pan, which is 4.5 gallons of chili to feed 30-40 people.
Most measurements are approximate. If you have just 90 ounces of tomatoes, use that. Want to use less beans? Use less. Want a really meaty chili? Use more beef. There's lots of flexibility here.
Jayme is a wife to 1 and a mother to four little boys. She tries to coupon, builds a smart stockpile, and always meal plans. While she likes to cook, she's in the stage of life where simple is usually better – she never knows how many hands she'll have free at dinner time! You can find her at No Regrets Living.