Oh my stars!  I got a bread machine over a year ago and I like making things with it, but I'm not too adventurous.  Because of some possible food allergies in our family, I wanted to try making our own bread.  So I put a message out on Facebook, asking if anyone had a bread machine that I could borrow for a bit to see if I liked it.  Well, a friend just gave me hers!  She had two of them, but her children were grown and gone now, so she only needed one.  If I didn't end up using it, I'd just return it back to her.
Well, we use it!  I do make our own bread (but usually for garlic bread or croutons, not usually for sandwiches) and I make pizza crust with it.  But I'm starting to venture out a little more.  Over Christmas Break last year, I tried to make Cinnamon Bread with it — oh, yes!  So delicious!  It's great when it first comes out of the oven, but it really shines as toast!  Just toast up a slice or two, butter it – delicious!!  Even my husband declared it the best thing he'd eaten in quite a while.  (Which is kind of a compliment, but considering that most of what he eats is also made by me….)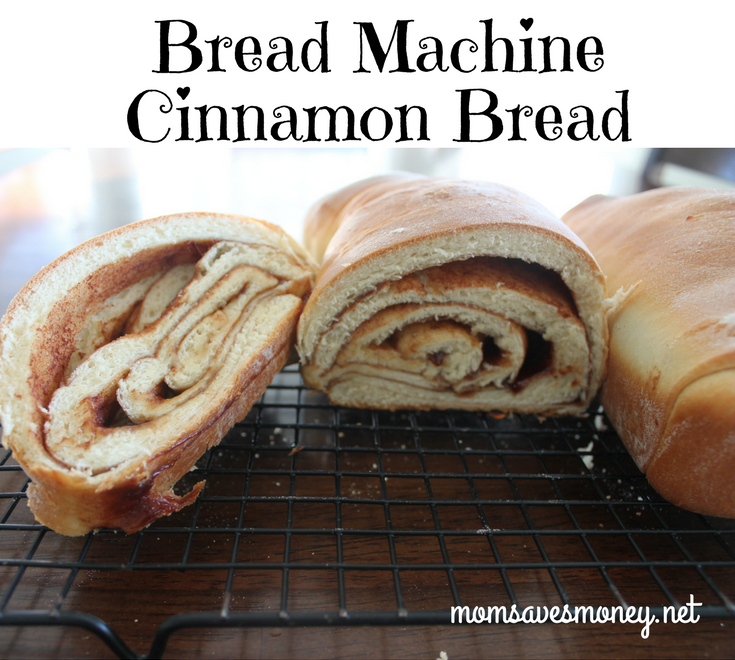 This recipe makes 2 loaves and my boys will eat through those in a couple of days, easily.  It's also the type of bread that makes a good gift.  For neighbors.  Teachers.  Friends.  Homemade bread?  Cinnamon & sugar deliciousness?  Who wouldn't want that!?  In fact, next Christmas season, I might invest in mini bread loaf pans and see if I can master that size.  It's just that good.


Bread Machine Cinnamon Bread
Ingredients
Bread Dough Ingredients:
1

cup

milk

2

eggs

4

tbsp

butter

4

cups

flour

1/4

cup

sugar

1

tsp

salt

1 1/2

tsp

active dry yeast
Filling Ingredients:
1/2

cups

packed brown sugar

2

tsp

ground cinnamon

2

tablespoons

softened butter
Instructions
Make Dough:
Combine bread dough ingredients in bread maker. Set bread machine on dough cycle.

Once dough is completed, transfer to floured surface and punch dough down. Let rest for 10 minutes.

Divide dough in half and roll into two rectangles that are 9″x14″.
Prepare Filling:
Mix together cinnamon and brown sugar.

Spread 1 tablespoon softened butter on top of each rectangle, then sprinkle with cinnamon sugar mixture.

Starting with the short ends, roll dough into loaf. Place each loaf into a bread pan.
Let Rise and Bake:
Cover and let rise another 3o minutes until doubled in size.

Bake at 350 for 30 minutes.
Jayme is a wife to 1 and a mother to four little boys. She tries to coupon, builds a smart stockpile, and always meal plans. While she likes to cook, she's in the stage of life where simple is usually better – she never knows how many hands she'll have free at dinner time! You can find her at No Regrets Living.