Does your mom have anything she's "known" for?  At least as far as the kitchen or baked goods are concerned?  In my family, when I think of my mom and her cooking, there are 4 things that come to mind:
Homemade Popcorn, made on the stove
Zucchini Bread
Tacos (almost always our birthday dinner of choice) AND…
Poppyseed Bread
Today, I'm sharing with you the Poppyseed Bread.  It's quite often that when us kids visit, we'll go home with a loaf of it.  She'll have wrapped it well in plastic wrap and she'll slip it into my purse and off! I'll go home with it.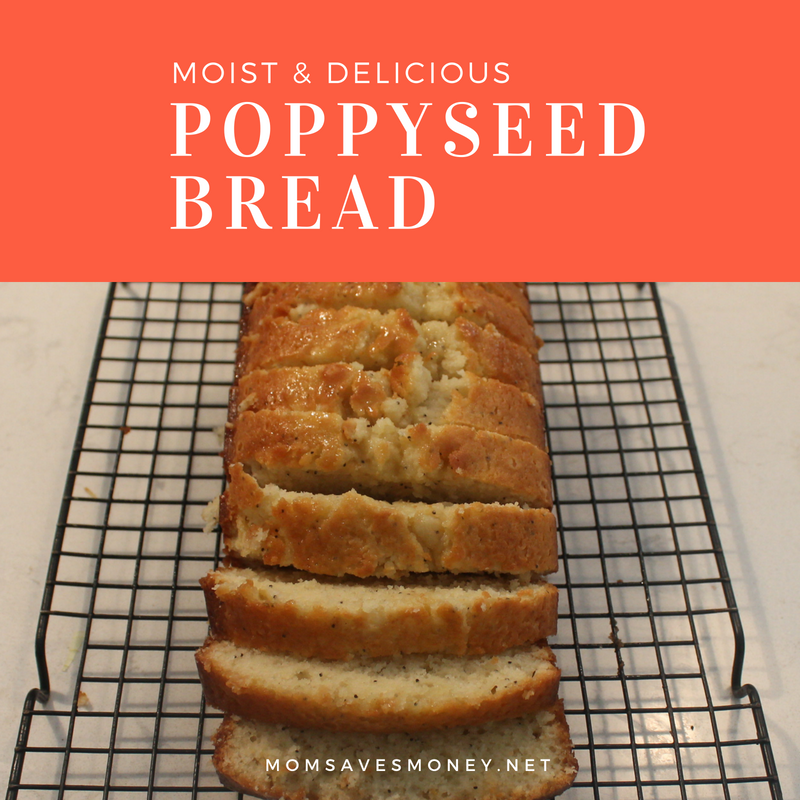 It's fantastic stuff.  It's really moist.  And, the most important part for me, it isn't lemon flavored.  I'm not sure why but Lemon Poppyseed Bread isn't my thing.  BUT…regular Poppyseed Bread is.  My mom's recipe uses orange juice in the glaze and that's what makes it moist and full of flavor.  It's delicious and you should try it.
This recipe makes a couple of loaves – good for feeding many mouths or for giving a loaf to a neighbor or friend.  It's also great for storing in the freezer.  Just let it cool, wrap tight with plastic wrap and freeze away.  It'll last a few months that way.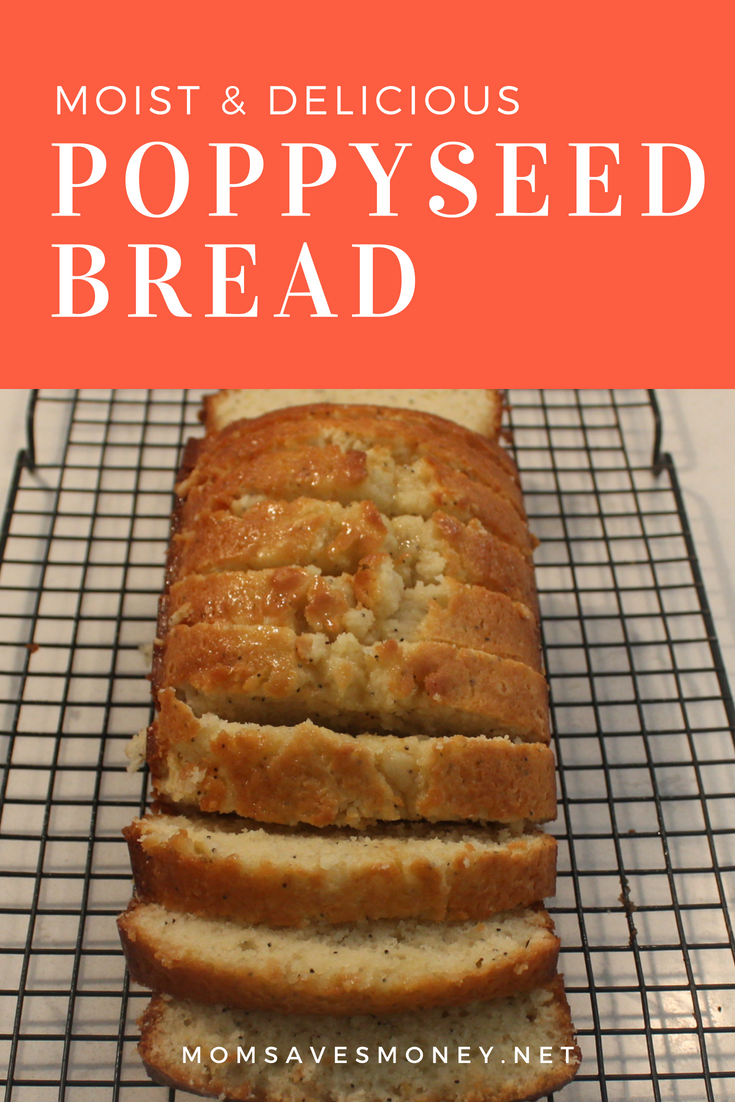 Poppy Seed Bread
Ingredients
Bread Ingredients:
3

cups

flour

1 1/2

tsp

salt

1 1/2

tsp

baking powder

3

eggs

1 1/2

cups

milk

1 1/2

tsp

poppy seeds

1 1/2

tsp

almond extract

1 1/2

tsp

vanilla extract

2 1/4

cups

sugar

1 1/3

cup

oil
Glaze Ingredients:
1/4

cup

orange juice

3/4

cup

powdered sugar

1/2

tsp

almond extract

1/2

tsp

vanilla extract
Instructions
Mix all bread ingredients 1-2 minutes in an electric mixer.

Pour into 2 greased bread loaf pans.

Bake for 1 hour on 350 degrees or until toothpick is clean.

Mix glaze ingredients. Cool bread loaves for 5 minutes, then pour glaze ingredients over loaves (while still in the pan).

Let stand 5 minutes, then remove bread loaves from pans.
Recipe Notes
To freeze, let cool and wrap well in plastic wrap.  It'll last a few months that way.
Jayme is a wife to 1 and a mother to four little boys. She tries to coupon, builds a smart stockpile, and always meal plans. While she likes to cook, she's in the stage of life where simple is usually better – she never knows how many hands she'll have free at dinner time! You can find her at No Regrets Living.