Homemade chocolate and caramel Rolo cookies – perfect for anytime!
"Me like cookies!"  That's what Cookie Monster used to say when I was a little girl.  Does he still say that?  My kids don't watch Sesame Street, so I'm not sure.  I have heard that he does now teach that cookies are "sometimes" foods.  But probably not "sometimes I have 5 of them in a row" kind of food.  I assume anyway.
Have you ever had a Rolo cookie?  For some reason, I associate them with Christmas, but that's kind of nonsense.  There's nothing about Rolos that scream "CHRISTMAS!"  It's essentially a chocolate cookie wrapped around a Rolo candy.  Once they're cooked in the oven, the Rolo candy melts, revealing all it's creamyness.  They're just delicious.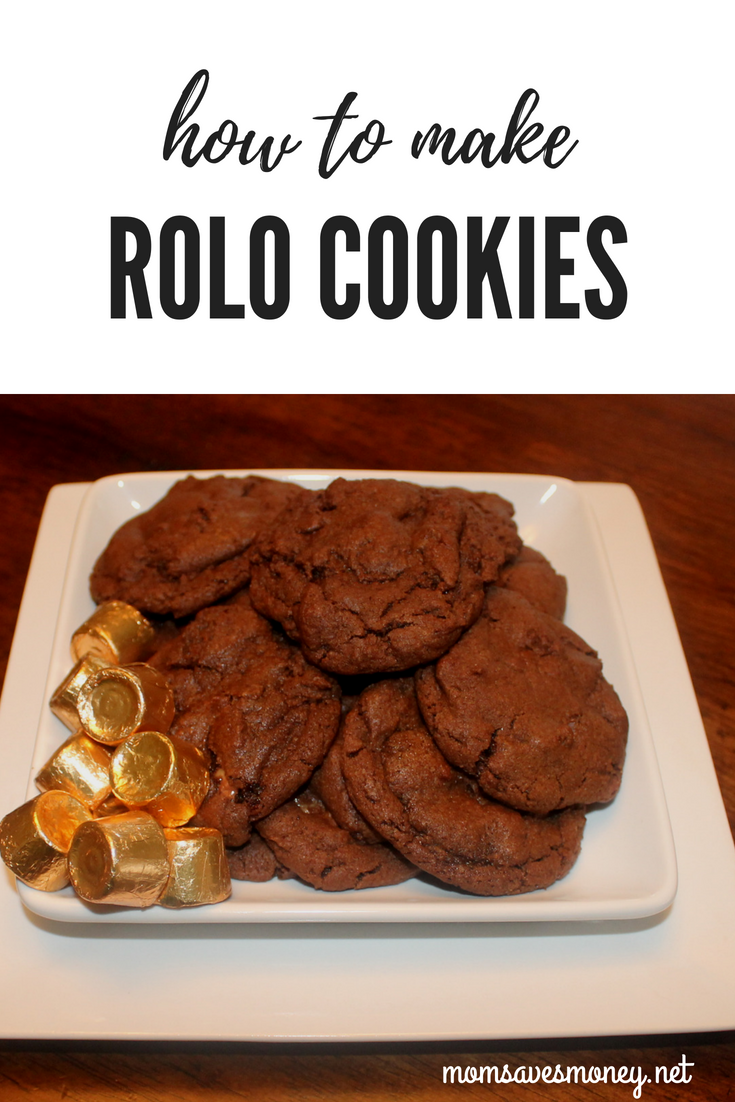 The mood struck for me to make these as I found a bag of Rolos that I had stashed away in the freezer.  (I also make a delicious chocolate cookie recipe with Peppermint Patties.) I had bought them on clearance after a holiday – maybe Christmas, maybe St. Patrick's Day – I dunno.  But I had stashed them away so that I wouldn't eat them right away.
One day I found them in there and the mood struck to make these cookies.  So I did! In a little way, I felt a little Christmas-y. Which, as I've said, is nonsense. These cookies are good all the time. All. The. Time.
Don't wait for Christmas to make these cookies!
Rolo Cookies
A cookie with chocolate and caramel inside
Ingredients
1

cup

butter

, softened

1

cup

sugar

1

cup

packed brown sugar

2

eggs

2

tsp

vanilla

2 ½

cups

flour

¾

cup

unsweetened cocoa

1

tsp

baking soda

40-48

Rolo candies
Instructions
Cream eggs, sugar, vanilla and butter til fluffy.

Mix flour, cocoa and baking soda.

Add dry ingredients; mix well.

Place 1 tablespoon dough around 1 Rolo.

Bake on ungreased cookie sheet for 7-10 minutes at 375 degrees.

Cool 2 minutes, then finish cooling on rack.
Jayme is a wife to 1 and a mother to four little boys. She tries to coupon, builds a smart stockpile, and always meal plans. While she likes to cook, she's in the stage of life where simple is usually better – she never knows how many hands she'll have free at dinner time! You can find her at No Regrets Living.