"It's the most wonderful time of the year!" You just started singing that in your head didn't you? I'm not one to bake cookies very often, but the holidays have me throwing all the rules out the window. One of my absolute favorite cookies to make is the classic ginger snap. This recipe is amazing and the cookies end up that perfect combo of crispy on the outside and chewy on the inside. They are such an ordinary looking cookie, and yet so utterly irresistible once you've had a taste.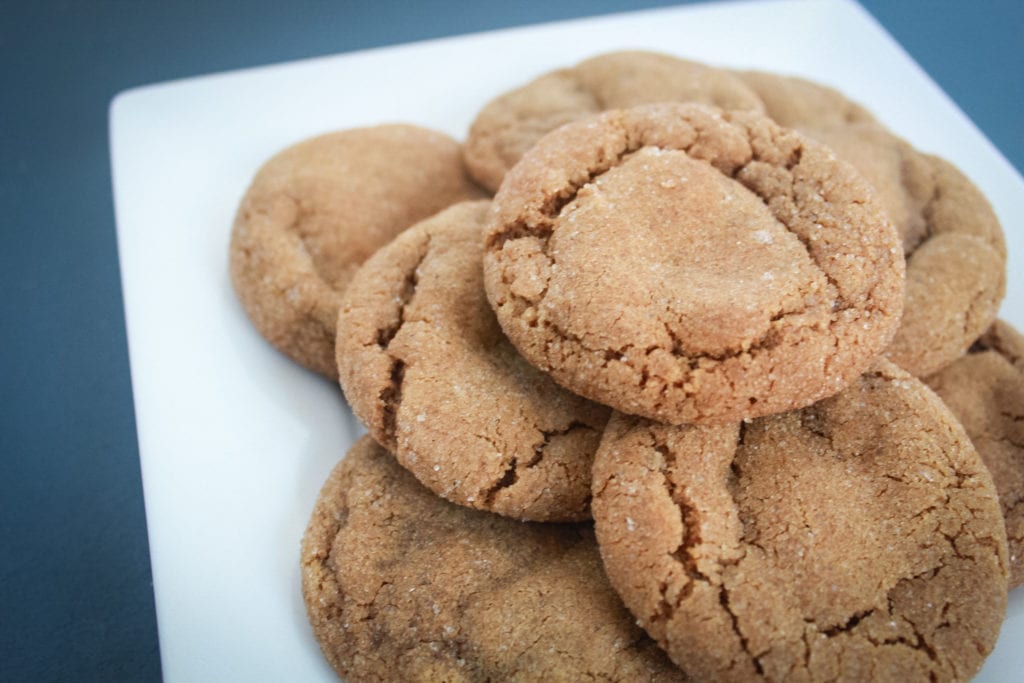 I usually only make them at Christmas, and it brings back a flood of memories from my childhood when I do. I used to love sitting with my mom at the table while she formed the cookie balls and then I would roll them around in the sugar. I always had to make sure I got every nook and cranny coated with the sparkly little crystals of sugary goodness. Then I would drool at the heavenly smell that wafted through the house as they baked. Waiting for them to cool enough so I could take my first bite was pure torture.
Now as a parent myself trying to make memories with my own kids I have a whole new take. I make sure they wash their hands really good, and then twitch a little as they sneeze directly into the bowl of dough. #germaphobe Building up good immune systems….am I right? In the end I settle for an adorably imperfect end product. But half the fun is just watching them enjoy the process, right?
The biggest downfall of these particular cookies is that you do need to chill the dough for 2 hours. But on the upside, this makes several dozen, so you'll have plenty to share with your friends and neighbors. Or to just hoard in the freezer for yourself. Totally your call….no judgement here.
Cooking hack – If you run out of brown sugar, you can easily make homemade brown sugar with only two simple ingredients.
Whether its ginger snaps or some other Christmas cookie classic, I hope you take some time to make some memory magic in the kitchen with your family this season. Happy Holidays!
Old Fashioned Ginger Snaps
A delicious homemade classic cookie recipe
Ingredients
1 ½

cups

butter

room temperature

¾

cup

white sugar

1

cup

packed brown sugar

½

cup

unsulphured molasses

2

eggs

4 ½

cups

all purpose flour

4

tsp

baking soda

2

tsp

cinnamon

1

T

ground ginger

1

tsp

ground cloves

1

tsp

salt
Instructions
In a medium bowl mix flour, baking soda, cinnamon, ginger, cloves and salt. Set aside.

In a separate bowl cream together the butter and sugar until the mixture is light and fluffy.

Mix in the eggs one at a time until incorporated, followed by the molasses.

Add in the dry ingredients until fully incorporated.

Cover and chill dough for 2 hours.

Preheat oven to 350 and line a baking sheet with a silpat or parchment paper.

Roll the dough into 1 inch balls, then roll each one in a small bowl of sugar until evenly coated.

Place on cookie sheet and bake for 8-10 minutes. Don't overbake!

Remove from oven and let cook for 5 minutes, then transfer to a cooling rack.
Jenny is a wife and stay at home mother of two. She loves good food, and enjoys experimenting in the kitchen. When she's not busy chasing kids, you can find her digging into a good book, enjoying the great outdoors, and trying not to kill her houseplants.