Winter just brings out an inner desire for all the comfort foods, doesn't it? Like, for real. One of my favorites, if I haven't mentioned it before, is soup. And one of my favorite, indulgent soups is Broccoli Cheddar. Every mouthful of that cheesy, creamy goodness just warms me to my core. And when it's -17 degrees out, we could all use a little warming.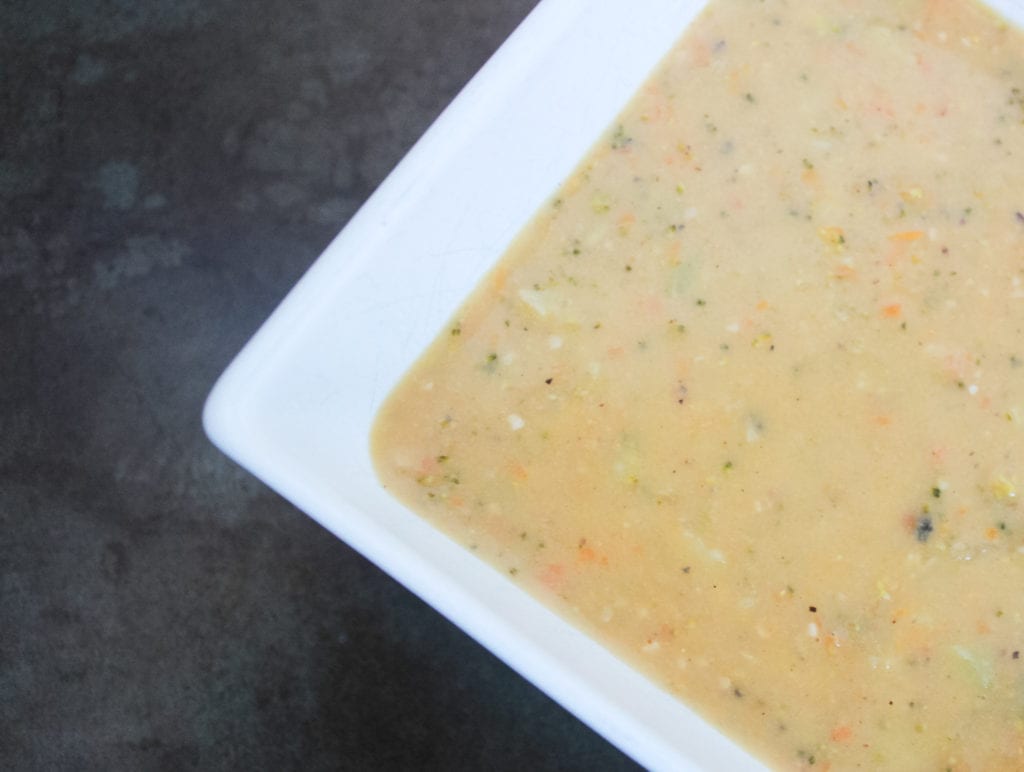 Now I don't make this soup often because it's not exactly the healthiest option out there. But now and then I just can't resist the craving. So this time I decided to try to lighten it up a little bit so I could feel better about giving in. A little less butter, some almond milk instead of cow's milk, and some homemade chicken broth to reduce the sodium content a tad.
Also, I used fresh broccoli in this recipe, but if you prefer yours to be on the softer side, you can totally sub a bag of frozen broccoli. Honestly, I think my kids would have liked it better if I had used frozen.
Speaking of my kids, I also modified this recipe by pureeing all of the veggies, mostly because they are not typically very excited about chunks of veggies in their soup. Every mom's battle, right? But if you have some of those delightful unicorn children who enjoy chomping down on some tender broccoli and carrots, then by all means, dice your veggies rather than sending them through the food processer. Someday maybe I'll join your club. #icanonlyhope.
The good news? This soup is delicious either way. And comes together quickly. And is sure to please a crowd. Pair it with some warm French bread or this simple homemade beer bread, and maybe a salad on the side and you've got the perfect meal to satisfy your comfort food cravings.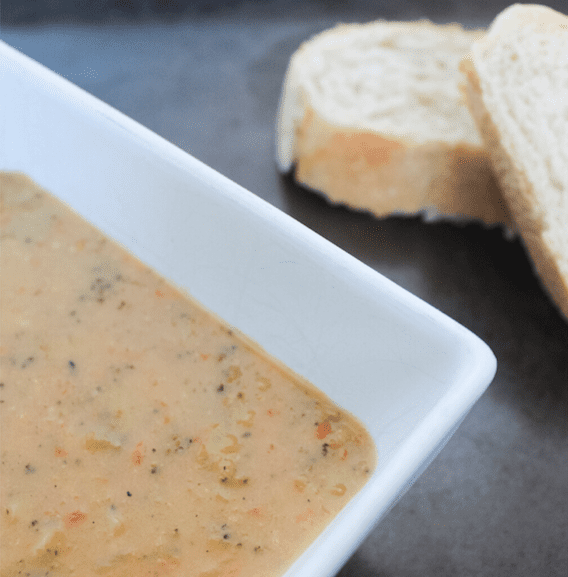 Looking for more soul warming winter recipes? Check out 14 of our favorite soup recipes!
Broccoli Cheddar Soup
Delicious homemade healthier version of a classic comfort food soup
Ingredients
2

Tbsp.

butter

1

medium onion

1

cup

baby carrots

4

tsp.

minced garlic

¼

cup

all-purpose flour

3 ½

cups

chicken or vegetable stock

2

cups

unsweetened original almond milk

2

cups

grated sharp cheddar cheese

5

cups

broccoli florets

diced

1

tsp.

salt

½

tsp.

pepper
Instructions
Toss onion and carrots into the food processor and pulse a few times.

Heat butter in a large stockpot over medium-high heat until melted. Add onions and carrots and sauté for 5 minutes, stirring occasionally until onion is translucent. Stir in garlic and sauté for an additional 1-2 minutes. Stir in the flour and sauté for an additional minute.

Stir in the chicken stock until it's combined, then add milk. Continue cooking until it reaches a simmer. Reduce heat to medium. Add in the broccoli and simmer until broccoli reaches desired level of tenderness, then add the salt, pepper and cheese. Simmer long enough to melt cheese, taste, and add additional salt and pepper as desired.

Serve promptly with a side of crusty French bread for a perfect pairing. Enjoy!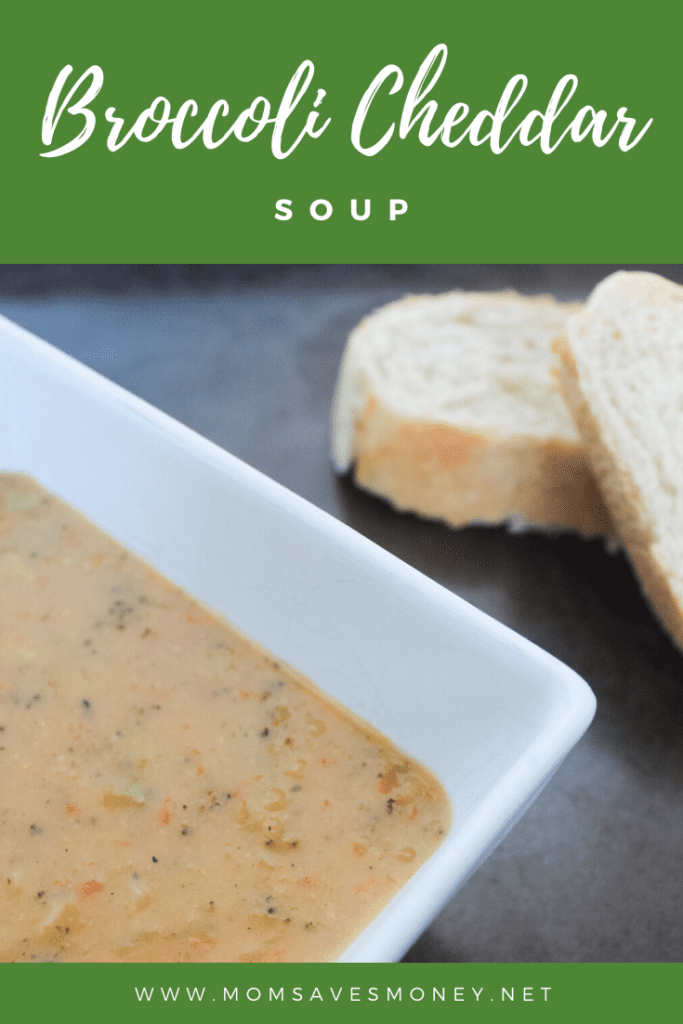 Jenny is a wife and stay at home mother of two. She loves good food, and enjoys experimenting in the kitchen. When she's not busy chasing kids, you can find her digging into a good book, enjoying the great outdoors, and trying not to kill her houseplants.