Do you have boxes in your basement or in storage filled with things you haven't used in ages? Have you just done a massive decluttering and want to turn those items into cash?
According to the LA Times, the average American home has 300,000 items. That's a staggering number and many items sit in boxes or shelves unused. Take some time to declutter and use these simple ways to sell your used items to fill your pockets with some extra money.
Where to sell your used items for cash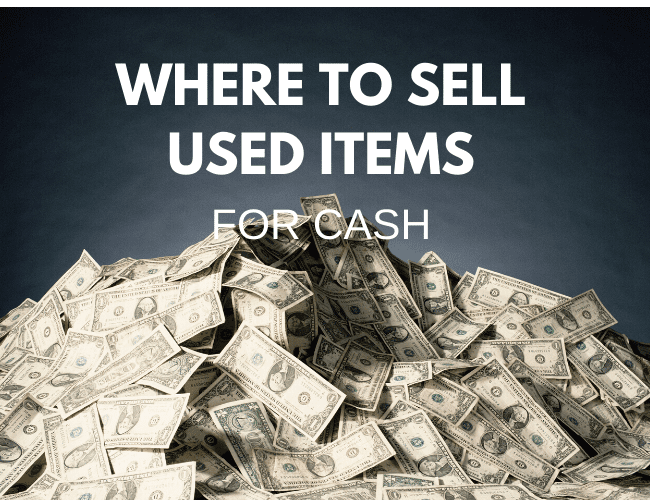 1. Garage Sale
Organizing a garage sale is easy and essentially free only requiring a weekend time commitment. If you organize a multi family neighborhood sale you can split shifts and have more items to sale. Check out my comprehensive guide with tips to have a successful (and profitable) garage sale.
Sell your items online to a larger audience. You will be charged a small fee to sell your items, but it is relatively easy to list items for sale. A quick way to find out if your items are valuable or will sell is to search for those items on Ebay and see what they are selling for and if they are getting bids. If it's an item that sells well on Ebay, then you should be able to sell your items there with success too.
Craigslist is a free, local online classifieds site. If you have a large amount of items to sell, it may be difficult to coordinate with people to pick up the items. If you have larger items, like furniture, this method is ideal.
4. Facebook Marketplace
Search for buy/sell/trade Facebook groups in your area. This is a great method to get rid of larger items that can't be shipped. If you have many small items, like kid's clothes or books, group them in lots, so you can sell them all at once. For example, sell an entire bag of size 8 boy's clothing instead of listing each item individually.
5. Consignment Sales
There are consignment sales year round and you typically retain 60-80% of the selling price. Do a search to find what ones are operating in your area. Some complaints of this system is the time commitment to tag, clean and iron every item. In my opinion, this is the most profitable way to sell used clothing and kid's items.
5. Local Stores
Check your area for stores that buy gently used items. This is a quick way to sale your used items and can be done with little coordination. Consignment stores will buy clothes and kid's items. Used bookstores, like Half Price Books, will often buy books or you can trade them for other books. Many used entertainment stores will buy DVD's, CD's and game systems. I've even pawned electronics, jewelry and sports items just to get rid of them. Reselling allows you to get rid of most of your items in one, however you won't earn as much as other methods of reselling.
6. Online Used Clothing Retailers
Sell your clothing, shoes, accessories in online marketplaces. Sites like Poshmark, ThredUp, Mercari or Swap.com allow you to list and sell your items online. These are easy sites to sell your brand name, high-quality items.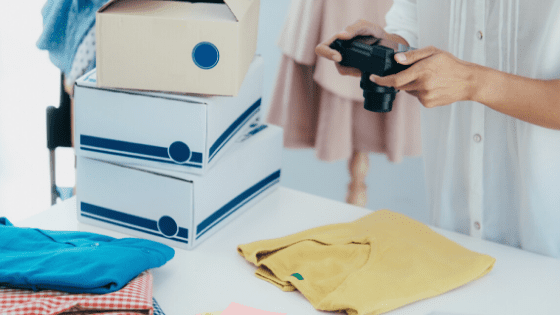 Finally, Donate
If you still have items that didn't sell or you don't want to take the time to sell your items, consider donating them. It feels great to declutter, but letting those items sit for months can become overwhelming and defeats the purpose of decluttering. Make sure you keep a list of the items, take a picture to document, and get a tax receipt for your items when you donate.
Leave a comment to share any other ways to sell your used items.