There is nothing quite like a bowl of comforting soup, especially as we head into cooler weather. And to be honest, I've been definitely craving comfort foods, so this creamy potato and bacon soup totally fits the bill. Served with fresh-from-the-oven homemade French bread this meal is perfect for a cold, wintery day.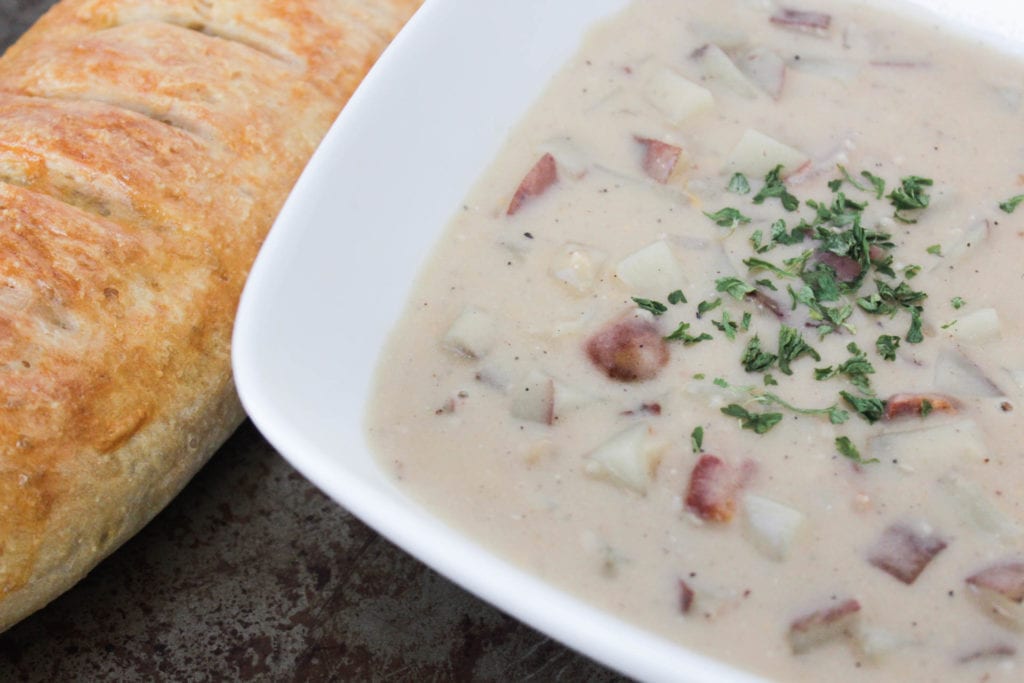 I have been making this creamy potato and bacon soup for years and years. It's a huge family favorite, and definitely easy on the budget. When I decided to whip up a batch for this post, my husband literally cheered. A grown man, doing a happy dance in the kitchen….over soup. Ha! But if that doesn't tell you just how delicious this is, I don't know what will.
Now I need to tell ya'll a story. I have not always been a great cook. Over the years my love for good food has propelled me into trying new things, and thus, improved my skills in the kitchen. However, as my skills have grown, so has my laziness.
Once I got the hang of things, I began to stop measuring, and would just start eyeballing ingredients. For the most part, it turns out great, and if things are a little off, my family doesn't seem to mind.
However, I do not recommend this method when you are expecting company. I love making this when we have guests because it's so simple and such a crowd pleaser. But the last time we had some friends over, I didn't really follow the recipe and just threw things in the pot. That particular day I was feeling frazzled with my kids and trying to get my house picked up in time, so I never even thought to give the soup a taste before serving. After everyone sat down and began to eat I finally took a bite. It was TERRIBLE. Turns out… I forgot to add the salt and pepper. #whoopsiedaisy Thankfully it was an easy fix, but a tad embarrassing. SO. Moral of the story. Don't be like me. Follow the recipe. And for goodness sake, enjoy yourself, because this soup is amazing!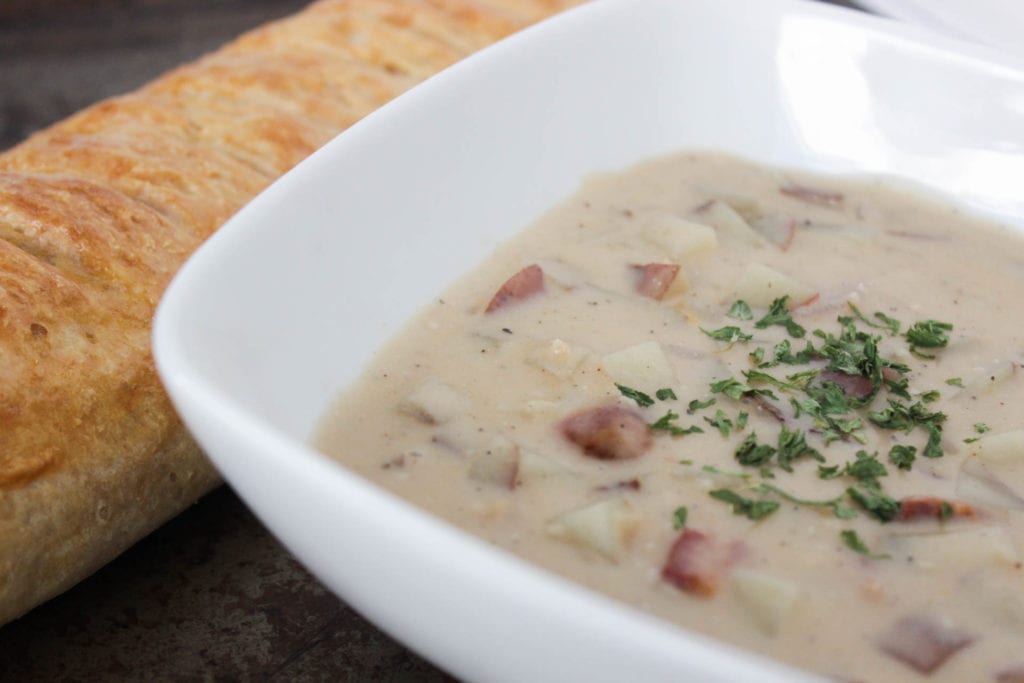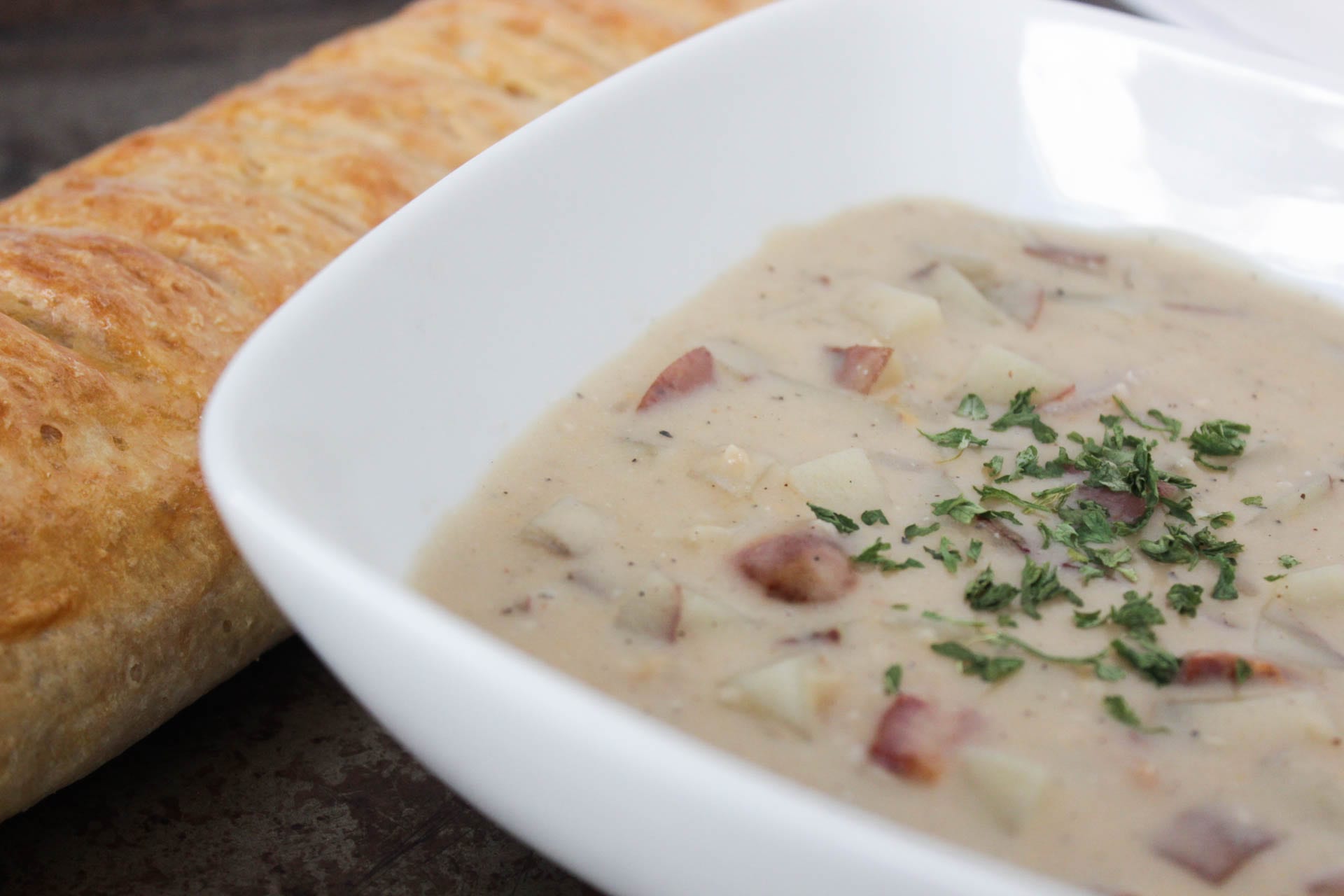 Love soup? Try one of our 14 favorite soup recipes with chili, taco soup, chowders, stews, and much more.
Creamy Bacon Potato Soup
A delicious and easy classic creamy bacon potato soup
Ingredients
6

slices

of bacon

cooked and crumbled

3

T

bacon grease

1

yellow onion

diced

4

tsp

minced garlic

¼

cup

flour

2

cups

chicken stock

2

cups

milk

1.5

lbs

red potatoes

diced

1

cup

shredded cheddar cheese

½

cup

plain yogurt or sour cream

1

tsp

salt

½

tsp

pepper
Instructions
In a large stock pot, cook your bacon over medium high heat. Once bacon is thoroughly cooked, set aside on a paper towel. Chop into bacon bits when cooled. Reserve 3 T of bacon grease, and discard the rest.

Add diced onion to the pot, and saute for several minutes until soft. Stir in garlic and saute for several additional minutes. Add the flour and stir to combine. Let cook for 1-2 minutes. Then stir in the chicken stock until combined, and add the milk and potatoes.

Let the soup come to a gentle boil, and then reduce heat to medium low, cover and simmer for 15 minutes or until potatoes become fork tender. Be sure to stir occasionally so it doesn't burn.

Add cheese, sour cream, salt, pepper, and bacon bits. Add additional salt and pepper to taste. Serve with some fresh baked french bread and enjoy!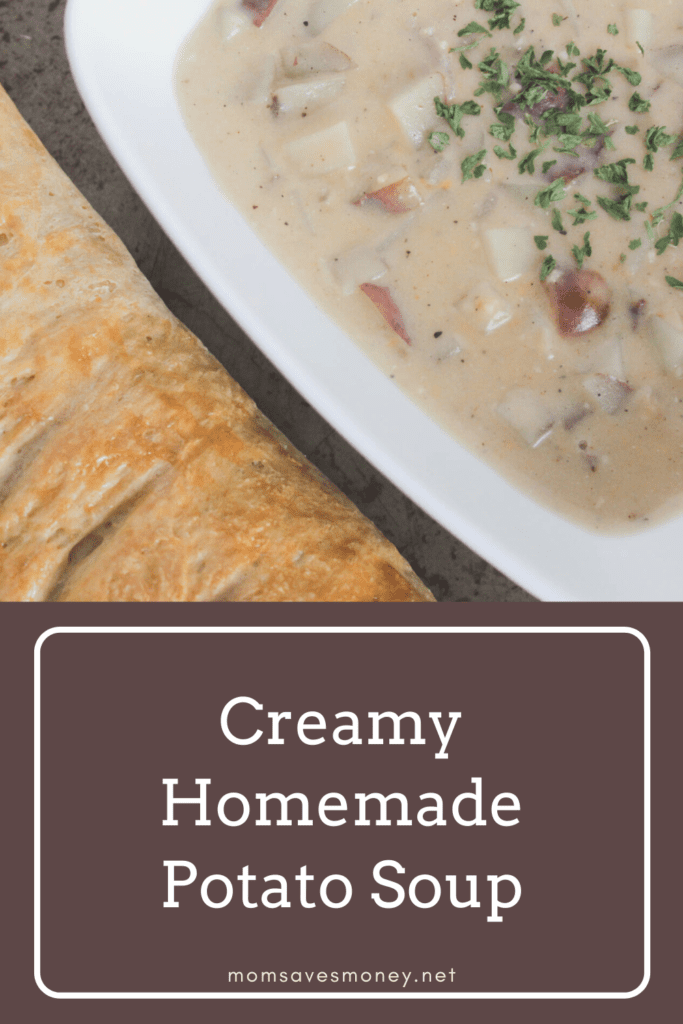 Jenny is a wife and stay at home mother of two. She loves good food, and enjoys experimenting in the kitchen. When she's not busy chasing kids, you can find her digging into a good book, enjoying the great outdoors, and trying not to kill her houseplants.