It would seem that life has divided people into two distinct categories. Those who will put pineapple on almost anything, and those who will not. I used to belong to the latter. Pretty much felt that pineapple should only be eaten a la carte. But ya'll, this pineapple salsa is something else! It's both sweet and spicy and tastes heavenly, especially for that late night chips and salsa snacking that we all love to do.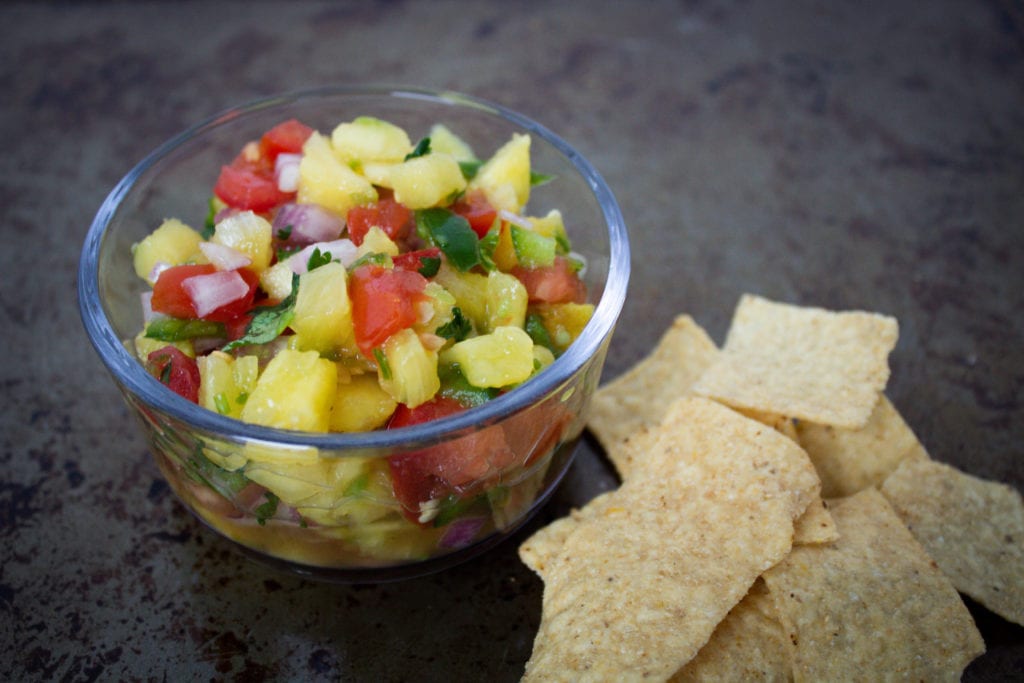 Tips to Make the Best Pineapple Salsa
First, I cannot stress enough that you really NEED to make this with fresh pineapple. I used to not really think there was much difference between canned and fresh. I had no idea how to cut a fresh pineapple anyway, so I always bought canned purely for convenience. But put the two side by side and there is a clear winner. 
Secondly, make sure you chop your pineapple into small, bite sized pieces. Then do the same with your tomatoes and onions. I really prefer red onions for this. It has a bit more of a bite and it looks prettier. But you can totally use yellow or white onions if you prefer. Make sure you also dice your jalapeño and cilantro very small. You can use a food processor or chopper for this step.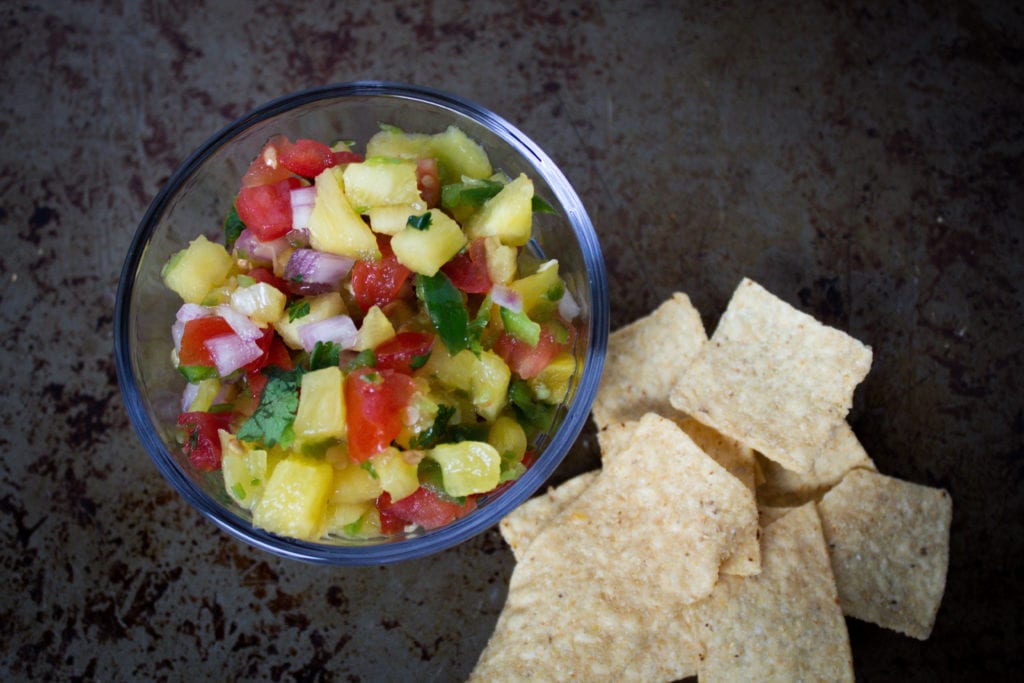 How to Make Pineapple Salsa
To assemble, throw all the ingredients into a bowl together and mix thoroughly. Add your lime juice and salt to taste. You can totally consume the salsa as is at this point, but I prefer to toss it in the fridge for about 30 minutes to allow the flavors to blend together. It's so much more delicious when its cold and has had a chance for the flavors to meld.
How to Serve Pineapple Salsa
This salsa is perfect for topping some pork tacos, roasted chicken, spicy Hawaiian shrimp tostadas, or fish (salmon, cod or tilapia) or just enjoy it as a dip with tortilla chips. This recipe calls for about half of a fresh pineapple worth, but if it's for a party or you just really love fresh salsa (like me) be sure to double the recipe. You won't regret it!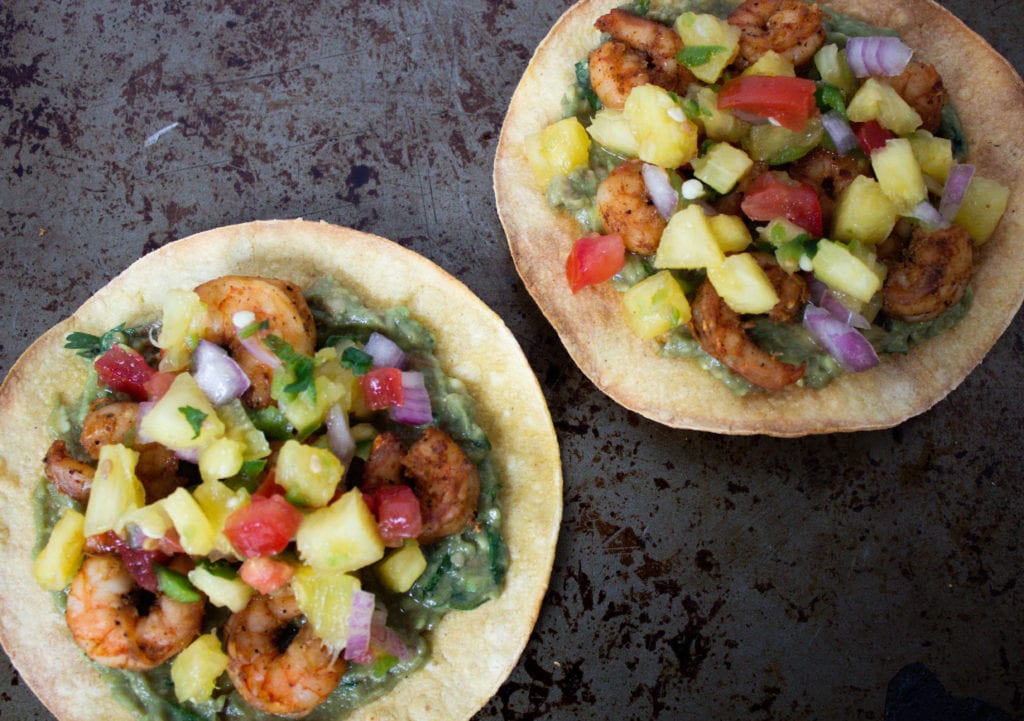 Love salsa? Try our pico de gallo. It's less sweet than this recipe and great for dipping.
Pineapple Salsa
Sweet and tangy salsa for pork or shrimp tacos, chicken or your favorite seafood
Ingredients
2

cups

chopped fresh pineapple

approximately half of a large pineapple

3-4

Roma tomatoes

diced

1

small red onion

diced

1

jalapeño

minced (seeded for less heat)

1

large handful of cilantro

chopped

juice from 1 lime

salt to taste
Instructions
Add all ingredients in a bowl and mix thoroughly. Adjust salt and lime juice seasoning to taste.

Chill for 30 minutes if desired, and serve.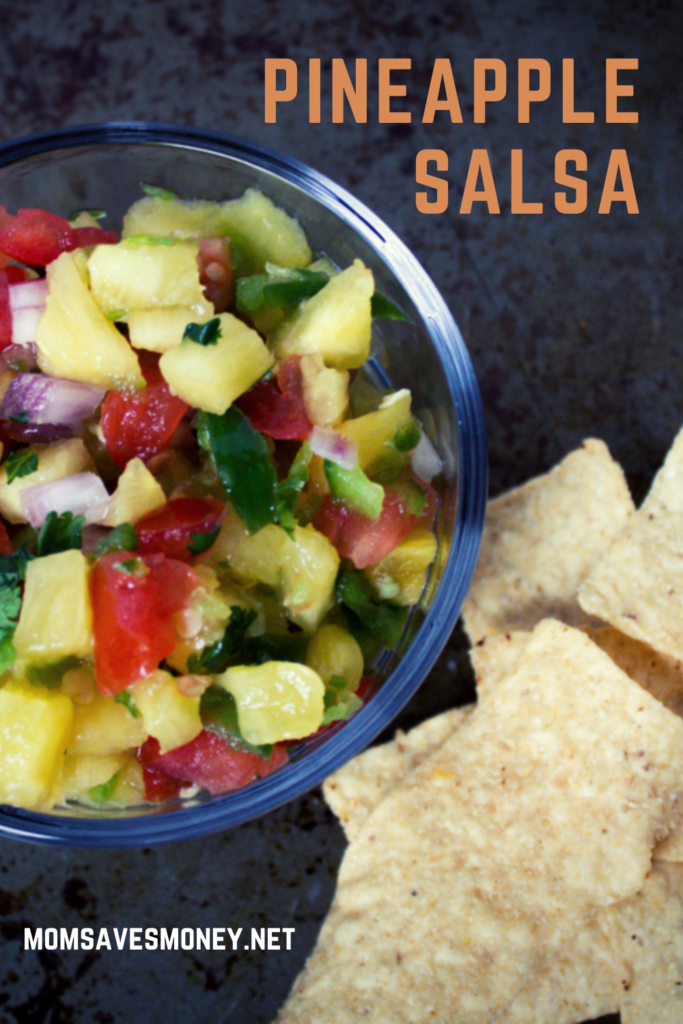 Jenny is a wife and stay at home mother of two. She loves good food, and enjoys experimenting in the kitchen. When she's not busy chasing kids, you can find her digging into a good book, enjoying the great outdoors, and trying not to kill her houseplants.