Looking for an EASY and delicious meal idea for dinner? Look no further! These spicy Hawaiian shrimp tostadas come together quickly and are sure to be a crowd pleaser. Combining sweet pineapple salsa, savory gaucamole, and spicy shrimp, these tostadas are an amazing flavor sensation that will utterly delight your tastebuds. 
Tips for Making Spicy Hawaiian Shrimp Tostadas
The best thing about this recipe is that you can make it as easy or time consuming as you want. I personally chose to make fresh guacamole, fresh pineapple salsa (check out my pineapple salsa recipe – totally worth making), and toast my corn tortillas. If you want to save time, you can skip toasting the tortillas and buy pre-made guacamole and salsa and simply cook up the shrimp and serve. Tada! Dinner on the table in 10 minutes? What? That's what I'm talking about!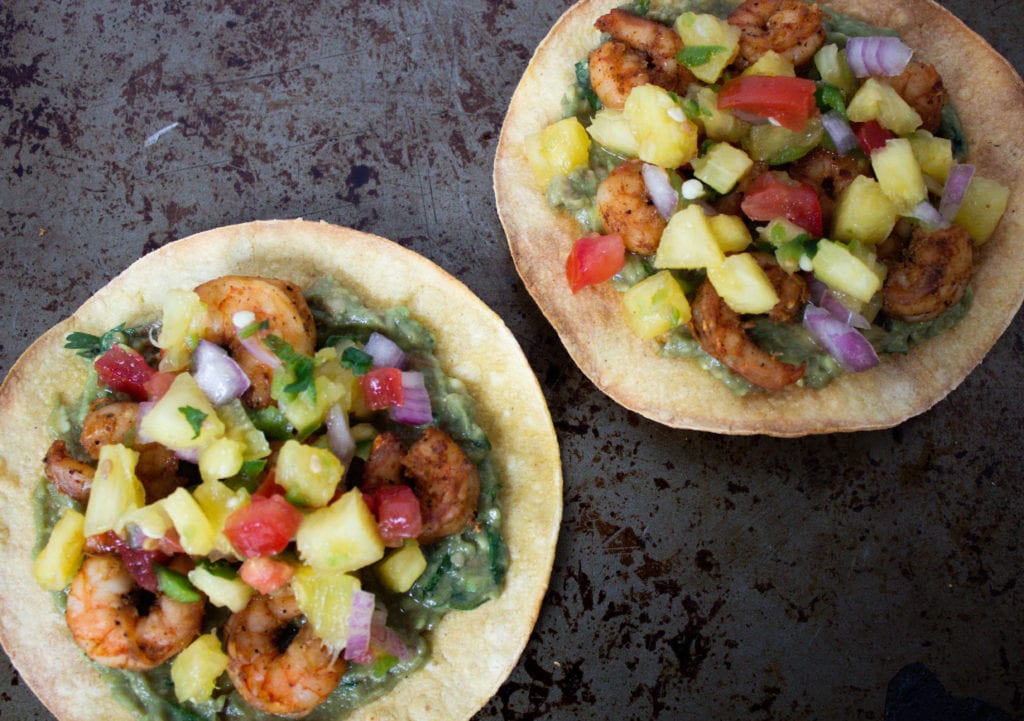 How to Toast Corn Tortillas
If you're going to toast your own corn tortillas, I like to lightly coat them with avocado oil, then bake at 400°F for 8-10 minutes, flipping halfway through until they are nice and crispy. While the tortillas are baking in the oven, prep and cook your shrimp.
Cooking Spicy Shrimp
Making spicy shrimp is incredibly easy. One of my favorite things about cooking shrimp is that it thaws quickly. If it's 5:30 and I suddenly realize I never took them out of the freezer, I can run them under some cool water and still have dinner on the table by 6. Can't beat that!
To make the spicy shrimp, simply toss with the spices and then sauté in a pan coated with some avocado or olive oil. When the shrimp are fully cooked (they will be pink) remove to a bowl and set aside.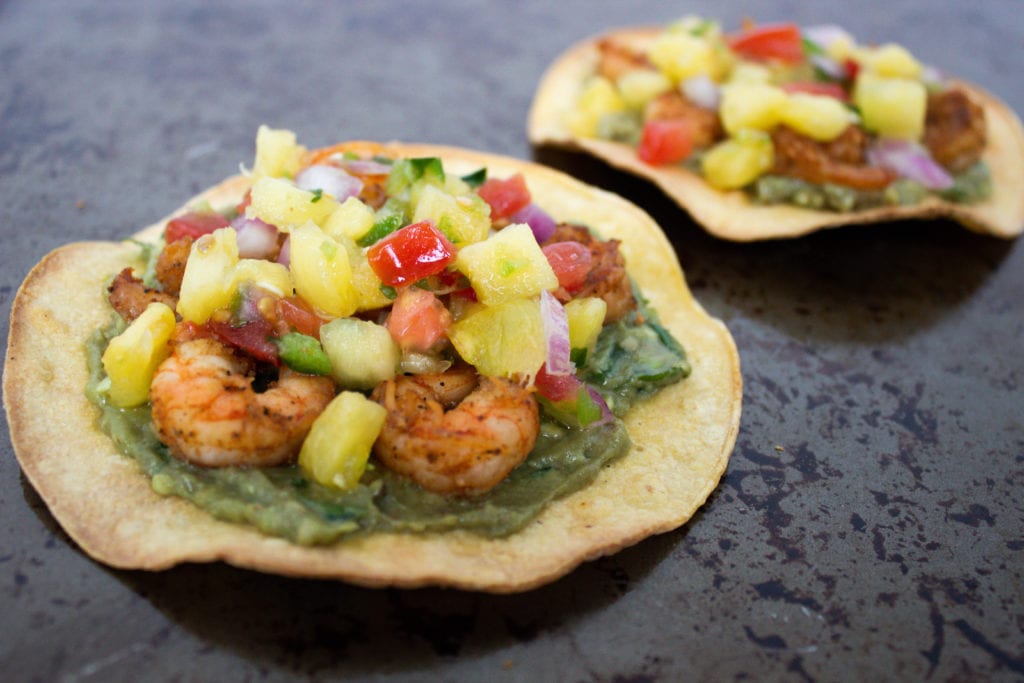 Assembling the Spicy Hawaiian Shrimp Tostadas
To assemble the spicy Hawaiian shrimp tostadas, spread a thick layer of guacamole on each warm tostada, top with spicy shrimp and sprinkle with a healthy layer of pineapple salsa on top! See? Told you it was quick and easy!
If you prefer you can add a squeeze of lime juice, or some spicy sriracha for a little more heat. I like to serve these tostadas with a salad of fresh greens and cherry tomatoes drizzled with some cilantro lime dressing. 
Spicy Hawaiian Shrimp Tostadas
Combining spicy shrimp, sweet pineapple, and savory gaucamole, these tostadas are an amazing flavor sensation that will utterly delight your tastebuds. 
Ingredients
Tostada Ingredients
12

corn tortillas

guacamole

store bought or homemade

pineapple salsa

store bough or homemade
Spicy Shrimp
1

lb.

shrimp

tails off and defrosted

1/2

tsp

garlic powder

1/2

tsp

smoked paprika

1/2

tsp

chili powder

1/4

tsp

cumin

Salt and pepper to taste

avocado oil
Instructions
Baked Tostadas
Prepare tostadas by brushing with avocado oil, then bake for 8-10 minutes until crispy (flipping halfway through).
Spicy Sauteéd Shrimp
In a medium bowl, mix seasonings and shrimp together until they are fully coated.

In a large skillet coated with avocado oil, sauté shrimp and cook thoroughly until they turn pink. This will take approximately 2-3 minutes per side depending on the size of the shrimp.
Assembly
Spread a thick layer of guacamole on the crispy tostadas, top with cooked shrimp, pineapple salsa, and any other garnishes you desire. Serve!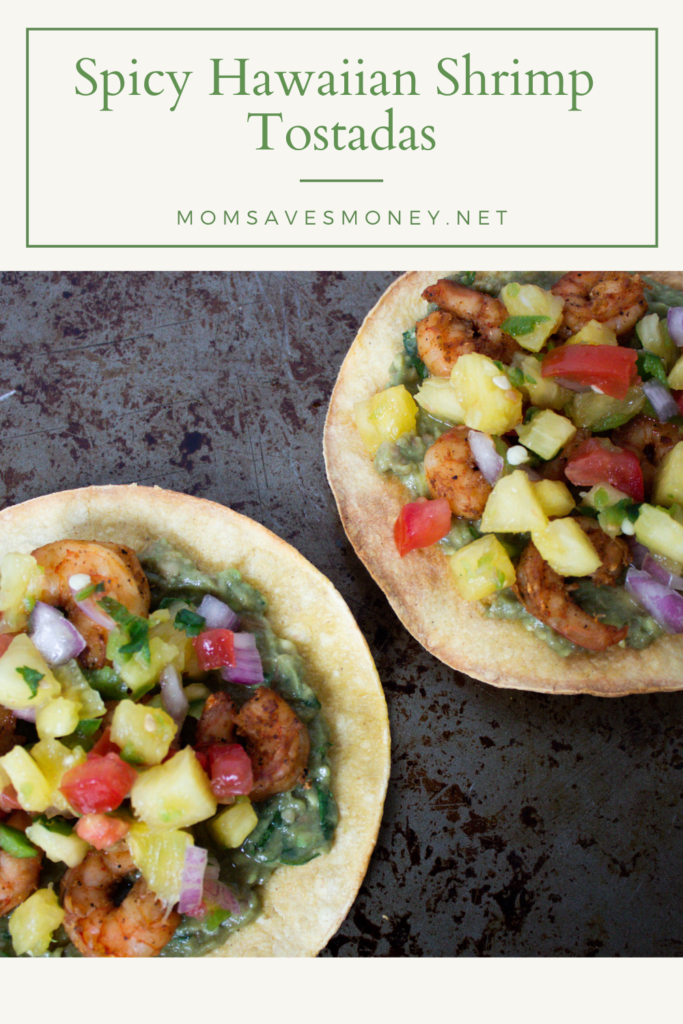 Jenny is a wife and stay at home mother of two. She loves good food, and enjoys experimenting in the kitchen. When she's not busy chasing kids, you can find her digging into a good book, enjoying the great outdoors, and trying not to kill her houseplants.