Who is ready for a delicious vegetarian twist on the Italian comfort food classic chicken parmesan? This cauliflower parmesan is for you! Seasoned to perfection and topped with your favorite marinara and some mozzarella cheese… you might not even miss the chicken.
Cauliflower has definitely been rising in popularity as far as veggies go, and while I was never much of a fan as a child, I definitely have changed my tune the last couple years. There are just so many delicious ways to prepare it! If you're like me and always on the lookout for some new ideas for meatless Monday or Lent, look no further.
How to Make Cauliflower Parmesan
To prepare this dish, you first need to slice a large head of cauliflower into several 1" steaks. Lay them out on a parchment paper lined baking sheet, and drizzle with olive oil. Sprinkle with the Italian seasoning and salt and pepper to taste. Then roast them in the oven for 15 minutes at 425° F.
Remove them from the oven, and spoon the marinara sauce over the cauliflower. I chose to use a tomato basil spaghetti sauce since that's what I had on hand, and it was DELISH! Place a slice of fresh mozzarella on top (you can also use shredded mozzarella, but I opted for the fresh this time around. Bake for another 15 minutes until the cheese is melted and bubbling.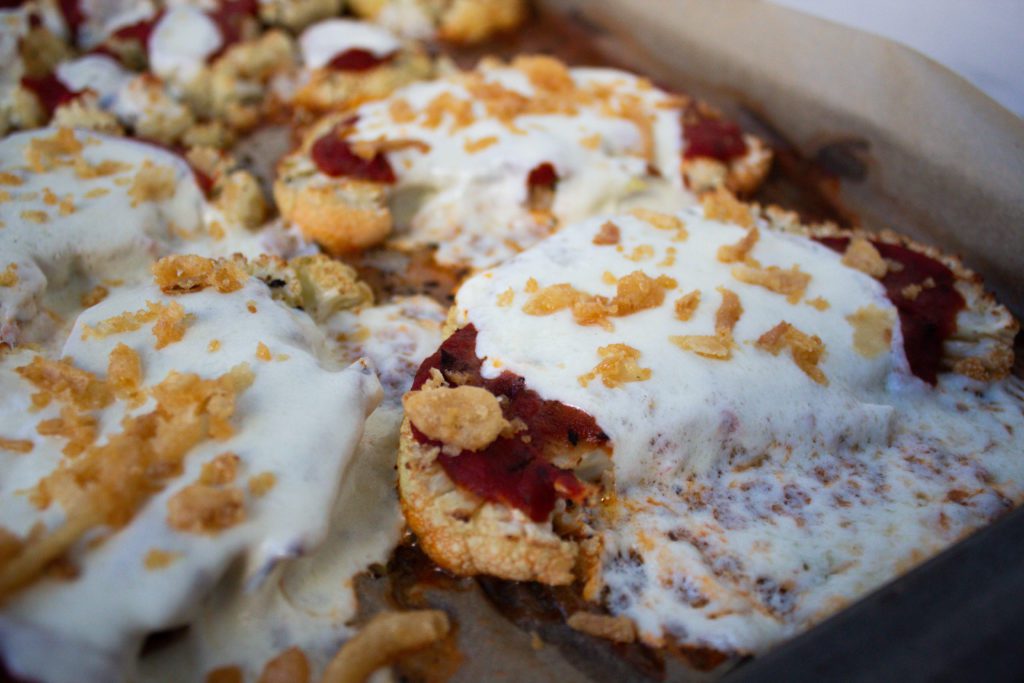 What to Serve with Cauliflower Parmesan
For added flavor, top your cooked cauliflower parmesan with fresh basil and/or breadcrumbs just before serving. I actually smashed up some French fried onions because I didn't have any breadcrumbs and it added a whole nother dimension of flavor to the dish. Definitely recommend.
You can serve this dish over pasta, alongside some of your favorite veggies or try one of these 25+ easy side dish recipes. We enjoyed ours with some roasted asparagus and fresh strawberries. Even my kids who are picky eaters loved it!
Tips for this Recipe
One thing I'd like to note, is that the cauliflower cools rather quickly compared to chicken, so I'd advise you keep it warm in the oven, or time everything just right so that you're ready to eat it while it's still hot. Not sure about you, but I'm NOT a fan of cold food….unless it's meant to be cold in the first place. Hope you enjoy!
Love simple recipes? Check out our Incredibly Easy 5-Ingredient Meal Plan and Cookbook with a six-week meal plan, weekly shopping lists, and 59 easy recipes with 5 ingredients or less.
Cauliflower Parmesan
Easy vegetarian, low carb recipe
Ingredients
1

large head of cauliflower

2

Tbsp.

olive oil

1

tsp.

Italian seasoning

salt and pepper to taste

marinara sauce

8

oz,

fresh mozzarella cheese

sliced

breadcrumbs, fresh basil or French fried onions for topping

optional
Instructions
Preheat the oven to 425° F. Line a baking sheet with parchment paper.

Slice the cauliflower from the top down into 1" steaks. It may crumble a bit at the ends. Drizzle with olive oil and sprinkle with Italian seasoning, salt and pepper.

Bake for 15 minutes, then remove from oven and top with marinara and mozzarella cheese.

Return to oven and bake for another 15 minutes until cheese is melted and bubbling.

Remove from oven and top with your garnish of choice. Serve immediately.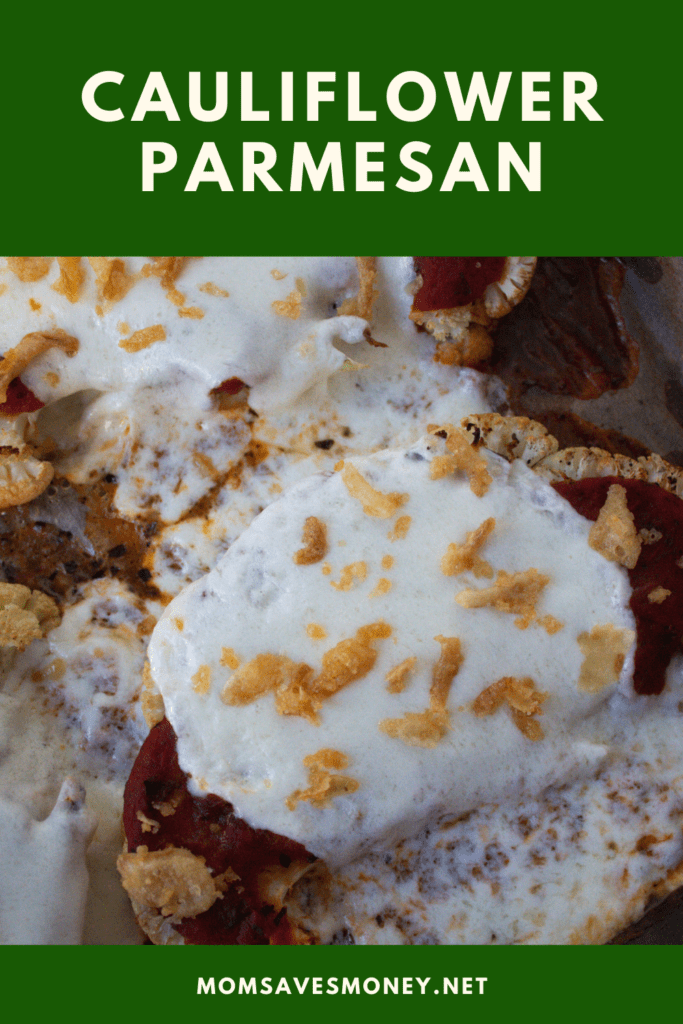 Jenny is a wife and stay at home mother of two. She loves good food, and enjoys experimenting in the kitchen. When she's not busy chasing kids, you can find her digging into a good book, enjoying the great outdoors, and trying not to kill her houseplants.