I take a lot of joy in finding ways to save money in the kitchen.  (Actually…..I take a lot of joy in finding ways to save money period!) So when I discovered how much cheaper it was to purchase dry black beans instead of canned, I was like "sign me up!"  They are a staple in our house and make their way into a ton of different meals.  
However, I had never cooked dry beans before, so I was a little intimidated to try it.  It seemed a little labor intensive, thinking of soaking them the night before. It's not that I'm lazy….(okay, well maybe a little), but mostly I'm just a terrible planner. Plus, I had this feeling we'd be sitting around the table digging into our favorite chicken and black bean enchiladas only to end up with a mouthful of crunchy undercooked beans. But when I learned you could make them in the slow cooker, I was SOLD.  And after my first attempt, I have never looked back! I'm pretty sure you won't either, because this is seriously SO easy.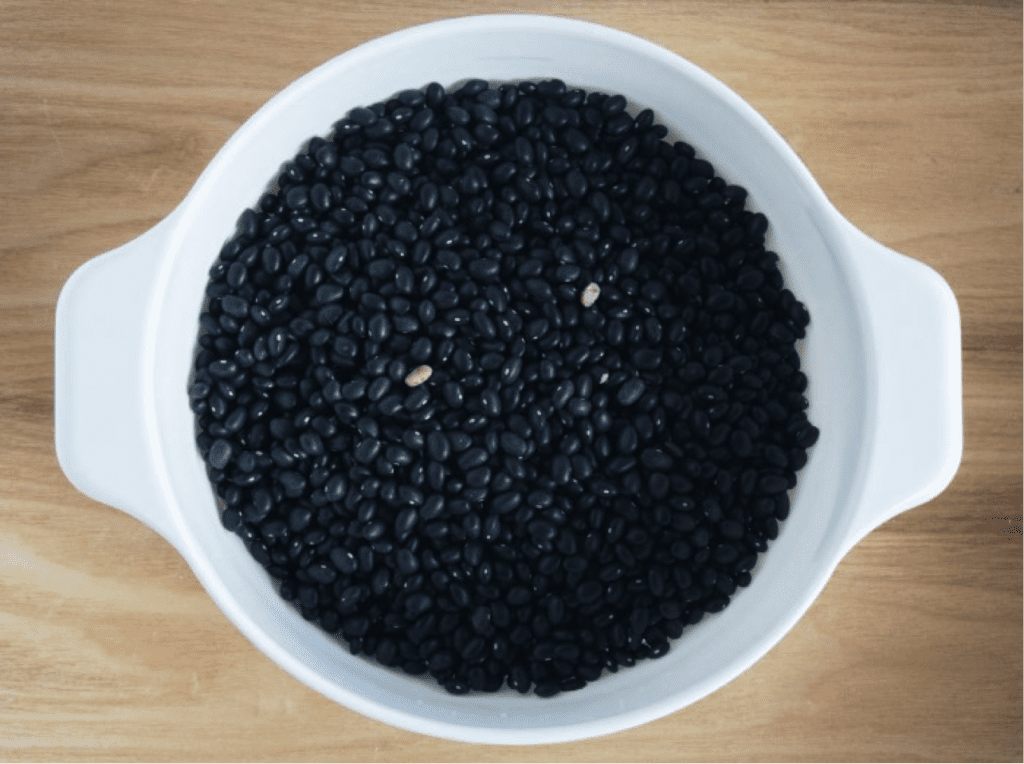 Saving Money with Black Beans
Now just for fun, here's the price breakdown between canned and dried beans*:
7 cans @ $0.79 each will cost you $5.53
2lbs dry black beans (= 7 cans), costs $2.98 ($0.42 per can!)
SAVINGS: $2.55!
We probably go through at least one bag a month, so at minimum we are saving a little over $30 a year JUST on black beans. Ummmmm….heck yes!
*Prices are from Hyvee and reflect the least expensive options available at the time. Be prepared to save even MORE if you shop at Aldi or hit a good sale!
Once cooked, you can freeze the black beans in 1 1/2 cup portions (equivalent to one can) and use in recipes that call for canned black beans. We use them in chili, breakfast burritos, and Fiesta Chicken. This recipe is equivalent to seven cans of black beans, so you will get several meals.
Whether you eat beans all the time, or sparingly, this is a great and super simple option to save a little (or a lotta) cash over time!  So give it a try and see what you think….I bet you'll never pay for canned beans again!
Want to save even more time and money? Check out more of our kitchen hacks. You can thank us later.
How to Make Black Beans in the Slow Cooker
Slow Cooker Black Beans
Save money using dry black beans instead of cans
Ingredients
2

lb

bag of black beans

12

cups

water

salt, garlic powder, onion powder, bay leaves to taste

optional
Instructions
Empty your black beans into a colander and sift through them, removing any small stones or other beans.

Rinse the beans, and then dump them into the crock pot. Add the 12 cups of water and any optional seasonings, then cover and cook on high for 3-5 hours. If you decide to use salt, I recommend adding it during the last hour. I never add salt, and I think it tastes fantastic….but to each his own! My beans usually take a bit over 4 hours to fully cook. You can tell they are done by removing one bean and blowing on it. If the skin easily peels back from the bean, they are done.

I remove the lid and allow them to cool for an hour or two, then use a slotted spoon to portion them into 1½ cup servings. A 2lb bag usually gives me 7 cans worth of black beans. If I have room in my freezer I store them in mason jars. When I'm tight on space I use sandwich sized ziploc bags and freeze them flat. Then just thaw before using.
Jenny is a wife and stay at home mother of two. She loves good food, and enjoys experimenting in the kitchen. When she's not busy chasing kids, you can find her digging into a good book, enjoying the great outdoors, and trying not to kill her houseplants.