What do you do when you've got a bunch of random ingredients and leftovers in the fridge that are on their last leg, and are begging to be used up? You throw them together with a little this, and a little that, and hope for the best. That's how this ham, potato, and green bean hash was born. And honestly, it was SO delicious. Even my picky eaters scarfed it down.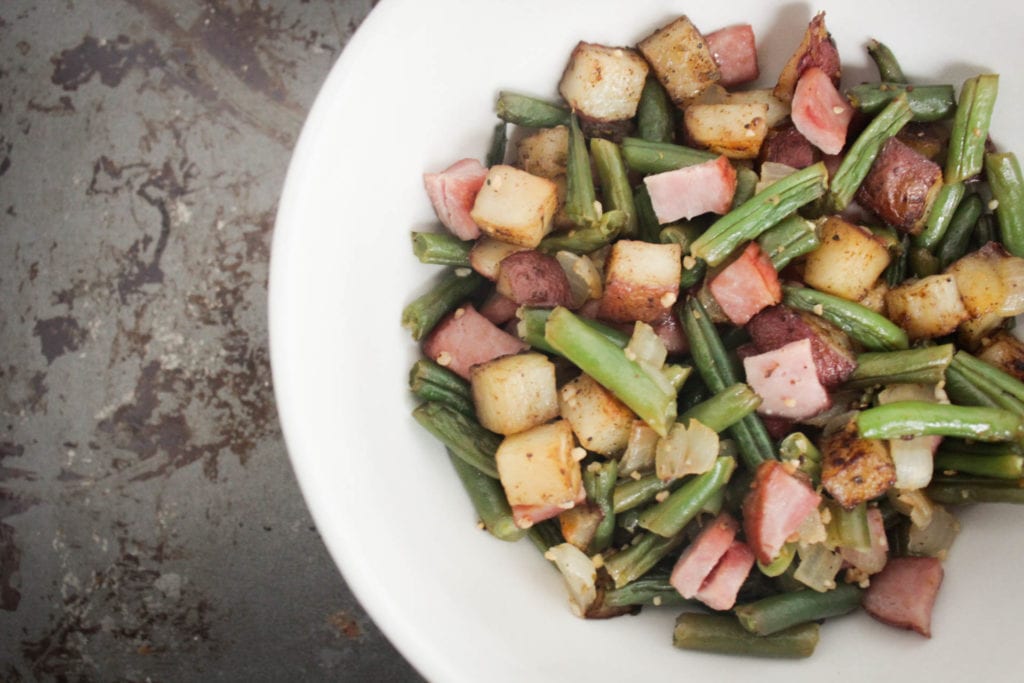 It had been a crazy week. My meal plan had gone out the window and so the stuff I bought wasn't being used for it's original purpose. Tell me I'm not the only one this happens to! I had some string beans that were a day or two away from needing to be tossed. The situation was dire.
There's nothing I hate more than wasting food…like for real. Worst feeling. So I tried to come up with a way to turn them into a main course. I remembered that I had some ham in the fridge, and potatoes in the pantry that were about to sprout. I had my son help me chop it all up with an onion and a few seasonings and we were set. Tossed those babies in the oven and about 30 minutes later, we had a simple and delicious meal on the table!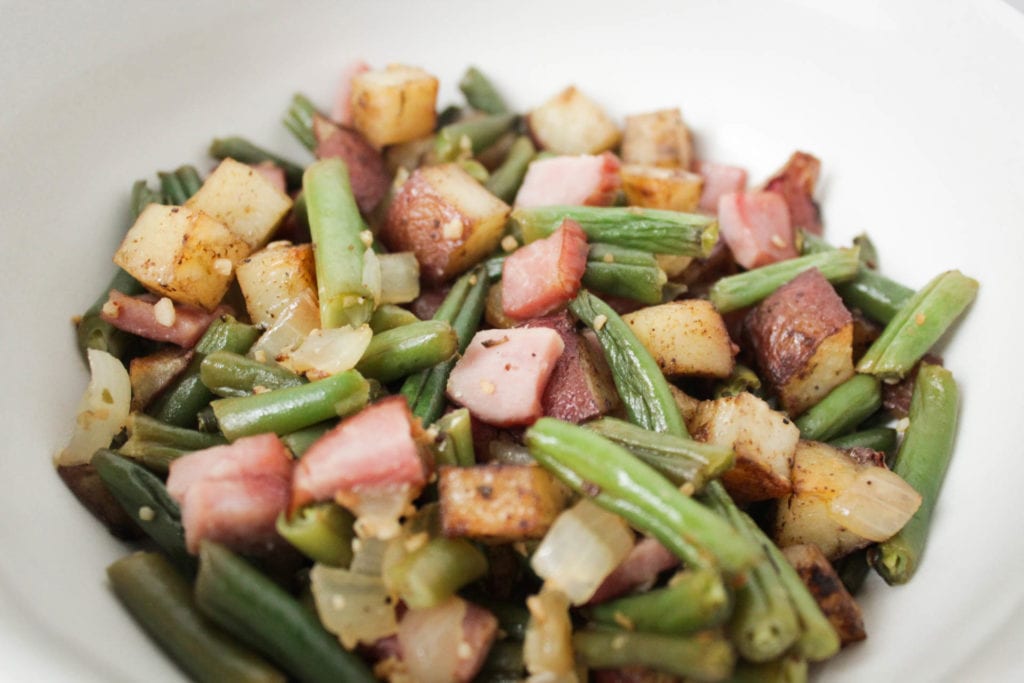 How often do you throw together this kind of meal? Every once in awhile I like to do a pantry and eat from my freezer challenge and use up the odds and ends in the kitchen. Not only is it easy on the budget, but it also challenges me to come up with some new and interesting meal ideas. Not all of them are worth repeating, but some, like this hash, have been real winners.
The secret, unexpected ingredient in this recipe was taco seasoning. Can you believe it? Works best if you make your own taco seasoning since you don't need a whole packet, but store bought is totally fine too. You can save the rest of the seasoning for another batch at another time, or add some extra pizazz to your next round of taco soup or taco salad!
Ham, Potato & Green Bean Hash
A delicious ham, potato, and green bean baked casserole the whole family will love.
Ingredients
4

medium sized potatoes

diced

2

cups

diced ham

1

yellow onion

diced

1

lb

fresh green beans

chopped

1

tbsp

olive oil

1/2

tsp

salt

1/4

tsp

pepper

1/2

Tablespoon

taco seasoning

1/2

Tablespoon

oregano

4

garlic cloves

minced

1/4

tsp

salt
Instructions
Preheat oven to 400°F. Lay parchment paper on a cookie sheet.

In a medium bowl, mix potatoes, 1 Tbsp olive oil, 1/2 tsp salt, pepper, taco seasoning, and oregano until potatoes are thoroughly coated.

Spread potatoes on baking sheet and bake for 15 minutes.

Add green beans and onions to the same mixing bowl you used for the potatoes and add garlic and 1/2 tsp of salt and mix well.

Remove potatoes from the oven, top with onion and green bean mixture and bake for another 10 minutes.

Remove mixture from oven and top with ham. Bake for another 5-10 minutes until ham looks toasted.

Remove from oven and serve.
Jenny is a wife and stay at home mother of two. She loves good food, and enjoys experimenting in the kitchen. When she's not busy chasing kids, you can find her digging into a good book, enjoying the great outdoors, and trying not to kill her houseplants.