Pizza….it's the salvation of tired moms everywhere. And, also delicious. And, also loved by kids everywhere. So I think it goes without saying that pizza is a regular menu item at our house. Usually frozen is the name of the game, but occasionally we splurge on my absolute favorite chicken garlic pizza from Papa Murphy's. Recently though, I figured out how to make a darn good homemade version and it's saving us so much money!  *does a little dance*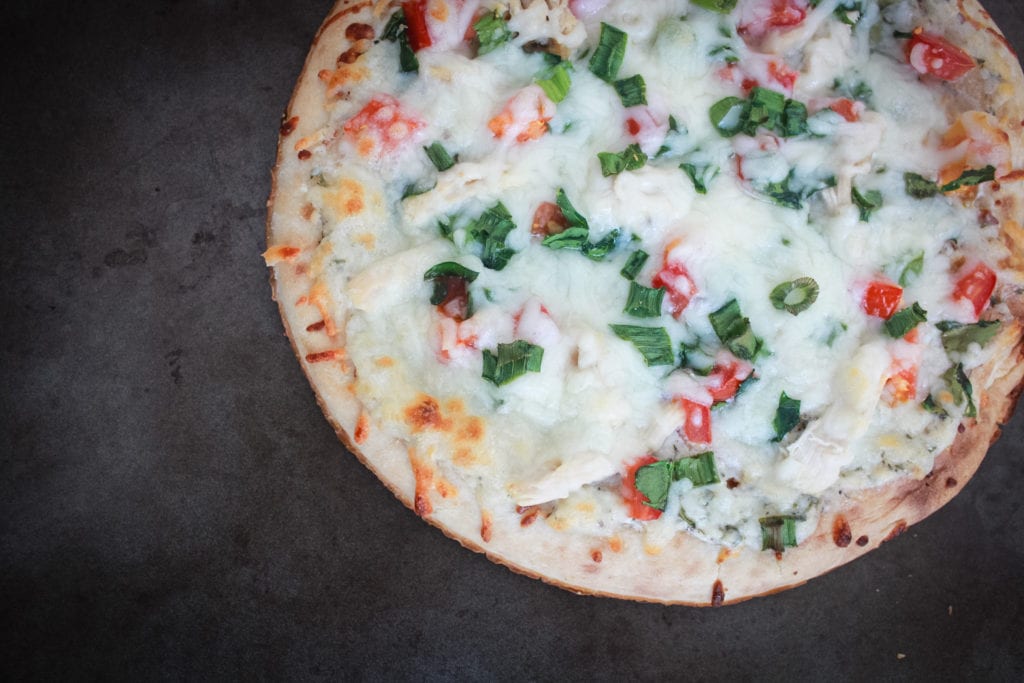 So I know I'm not the only one who tries to make sure I have easy meal options on hand for those times when the day just gets away from me, or things don't go as planned, or I'm just too exhausted or sick to put real effort into dinner.  So I always try to have some homemade naan bread (we use it as crust….it works PERFECTLY for personal sized pizzas), cooked shredded chicken, and cheese in the freezer. So many different varieties of pizza can be made from those three ingredients. It literally will take me less time to throw together this pizza than it would to order take out, and it's just as good if not better if I do say so myself.
You can use any kind of pizza crust you want….I used Boboli the night I took these pictures because we had been given a bunch that was about to expire. I've also used a homemade pizza crust recipe and my homemade naan bread (which is our most favorite). In a pinch, you could even use hamburger buns and have a make your own pizza night.
Sometimes I use fresh tomatoes, sometimes I use canned….just depends on what I have. I've made it with spinach and green onions. I sometimes leave them out. Below I'll share how to get it as close to Papa Murphy's perfection as possible, but you really can do whatever you want…..and when it's been a long day with the kiddos, easy is the name of the game.
This pizza is divine. Add it to your meal plan. We all need more easy in our lives.
Chicken Garlic Pizza
Easy homemade pizza recipe
Ingredients
your favorite pizza crust

prepared according to directions

½

cup

ranch dressing

I used homemade

½

T

minced garlic

shredded chicken

diced tomatoes

chopped green onions

chopped spinach

optional

mozzarella cheese
Instructions
Mix ranch dressing and minced garlic and spread on crust.

Add chicken, tomatoes, green onions, and spinach if desired.

Top with mozzarella cheese.

Bake for 10-15 minutes or until cheese is fully melted and crust begins to brown.

Enjoy!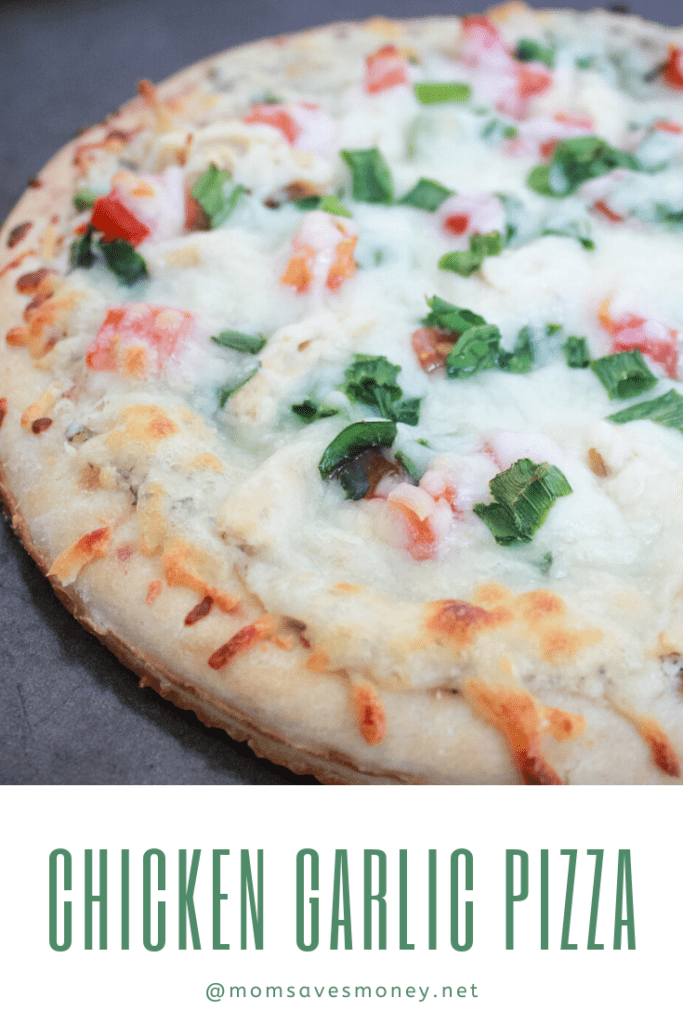 Jenny is a wife and stay at home mother of two. She loves good food, and enjoys experimenting in the kitchen. When she's not busy chasing kids, you can find her digging into a good book, enjoying the great outdoors, and trying not to kill her houseplants.