How to roast cauliflower in the oven for a quick, healthy side dish
It's cauliflower season!  I love the vegetable all year round, but we go through alot of it in the summer time because it's on sale.  My boys like it raw (with ranch dip!), but they also like oven roasted cauliflower – and I do too!  Roasting cauliflower transforms it into a nutty flavor profile and you can season it your tastes.  Yummy!  I've written before about roasting carrots and broccoli – the good news is that cauliflower is just as easy!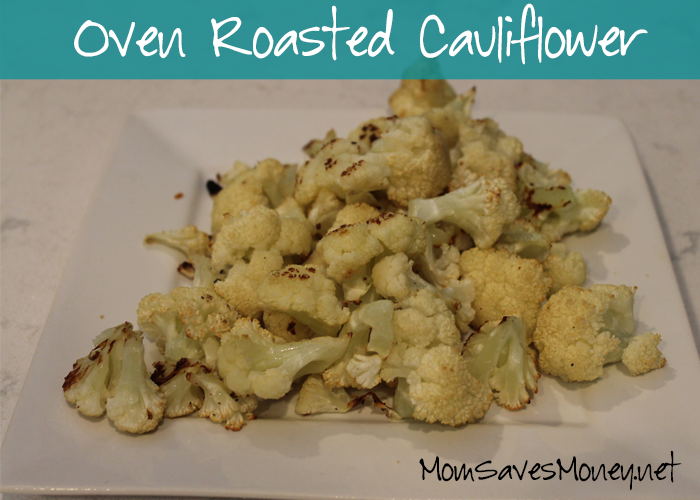 Best Seasoning for Roasted Cauliflower
With this side dish, there are a lot of seasonings that you can use, but I usually keep it simple with garlic powder, salt & pepper.  But be adventurous!  Try thyme, crushed red pepper flakes (for a little added heat), Italian seasoning, or basil.
Frozen or Fresh Cauliflower?
The great thing about this recipe is you can use a whole head of fresh cauliflower or you can also roast frozen cauliflower, making it great for all seasons. If you have a bag of veggies in the freezer, you have a great, healthy, and quick side dish!
The cauliflower roasts in the oven for about 15 minutes, but time will vary depending on the size of the florets. You will know the cauliflower is done when you can pierce it easily with a fork.
For more simple recipes, check out our Incredibly Easy 5-Ingredient Meal Plan and Cookbook, available on Amazon.
Oven Roasted Cauliflower
Quick and Healthy Side Dish
Ingredients
1

head

cauliflower, chopped

or 16 oz bag of frozen florets

1

Tbsp

Olive oil

garlic powder

or your choice of seasoning

salt & pepper

to taste
Instructions
If starting with raw cauliflower, wash and cut into florets.

Place fresh or frozen cauliflower on a baking sheet in a single layer.

Lightly cover it with oil, salt, pepper, and other seasonings.

Place in oven and bake for about 15 minutes. Smaller pieces won't take as long while bigger pieces might take longer. The cauliflower is done when you can easily insert a fork.

Enjoy!
Jayme is a wife to 1 and a mother to four little boys. She coupons, but isn't super extreme about it. She price matches and loves it! While she likes to cook, she's in the stage of life where simple is usually better! She never knows how many hands she'll have free at dinner time! You can find her at No Regrets Living.
Editor's Note – Updated in May 2021 for freshness and comprehensiveness.