It's cauliflower season!  I love the vegetable all year round, but we go through alot of it in the summer time because it's on sale.  My boys like it raw (with ranch dip!), but they also like it roasted – and I do too!  Roasting cauliflower transform it into a nutty flavor profile.  Yummy!  I've written before about roasting carrots and broccoli – the good news is that cauliflower is just as easy!
With this side dish, there are a lot of seasonings that you can use, but I usually keep it simple with garlic powder, salt & pepper.  But be adventurous!  Try thyme, crushed red pepper flakes or basil.
You can also roast frozen cauliflower, which makes it great for all seasons. If you have a bag of veggies in the freezer, you have a great, healthy and quick side dish!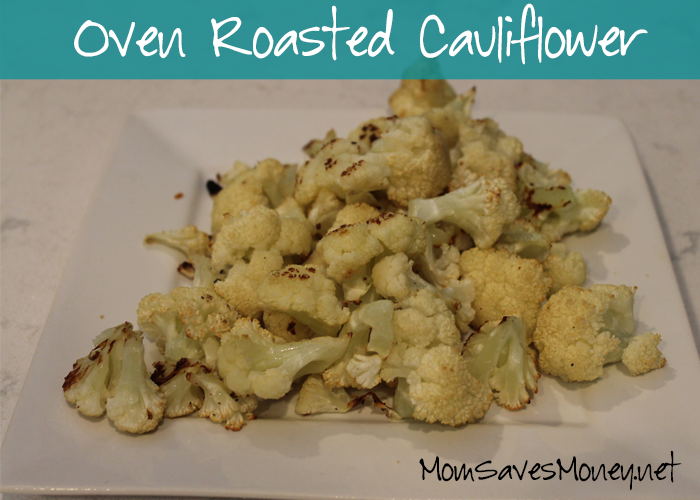 Oven Roasted Cauliflower
Ingredients
Cauliflower (1 head or a 16 oz. bag of florets makes the right amount for my small family)

Olive oil

Salt & pepper or other seasonings (in particular, garlic powder is great!)
Instructions
If starting with raw cauliflower, wash and cut into florets.

Put frozen cauliflower onto a cookie sheet.

Lightly cover it with oil, salt, pepper and other seasonings.

Put in a 425 degree oven and bake for about 15 minutes. Smaller pieces won't take as long while bigger pieces might take longer.

Enjoy!
Jayme is a wife to 1 and a mother to four little boys. She coupons, but isn't super extreme about it. She price matches and loves it! While she likes to cook, she's in the stage of life where simple is usually better! She never knows how many hands she'll have free at dinner time! You can find her at No Regrets Living.