Disclosure: Post & giveaway sponsored by Family Fare Supermarkets. All opinions are mine.
You all know I LOVE coupons, but I have to admit that the biggest impact on my overall grocery budget is actually meal planning. With a meal plan, I decrease food waste, shop less, eat healthier and avoid those last minute fast food runs.
So, how can you take meal planning to the next level and actually plan around the sales to really save big? Here are some tips to save the maximum amount possible with a meal plan using the weekly grocery ads.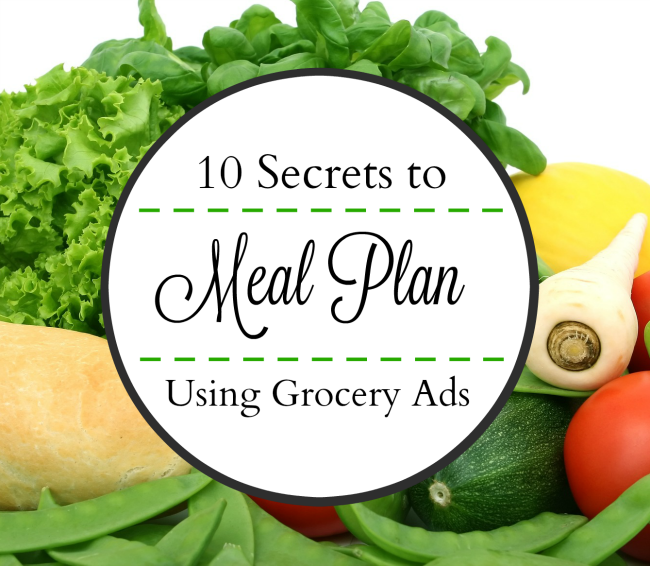 1. Pick On Sale Proteins – The biggest expense in most grocery budgets is meat. Check the weekly ads to see what the best bargains are for meat that week. If the prices are super low consider picking up an extra few pounds and freezing. Family Fare almost always has the best deals on meat that week on the front page of their ads, which makes it super easy to plan. You can even view their ads online.
2. Use In-Season Produce – The second largest expense in most grocery budgets is fresh produce. Create your meal plans and fresh fruit snacks using in-season produce to save the most money. In winter, when less produce is in-season, consider using frozen or canned vegetables in your recipes.
3. Cook Simple Recipes – Typically, the fewer ingredients you need to make a meal, the less it will cost you. Some of our favorites have only three ingredients, including Ham & Cheese Crescent Bake and Italian BBQ chicken. Both very simple to make and low cost.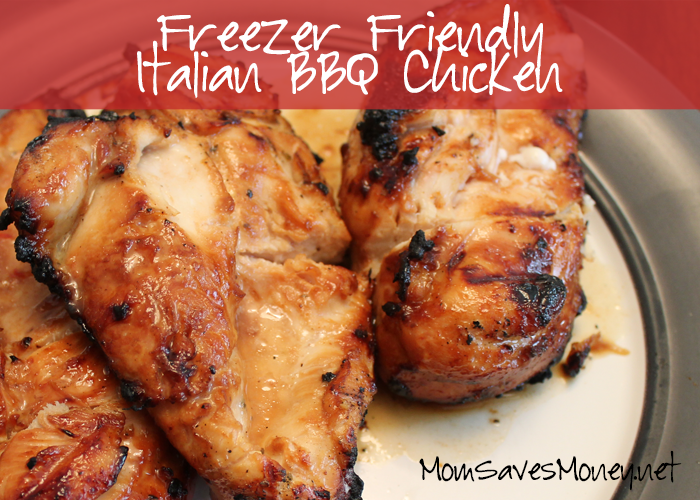 4. Stick with Easy Side Dishes – Simple is always best with side dishes. I usually cook fresh or frozen veggies (if vegetables are not in the main dish), add season-all salt and butter. Rice is also a low cost option for a side dish, depending on what we have for dinner.
5. Inventory Your Pantry – Take a quick inventory of your pantry after you've set your meal plan to avoid buying duplicate items. For me, it's usually spices that I overbuy because I forget that I already picked some up on the last grocery shopping trip. Knowing what's in your pantry saves you money and helps you avoid excessive food waste.
6. Add Coupons & Deals – Increase your savings by adding coupons to your weekly shopping list. Family Fare has digital coupons that often coincide with the sale items. They also have a freebie most Fridays that you can load directly to your Yes card. Plus, complete the surveys on the bottom of your receipts for an additional 5% off your total. The savings add up fast! Check out this article for more tips on how to save at Family Fare.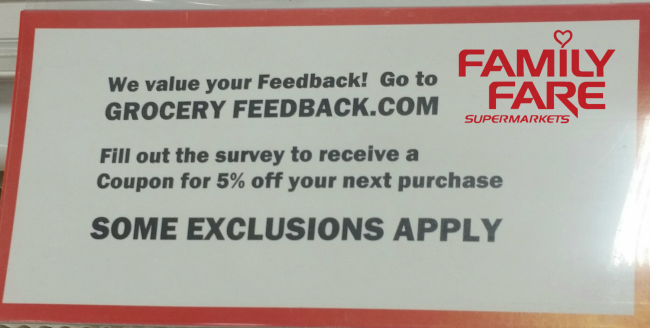 7. Avoid Impulse Shopping – The quickest way to blow your grocery budget is to shop without a plan or have a shopping list and not stick to it. If you've taken the time to make a meal plan, you know what your family needs for that week, so stick to your list. You can allow yourself a few impulse buys (mine is usually Oreos), but try to limit them as much as possible. Also, avoid shopping when you are hungry and leave the kids at home if possible.
8. Review Your Meal Plan Every Night – Before you go to bed, take a quick peek at your meal plan. If you need to defrost meat, you can quickly put in the refrigerator at night, so it can defrost before dinner the next evening. The more prepared you are to cook the meal, the easier it will be to follow through with the plan. You can even set up a system like this that takes daily meal planning to a whole new level.
9. Save Your Favorite Recipes – When you find a recipe you love, bookmark it, pin it or print it. If it's a beef recipe and beef is on sale, you can easily pull together a meal plan from your saved recipes. This makes meal planning much easier when you use recipes you already cook and love.
10. Rinse & Repeat – Once you have a variety of meals you cook regularly, repeat the meal plans you've created. You can easily adjust the plan depending on what the best bargains are at the grocery store for meat and produce.
The hardest part about meal planning is getting started. Look through the ads this week, pick your proteins and start a plan around the best bargains. The more you meal plan, the easier it is and before you know you won't be able to shop without a solid meal plan and shopping list.
Here's a sample meal plan using the Family Fare ad that runs 9/28/16 – 10/4/16. As you can see, there are several meats on sale this week. This is the meal plan I would use based on this weekly ad: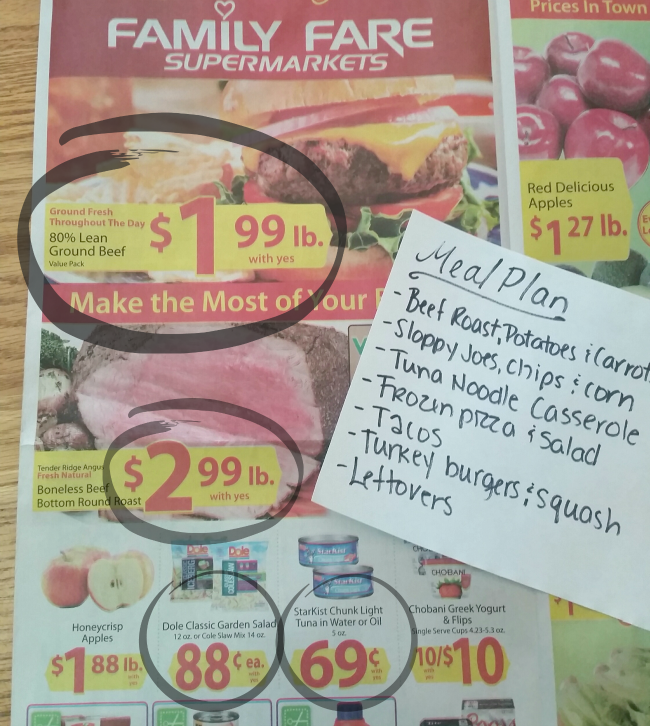 Beef roast with potatoes and carrots
Sloppy Joes, chips & corn
Frozen pizzas and salad
Tacos
Turkey burgers and cooked squash
Leftover night
All the items on this meal plan were in the weekly ad making it very economical!
GIVEAWAY



To give you a jump start on your meal plan, I am giving two lucky winners each a $50 Family Fare gift card! Simply enter using the Rafflecopter form below. Giveaway ends Wednesday, October 5. Good luck!