Disclosure: Contains affiliate link. All opinions are mine.
Pumpkin is commonly associated with the season of Fall, right?  As well it should be because that's when pumpkins start showing up everywhere.  In lattes, in breads, in donuts, on porch steps, everywhere!  But pumpkin doesn't always have to be eaten in just the Fall.  I was looking in my pantry the other day, spied a random can of pumpkin filling, remembered the cream cheese that I had in the fridge and I knew that pumpkin muffins with cream cheeses swirl are perfect even for January!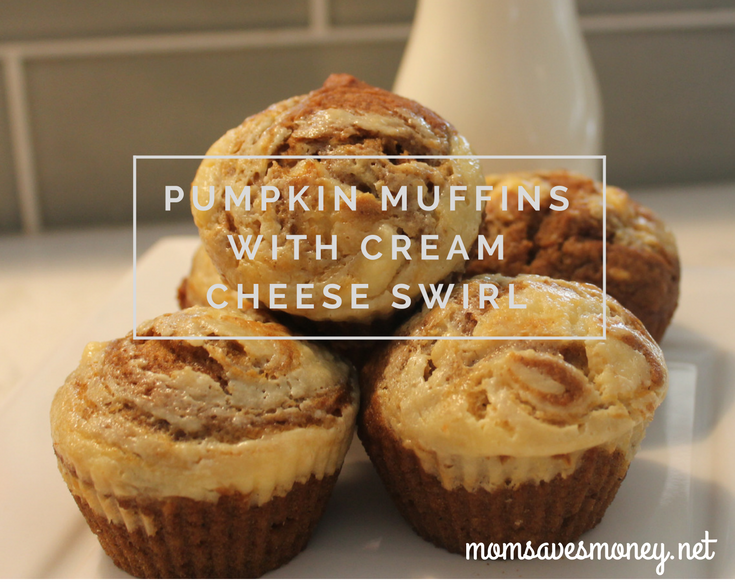 Now I love it with the cream cheese layer, but that's actually optional. You can skip that step and then you'll have just pumpkin muffins.  Still wonderful in their own right. The cream cheese does add an extra oomph! But it does add some complexity.  And if today is a day you just need simple, skip it. It'll make a little fewer muffins, but that's A-OK!  You'll always have my permission to simplify things in the kitchen.
And..speaking of simplifying, when I swirl the 2 layers together, I usually use the end of a metal skewer.  You know the kind you can make kabobs on?  It's long, so I don't get my fingers dirty and it's easy to control.  This recipe calls for pumpkin spice, but I don't often have that on hand.  If you don't either, don't let that stop you. I've given you an alternative to essentially make your own.  And if you don't have all of those spices, that's okay too.  Just use what you do have.  The flavor might not be as strong, but it'll still be tasty.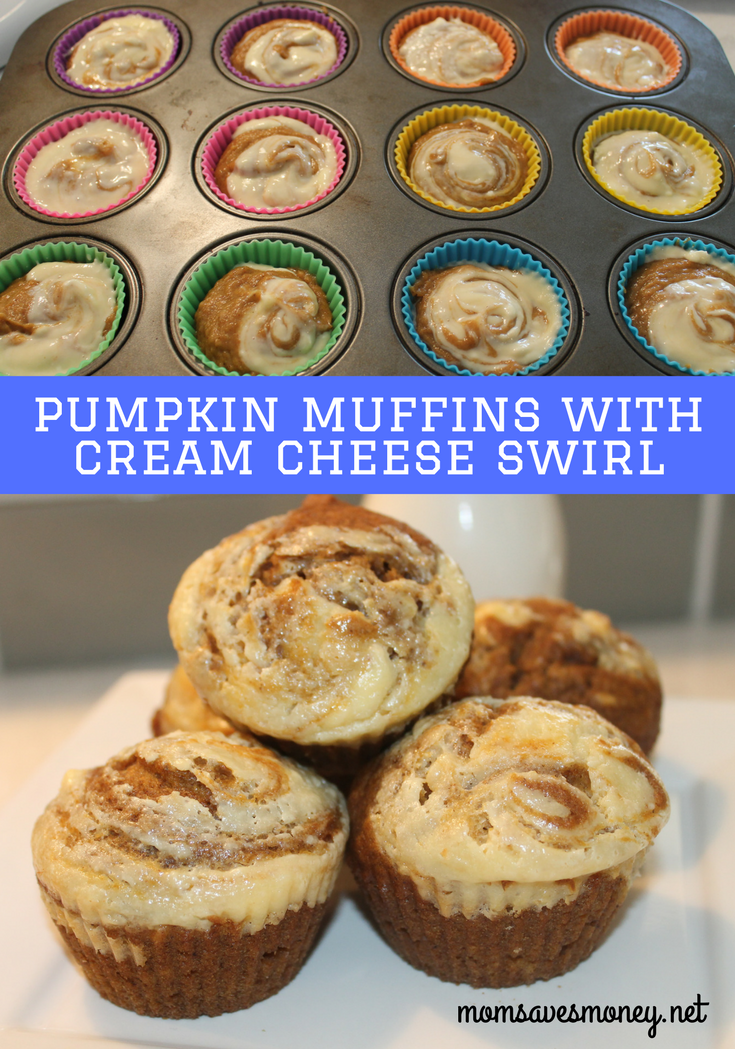 I love baking cupcakes and muffins in silicon cupcake liners.  That way, I never have to use paper and the muffins just pop right out.  Makes it easier for people to eat.  This is the brand that I have and they've held up really well.  Once my baked good has cooled, I just pop it right out and serve it, or freeze it or put it in a container for storage.  Fabulous!
But whatever you use — a really well greased muffin tin, paper liners, foil liners or silicon baking cups, just make these beauties!
Anyway, these muffins are wonderful even if its way colder than Fall outside.  Even if the snow is falling.  Even if the temperature reminds you of the South Pole and penguins.  If you're a coffee lover, have one with a cup of joe.  Serve 'em to your kids with a cup of homemade cocoa.  Go ahead – you'll be their hero!
Pumpkin Muffins with Cream Cheese Swirl
Delicious pumpkin-flavored muffins with an optional cream cheese swirl
Ingredients
Muffin Ingredients:
1 3/4

cups

all purpose flour

1

tablespoon

pumpkin spice (OR 1 1/2 teaspoons ground cinnamon, 1/2 teaspoon ground nutmeg, 1/4 teaspoon ground cloves, 1/2 teaspoon ground ginger)

1

teaspoon

baking soda

1/2

teaspoon

salt

1

(15 oz) can pumpkin

1

cup

granulated sugar

1/2

cup

packed brown sugar

2

large eggs

1/2

cup

vegetable oil

1

tablespoon

vanilla extract
Cream Cheese Swirl Ingredients:
8

oz

cream cheese (1 block)

1/4

cup

white sugar

1

egg yolk

2

teaspoons

vanilla extract
Instructions
Preheat oven to 375°F. Place paper baking cups into muffin pan. Or use silicon muffin liners - I love them! Set aside.

In a medium bowl, whisk flour, pumpkin spice, baking soda and salt until well combined. Set aside.

In large bowl, mix together pumpkin, sugar and brown sugar.

Beat in eggs, vegetable oil and vanilla extract.

Slowly whisk in the flour mixture, until there are no lumps.

Fill muffin tins 3/4 full.

If using the cream cheese swirl: In a medium bowl, beat cream cheese until smooth. Add in sugar, egg yolk and vanilla extract and beat until well combined.

Top each muffin with about 1 tablespoon of cream cheese mixture and use a toothpick to swirl it into the batter.

Bake muffins for 18-20 minutes, or until a toothpick inserted in the center comes out clean.

Store in the fridge. Great warm or cold!
Notes
This makes about 18 regular size muffins. You can also make them as mini-muffins, which make them very easy to eat! They bake for about the same amount of time.
Jayme is a wife to 1 and a mother to four little boys. She tries to coupon, builds a smart stockpile, and always meal plans. While she likes to cook, she's in the stage of life where simple is usually better – she never knows how many hands she'll have free at dinner time! You can find her on Instagram.