Got any meat & potato fans in your house?  This meal is for them!
Got any slow cooker fans in your house?  This meal is for them!
This is a complete meal.  It's got meat.  It's got potatoes.  It's got vegetables.  Done! Done! Done!  Now, I do usually serve it with some other vegetables, but that's because I really like vegetables.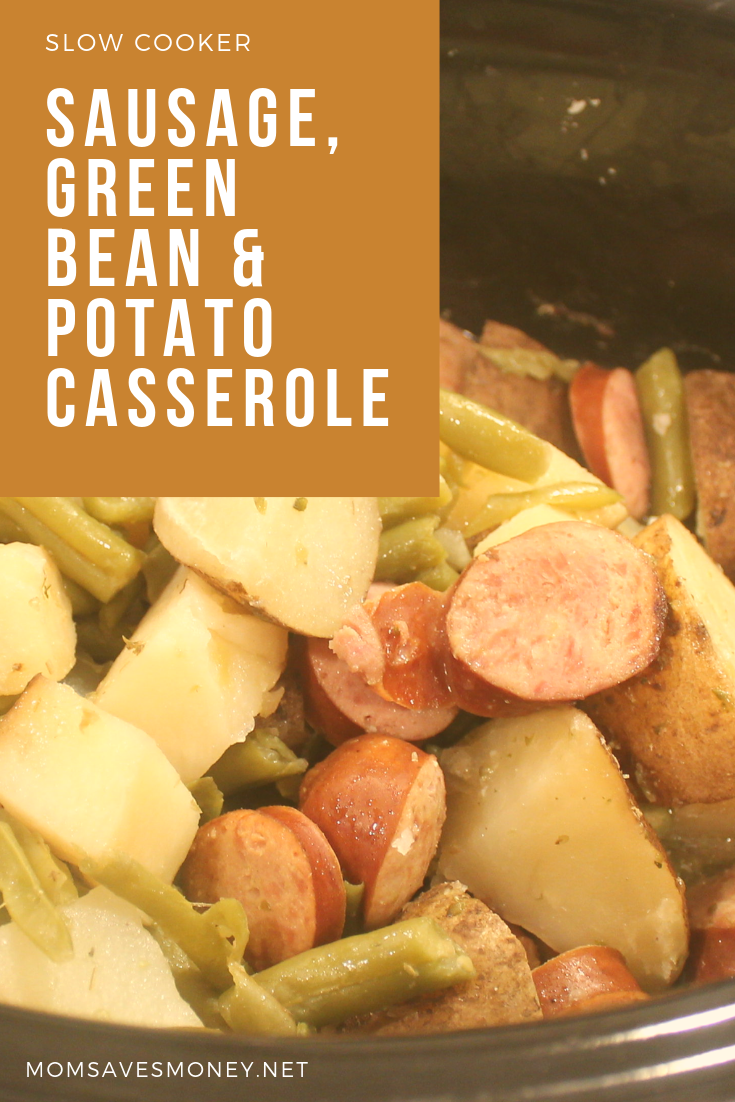 When I first made this, I was kind of doubtful.  My family are all big fans of smoked sausage and I was a little afraid that cooking it in the slow cooker wasn't going to do the meat justice.  I was wrong.  HOLY BUCKETS!  Did my family eat it up – especially my husband.  He kept using words like "comfort food" and "perfect" and "mmmmm…"  Definitely a winner.  Will repeat.
Especially because it's ridiculously easy.  Now, there isn't much that I make that is difficult, but this is just about easy as it gets.  Just a handful of ingredients thrown in a slow cooker and then leave it to do its business.  There isn't much liquid in this recipe, so I was worried about that.  But I didn't need to be. It's precisely because there isn't much liquid that the smoked sausage really shines!  The slow cooker (at least when I cook it on HIGH) almost "grills" it like the stove top or oven would.  There's a nice crispness to it.
It's just a great recipe.  Totally man-pleasing.  Totally easy.  Fun for the whole family!
If you're a slow cooker fan like me, try this 4 week slow cooker meal plan. That's 28 recipes all made in your slow cooker. Win!
Want more easy meals? Check out our 'Incredibly Easy 5-Ingredient Meal Plan and Cookbook'. This comprehensive resource includes 6 weeks of meal plans with recipes all 5 ingredients are less and weekly printable shopping lists. It doesn't get easier than that!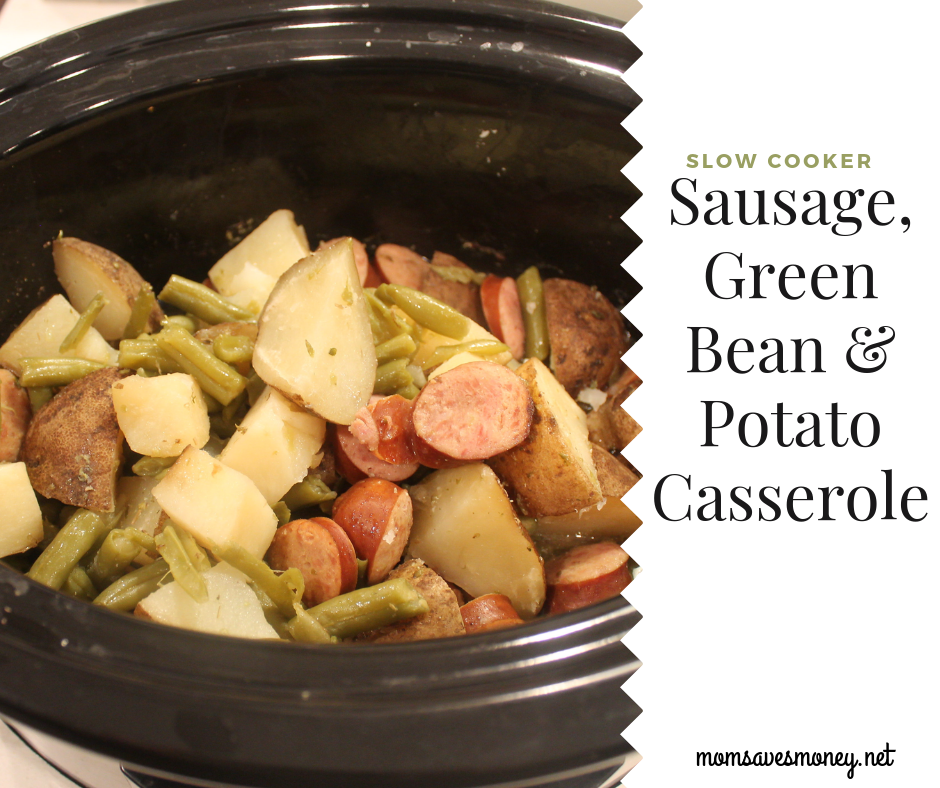 Slow Cooker Sausage With Green Beans & Potatoes
Easy 4-Ingredient One-Pot Recipe
Ingredients
14-30

ounces

smoked sausage such as Kielbasa (1-2 packages)

3

large

potatoes

1

pound

fresh green beans (or 3 cups or 2 cans)

3/4

cup

chicken broth (or 1 bouillon cube and 3/4 cup water)
Instructions
Cut sausage into 1 inch pieces.

Cut potatoes into large pieces - probably 8-10 pieces per potato. Leave skin on.

Cut ends off green beans if using fresh. Drain liquid from cans if using canned green beans.

Combine all ingredients in slow cooker. Cook on low for 6-8 hours or high 3-5 hours. I like 4 hours on high - it actually gives the sausage a "grilled" feel!
Jayme is a wife to 1 and a mother to four little boys. She tries to coupon, builds a smart stockpile, and always meal plans. While she likes to cook, she's in the stage of life where simple is usually better – she never knows how many hands she'll have free at dinner time! You can find her on Instagram.