I don't know how long the slow cooker has been around, but it's been treasured appliance by many a cook over the decades.  Its ability to take food, cook it for long periods of time without using your stove or oven space is wonderful!  It's an appliance that I use often – at least 3-4 times a week.
So, I thought: I bet I could use my slow cooker every single night of the week for a long time without repeating a meal.  So I challenged myself to see how many meals that I can come up with.  It was easily 6-7 weeks worth!  And that was just recipes in MY collection.  Recipes that I'm already familiar with.  Meaning: that isn't counting the hundreds of recipes that exist that I haven't made or aren't part of my regular rotation.
If you're like me and want to use your slow cooker more often (or even every day), I put together these 4 weeks of menus that consist only of slow cooker meals. Now, it might involve more than just a slow cooker as you might need to make rice to serve with the main meal, but, for these recipes, all of the heavy lifting is done by the slow cooker.  This is perfect for anyone wanting to use their slow cooker more or anyone new to using the slow cooker.  This is probably perfect FOR YOU!
Slow cooker recipes get a bad reputation for only being soups or icky, mushy food, but that isn't so!  You'll see that we have soups on this plan, yes.  But we also have Italian meals.  And Mexican.  And American.  And Asian food.  It's great stuff with a lot of variety!  Give them a try!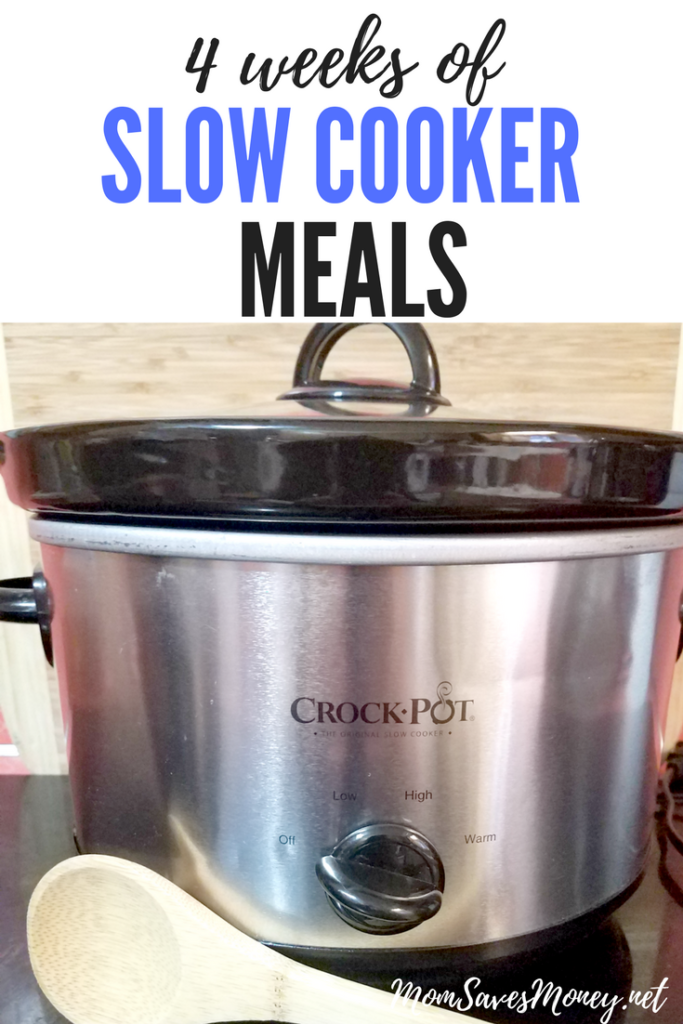 Notes:
Click any of the images in this post to open the menu plan.
It's okay if you don't like one of these recipes.  Feel free to replace it with one you do like.  Or eat leftovers.  Or eat a non-slow cooker meal!
Even though slow cookers are awesome and usually make for pretty quick meals, there can be ways to make it quicker! I LOVE having cooked meat on hand, ready to throw in the slow cooker.  Especially beef.  See these slow cooker instructions for bulk cooking chicken and bulk cooking ground beef. It makes it super quick to pull meals together!
The recipes that I suggest are linked below.
Recipes in this menu plan:
Week 1:
Chicken Noodle Soup
Stuffed Peppers
Smothered Pork Chops
Taco Soup
Italian Chicken
Beef Stroganoff
Chicken Enchilada Casserole
Week 2:
Ham
Pot Roast
Ham & Bean Soup
Jambalaya
Pulled Pork Sandwiches
Stuffed Shells with Spinach
French Dip Sandwiches
Week 3:
Sloppy Joes
Chicken Bacon Ranch Sandwiches
Steak Fajitas
Chicken Tacos
Lasagna
Tikki Masala
Tuscan Sausage & Potato Soup
Week 4:
Not Chicken Pot Pie
Sweet Sesame Chicken
Creamy Spaghetti
Barbecue Chicken Legs
Lo Mein
Chili
Beef & Broccoli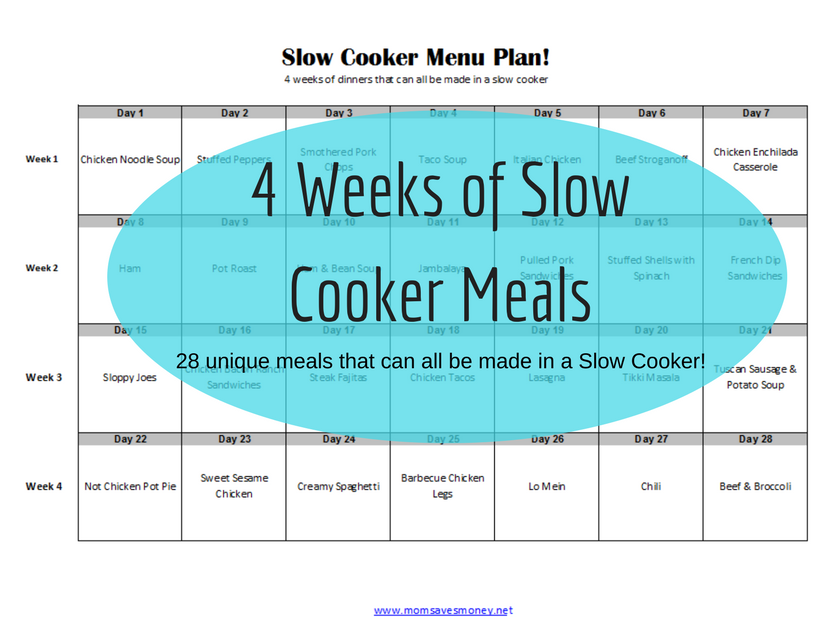 Jayme is a wife to 1 and a mother to four little boys. She tries to coupon, builds a smart stockpile, and always meal plans. While she likes to cook, she's in the stage of life where simple is usually better – she never knows how many hands she'll have free at dinner time! You can find her at No Regrets Living.