About 10 years ago now, I was introduced to naan bread by a co-worker, and I wondered where this sweet goodness had been all my life. There is just something about munching away on a fresh, warm piece of homemade naan bread that cannot be beat. There are so many unconventional ways to use it too! Sure, you could pair it with some FANTASTIC Chicken Tikka Masala or Chicken Makhani, but wouldn't that be predictable? Why not use it to make personal pizzas? It makes the perfect crust. Or, use it in place of bread for a tasty flatbread sandwich.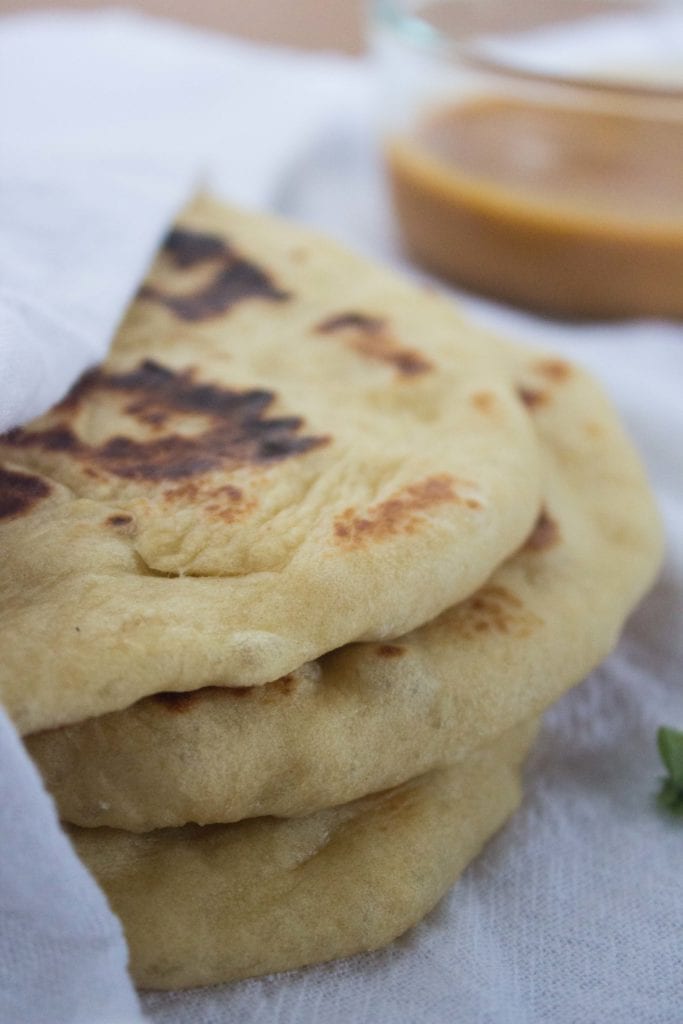 Now, you can buy Naan at the grocery store, but it's like $2-5 and you only get a couple pieces. Bad deal. But the good news is that you can make it yourself for MUCH cheaper, and you get EIGHT pieces. Now that's what I'm talking about! I try to always have a stack ready to go in the freezer.
I'm sure some of you are thinking…"uh, yeah no. I cannot possibly make bread from scratch." But ya'll, I'm telling you, this is so easy! You mix it up, you let it rise, you fry it up on a griddle. Done. While it does take more time than grabbing some at the store, if you just double the recipe you'll have plenty to last you quite awhile. It keeps at least one week and up to two week when stored in the fridge!
I probably make a large batch once or twice a month just so I don't have to do it more often. If you're still feeling resistant, just think of it as a fun kitchen science experiment to do with your kids! My son LOVES to help me make it, watch the dough rise, and roll out his own little piece for me to fry up. It's great bonding time. And delicious. What's not to love? Just try it….you won't be sorry!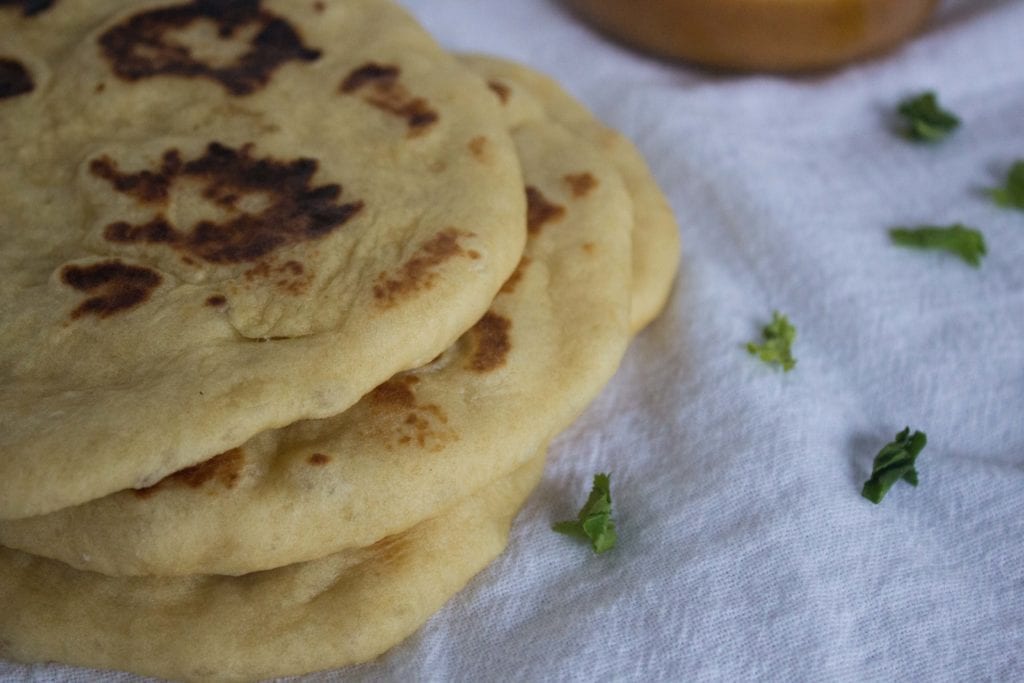 How to Freeze Naan Bread
Freezing homemade naan bread is simple and can be kept 2-3 months in the freezer. To freeze, cool the bread completely then flash freeze by placing the naan bread in a single layer on a parchment-lined freezer-safe pan and freezing until solid (about 2-3 hours). This ensures the bread does not stick together when stored. Once fully frozen, transfer to an airtight freezer container or bag.
The best way to defrost the bread is letting it sit overnight in the refrigerator. Once defrosted reheat the bread in the microwave (10-15 seconds), a toaster oven or on a hot griddle.
Naan Bread
Ingredients
1

packet of yeast or 2 1/4 tsp

1

tsp

honey

1/2

cup

water

1/2

tsp

salt

1/4

cup

olive oil

can replace with avocado or coconut oil

1/3

cup

plain yogurt

1

egg

2 1/4

cups

flour
Instructions
Pour the water and honey into a medium bowl (I use my kitchenaid mixing bowl), then sprinkle yeast on top and mix together. Allow to sit for 5-10 minutes until foamy. Allowing enough time for the yeast to foam is important, so do your best to give it the full 10 minutes, or even more if the kitchen is colder than normal.

Once the yeast has foamed up well, add the egg, oil, and yogurt and mix well. Combine the 1/2 tsp of salt with 1 cup of the flour and mix in with the liquid ingredients. Use a whisk to make sure it's fully incorporated. After the first cup of flour is added, continue to add more flour 1/4 a cup or so at a time. You want your dough to be slightly tacky, not dry or sticky, so err on the cautious side when adding flour. For me, the perfect amount is usually about 2 1/4 cup, but you may need more or less.

Once you've got the dough to the right consistency, let the mixer keep kneading it for a minute or two. Then place the dough on a lightly greased bowl, cover with plastic wrap or a damp towel and let rise for at least an hour until it's doubled in size. The warmer your kitchen the faster the dough will rise. *protip: in a cold house, briefly warm your oven (not too hot) turn it off, then let the dough rise inside.

When your dough is ready, divide it into 8 pieces using a pastry cutter or a knife.

Preheat a skillet to medium. Form each piece into a ball, flatten it with a rolling pin or your fingers, then place it on the hot skillet.

It will start to bubble up with those classic naan bubbles. Cook 1-2 minutes per side, so it is brown but not burnt.

Wrap finished pieces in a towel so they stay soft and warm while you cook the rest. I prefer to roll out my naan dough one at a time, rolling out each one as another is cooking.

Serve, and enjoy! Store leftover naan in an airtight container in the fridge or freezer.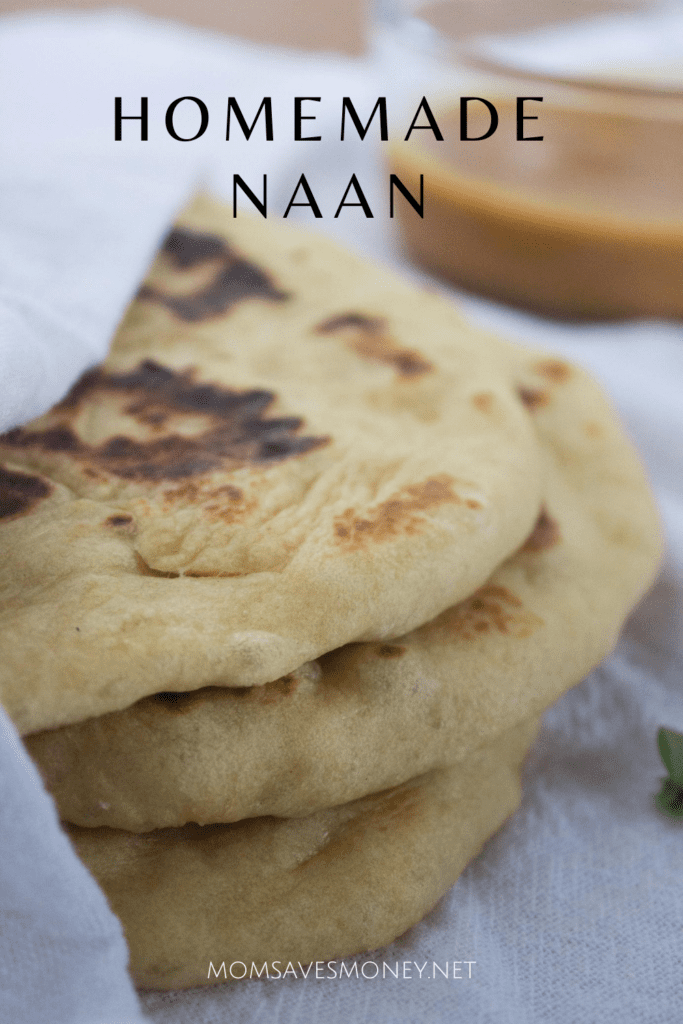 Jenny is a wife and stay at home mother of two. She loves good food, and enjoys experimenting in the kitchen. When she's not busy chasing kids, you can find her digging into a good book, enjoying the great outdoors, and trying not to kill her houseplants.