Y'all. Y'ALL. I am about to share literally one of my very most favorite recipes of all time. This sweet, thick, buttery cornbread is literally melt-in-your-mouth goodness that everyone needs in their life. Pair it with some homemade chili and you've got the fixins for the ultimate hearty meal.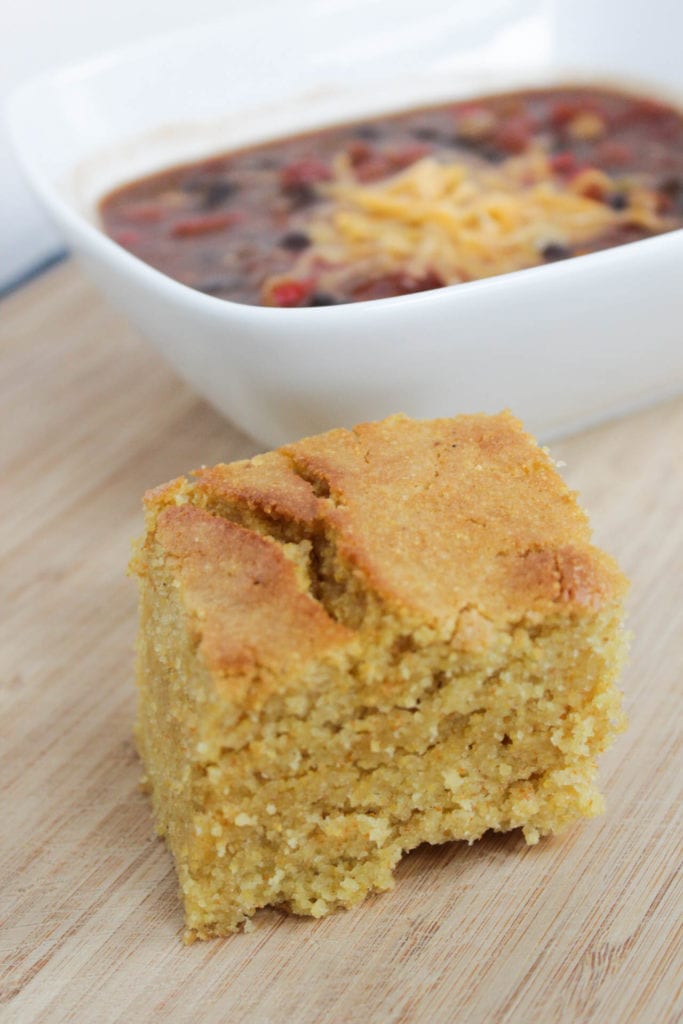 Now I have to make a confession. I am a cornbread addict. The only thing more dangerous than a pan of cornbread sitting in my kitchen is a pan of peanut butter chip brownies. Except that with the brownies, at least the sugar rush sets in after a few pieces and I force myself to stop. With this cornbread I've been known to demolish an entire pan by myself within 24 hours. I'm sure it's the carbs that are calling my name, but seriously… how can you say no to this buttery treat? It's like cake, but with less sugar! Totally acceptable for breakfast, snacks, or any meal of the day, am I right?!
Now I've had my fair share of cornbread over the years, and despite my deep love for it, I need to tell you that not all cornbread is created equal. Those little store bought packages of the stuff? They are okay in a pinch….I've been known to use them on occasion when the kids energy levels have sucked the life out of mine. #momlife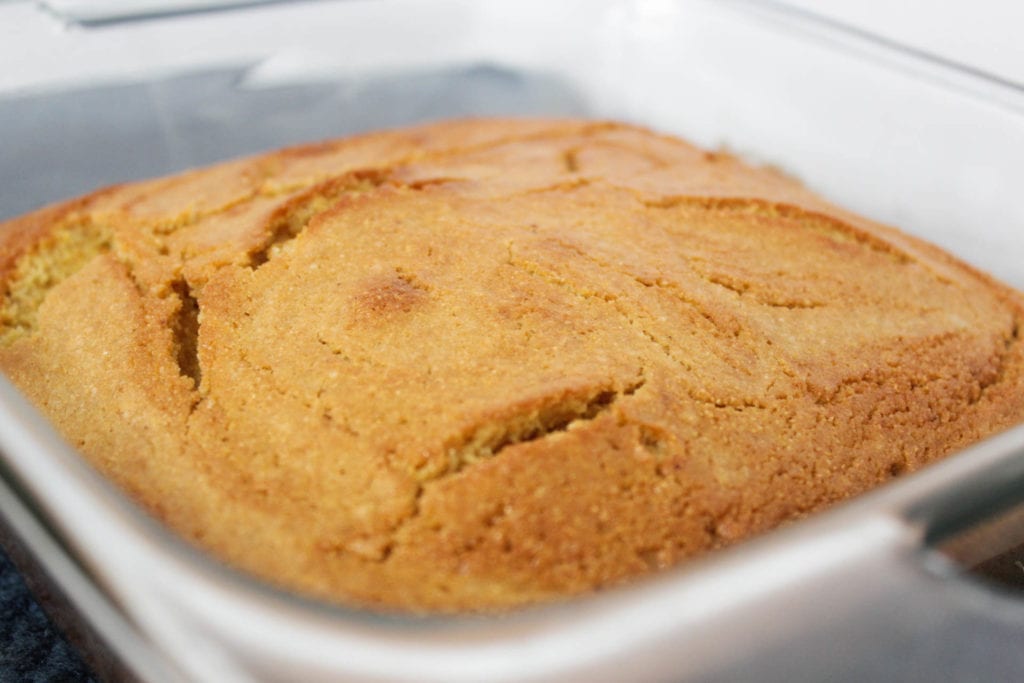 But this recipe? This is literal gold…once you've had it, nothing else really compares. And really, this recipe MIGHT take you 5 minutes longer than a box mix. So what I'm trying to say is… it's worth it. I almost always double the recipe because my family loves this so much, and if I have any hope of reserving at least half a pan for myself, it's necessary. Don't judge people….I promise you'll feel the same after you try it!
Are you a carb addict too? Try more delicious bread recipes:
Homemade Cornbread
The best cornbread recipe ever
Ingredients
¼

cup

white sugar

2

T

brown sugar

½

cup

butter

melted

2

eggs

1

cup

milk

½

tsp

baking soda

1

cup

cornmeal

1

cup

flour

½

tsp

salt
Instructions
Preheat oven to 375. Grease an 8×8 pan and set aside.

In a medium bowl, combine brown sugar, white sugar, and melted butter and mix well. Add eggs and stir together until fully combined. Add milk and stir again.

In a separate bowl, combine flour, cornmeal, baking soda, and salt.

Add wet ingredients to dry ingredients, and stir until just combined.

Pour batter into grease pan, and bake at 375 for 25-30 minutes, or until toothpick inserted comes out clean.

Serve and enjoy!
Jenny is a wife and stay at home mother of two. She loves good food, and enjoys experimenting in the kitchen. When she's not busy chasing kids, you can find her digging into a good book, enjoying the great outdoors, and trying not to kill her houseplants.