It's buttery and garlicky and cheesy and delicious, and it can be on the table in 15 minutes! What is the delectable dish? It's the stuff dreams are made of….garlic parmesan shrimp! This was a wild hit with the family, and came together so quickly. My favorite kind of meal!
I've been on a shrimp kick lately because it's so friendly to those of us like me, who forget to thaw the meat ALL THE TIME.  So I scoured the pantry and found I had all the ingredients for this super easy dish, and got cookin'!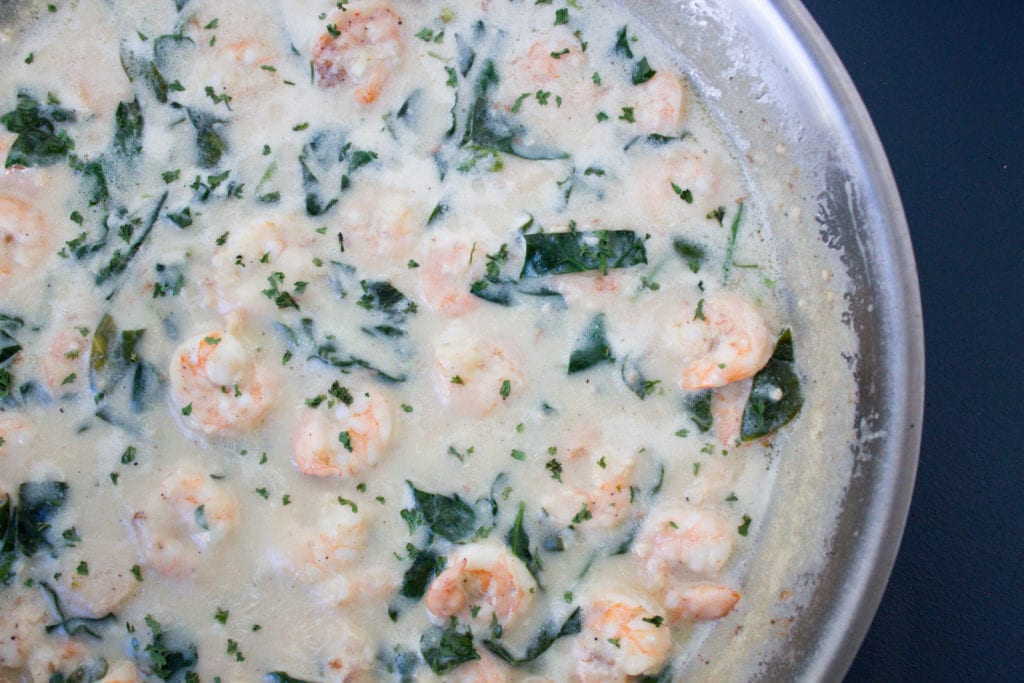 How to Defrost Shrimp Quickly
If you plan ahead, shrimp can defrost in the refrigerator overnight. However, if you're like me and usually forget, you can defrost shrimp quickly. Simply place the shrimp in a sealable plastic bag and immerse in cold water. In about 30-40 minutes your shrimp should be completely thawed and ready to cook. Remove the shrimp from the bag, pat dry, and get cooking.
How to Sauté Shrimp
First, drizzle a bit of olive oil in a large skillet over medium heat. Add your thawed shrimp and season with some salt and pepper. Sauté until they turn pink and are totally cooked through, then remove them from the heat and set aside. 
How to Cook Garlic Parmesan Shrimp
In the same skillet, add the butter and melt, then sauté your garlic for 30 seconds or so until fragrant. Add your chicken stock and let it simmer until it reduces by about half. Scrape all the little brown bits off as it simmers to add some extra flavor to your dish. Once it has reduced, add your whipping cream. You can use half and half, for a lighter version, or in my case I used almond milk (which made it a lot less creamy so just keep that in mind).
Bring it to a gentle simmer and season with salt and pepper to taste. Add in your chopped spinach and parmesan cheese until the spinach wilts and the parmesan melts. Then toss the shrimp back into the pan.  Add any extra seasoning to taste (I added a smidge of dried parmesan, mostly for looks) and then serve!
What to Serve with Garlic Parmesan Shrimp
We enjoyed ours over some bowtie pasta with some roasted cauliflower, but it would be tasty with some fettuccini, or your favorite veggie of choice! Or, try one of these simple side dishes.
Garlic Parmesan Shrimp
Delicious, quick, and easy meal ready in just 15 minutes!
Ingredients
1

Tbsp

olive oil

1

lb

shrimp

thawed, tails off

salt and pepper to taste

2

Tbsp

butter

6

tsp

minced garlic

3/4

cup

chicken broth

1.5

cups

whipping cream

or half and half

1/2

cup

shredded parmesan cheese

1

cup

chopped spinach
Instructions
Heat oil in a large skillet and season shrimp with salt and pepper. Sauté for several minutes on each side until cooked through. Remove from pan and set aside.

In the same pan, melt the butter and sauté the garlic until fragrant (30 seconds or so.) Pour in the chicken broth and allow to reduce to half, scraping the browned bits off the bottom of the pan.

Reduce the heat and add the cream. Simmer for a minute and season with more salt and pepper to taste.

Add the parmesan cheese and the chopped spinach until the cheese is melted and spinach has wilted.

Add the shrimp back to the pan and simmer for a minute or two. Then remove from heat and serve over pasta or rice.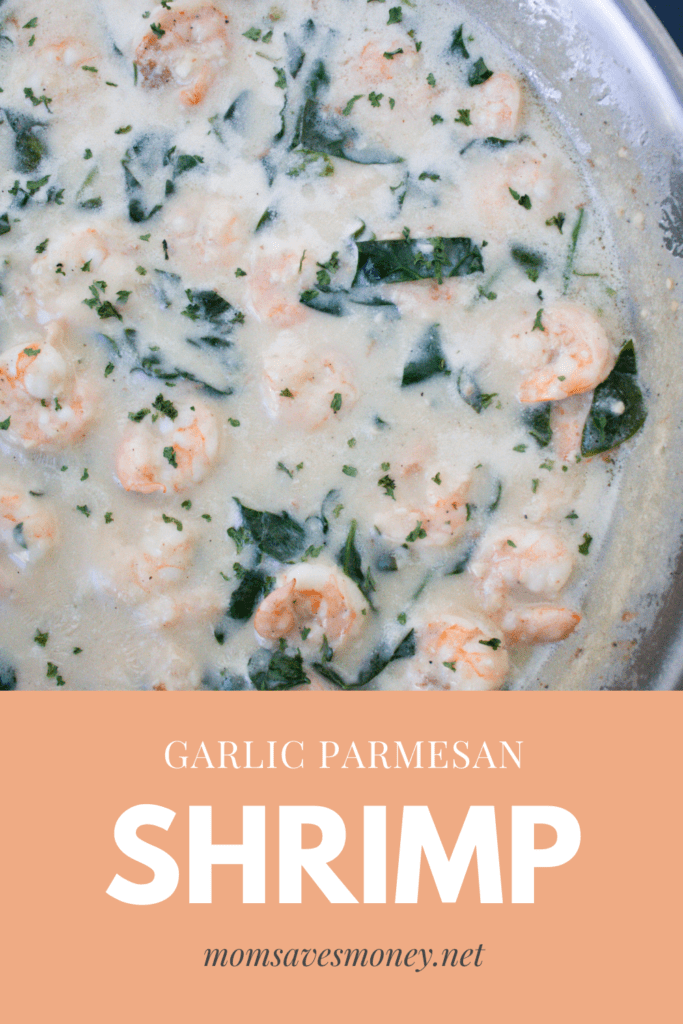 Jenny is a wife and stay at home mother of two. She loves good food, and enjoys experimenting in the kitchen. When she's not busy chasing kids, you can find her digging into a good book, enjoying the great outdoors, and trying not to kill her houseplants.