Raise your hand if you just love a good savory breakfast? Oh, you too? Well, these Egg, Sausage and Potato Breakfast Burritos are sure to hit the spot. I'm really a fan of most breakfast burritos in general, but these are definitely my favorite. So many delicious flavors to delight your tongue with the eggs, potatoes, sausage, peppers, onions, and cheese. Add a little hot sauce and you've got utter perfection!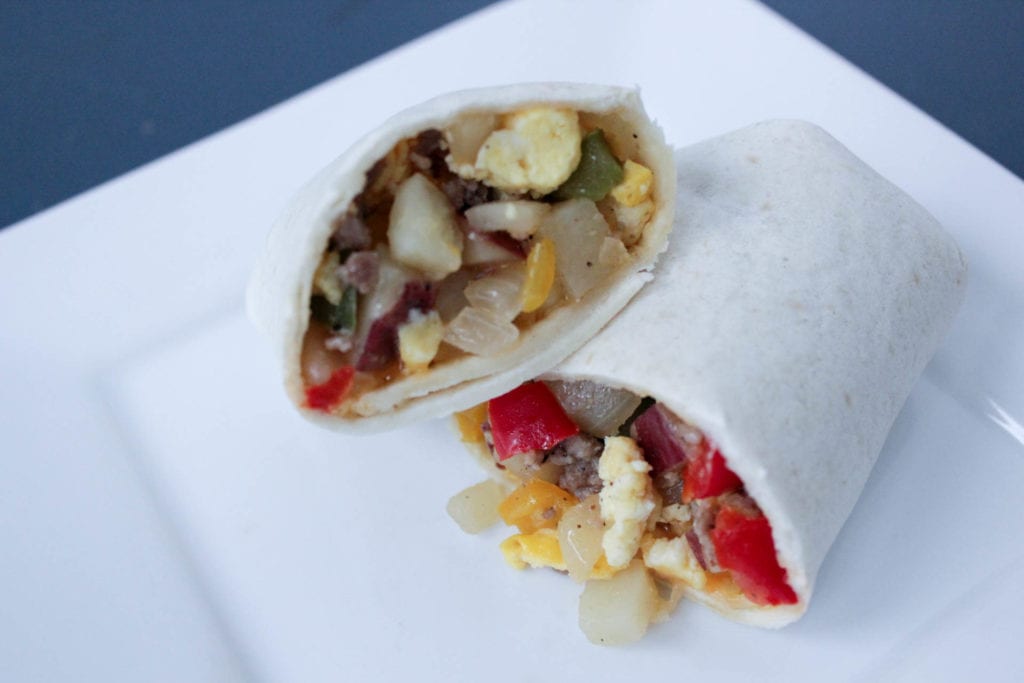 Now, I'm not going to lie. These are a bit labor intensive. Which is why when I make them, I often double the batch so we can freeze them and enjoy them whenever a craving strikes. But I contend that they are 100% worth the time it takes to prepare them. 
How to Make Breakfast Burritos
First, you gotta chop up those potatoes, bell peppers and onions. Honestly, if we could skip that part it would go a lot faster, so if you feel like buying the frozen variety to save some time, go for it! I sauté the potatoes in some butter, and then add the onions and bell peppers once the potatoes are starting to soften. Once they are all cooked to your liking, set them aside, and pop that sausage in the same skillet. Once it's cooked through, set it aside.
Now remove most of the grease from the pan (I like to leave a little to help the eggs not stick to the pan), and then fry up your scrambled eggs. Add the potato mix and sausage back to the eggs and mix thoroughly. Remove from the heat. 
Now comes the fun part…assembly! I use a large serving spoon and put one heaping spoonful on a tortilla, top with cheese, and wrap. You can eat these right away with some hot sauce for breakfast or make extra and freeze for later.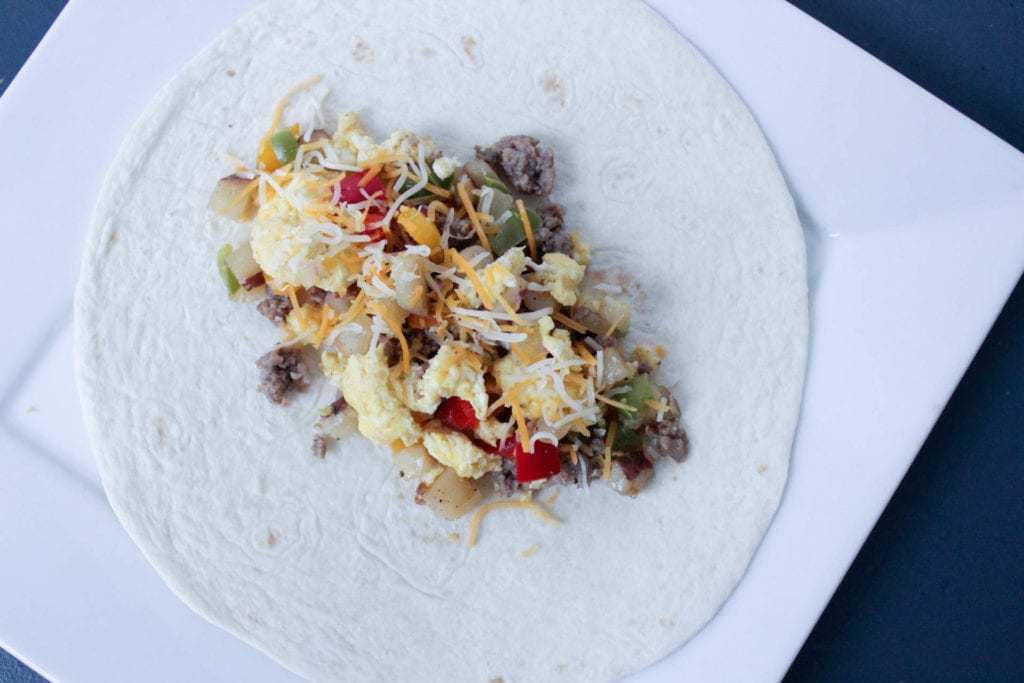 How to Freeze Breakfast Burritos
Freezing breakfast burritos is easy and they taste great reheated. To avoid the expense and waste of aluminum foil, I lay my fully wrapped burritos on a cookie sheet and freeze. Once completely frozen, usually 1-2 hours, I pop them individually-frozen burritos all in a heavy-duty freezer bag and store in the freezer for future use. To reheat, I simply wrap them in a paper towel, microwave for 1-2 minutes or until desired temperature is reached, slather with hot sauce and consume! I hope you enjoy these as much as I do!
If you love savory, filling breakfast dishes. Try one of these recipes:
Egg and Potato Breakfast Burritos
Ingredients
1

tbsp

butter

2

large potatoes

diced into bite-sized pieces

1

red bell pepper

diced

1

green bell pepper

diced

1

yellow onion

diced

1

lb

ground sausage

12

eggs

scrambled

16

oz

Mexican cheese

or shredded cheese of choice

Tortillas

hot sauce

if desired

Salt and pepper to taste
Instructions
In a large skillet, melt butter on medium-high heat, add potatoes, and sauté for 3-5 minutes.

Add onions and peppers and sauté until everything reaches a desired level of doneness. Remove from pan and set aside.

Add sausage to skillet and sauté until cooked through. Remove and set aside.

Soak up most of the grease, then fry up your eggs until scrambled to your desired consistency.

Add potato mixture and sausage back to the pan and thoroughly mix.

Add one spoonful of this mixture to a taco-sized tortilla and top with crumbled Mexican cheese. Top with hot sauce if desired. Wrap and serve.

If freezing, lay filled and wrapped tortillas on a cookie sheet and freeze for an hour or two. Then remove and store in freezer-safe bag or container until ready to eat. Reheat in microwave whenever the craving strikes!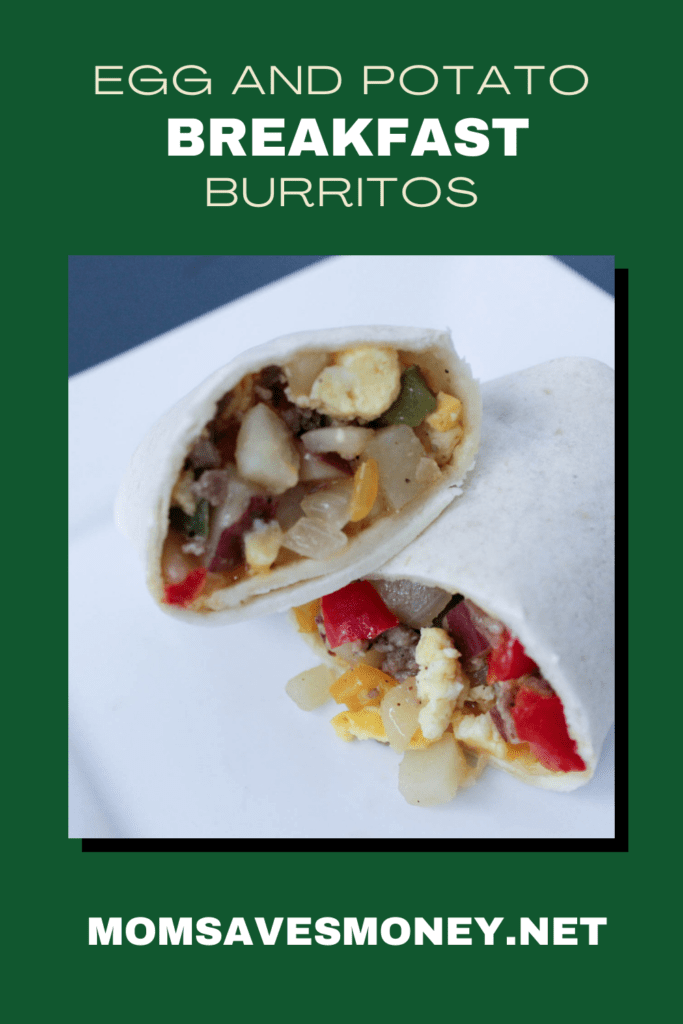 Jenny is a wife and stay at home mother of two. She loves good food, and enjoys experimenting in the kitchen. When she's not busy chasing kids, you can find her digging into a good book, enjoying the great outdoors, and trying not to kill her houseplants.