If you're looking for a healthier version of chicken nuggets, look no further! These sweet potato chicken poppers are delicious, full of savory spices, and nutritionally dense thanks to the sweet potato and lean meat. My kids fully approve of these, even without any kind of dip! I'm not sure you could get a more enthusiastic review than one that comes from my picky eaters.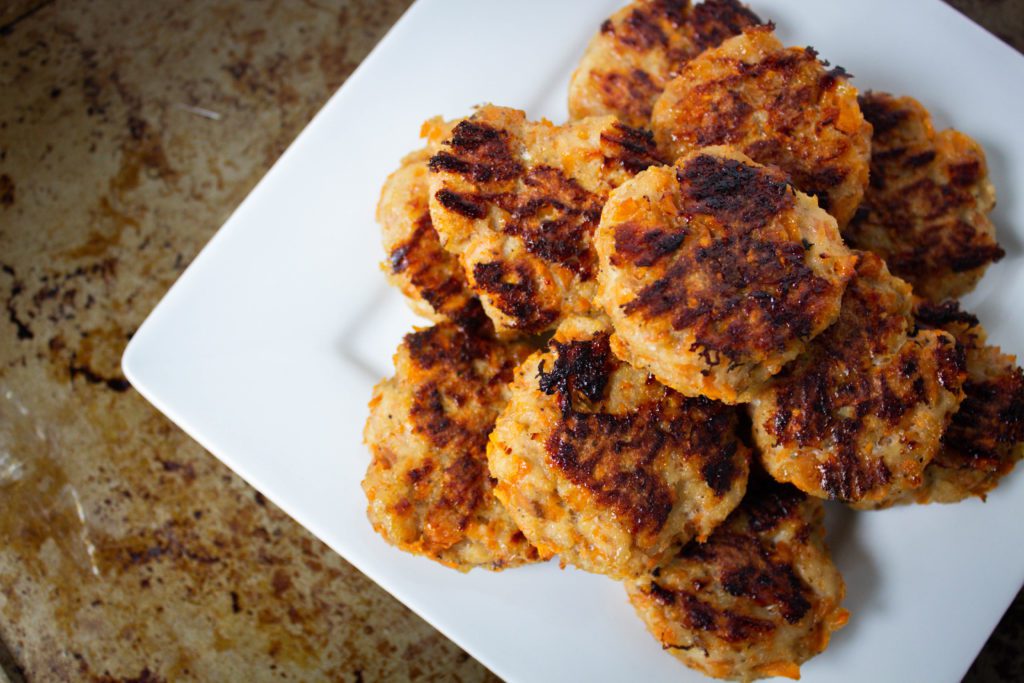 How to Make Sweet Potato Chicken Poppers
These are super easy and straightforward to make, and you don't even need to slave over the stove to cook them, as they are oven baked. You don't need to pre-cook the sweet potatoes either! I just peeled mine, chopped them into a few large pieces and tossed them into my food processor to dice them up finely. You could also used a grater or mandolin for this if you don't have a food processor. 

Then I tossed the sweet potatoes in a bowl and added in all of the spices, and 1 pound of ground chicken (or turkey works too!). I mix them up and use my small cookie scoop to form equally sized little patties. Flatten the patties slightly and place them on a lightly greased or parchment covered baking sheet. Bake them at 400°F for about 26 minutes, flipping halfway through so they get crispy on both sides. If you like them extra crispy, set your oven to broil and cook an additional 1-2 minutes per side. Just watch them carefully, so they don't burn.
What to Serve with Sweet Potato Chicken Poppers
These are great on their own, but also taste really good with some barbecue sauce, or some guacamole. Then serve with your favorite side dishes! Our favorite sides are easy peasy baked beans or a simple pasta salad.
How to Freeze Sweet Potato Chicken Poppers
The sweet potato chicken poppers freeze and reheat fantastically, so I like to make a double batch for a healthier convenience meal option. Not that I have anything against store bought chicken nuggets, but I definitely feel better when I have the time and energy to batch cook a bunch of these. Then when I have one of those rough days where cooking is the last thing I want to do, I can whip out this homemade goodness and not only not need to cook, but feel great about providing a healthier option for my family.
To freeze, simply place cooled chicken poppers on a freezer-safe tray in a single layer and place in freezer until completely frozen (usually 3-4 hours). Then, transfer in a heavy-duty freezer bag and store until ready to use. Simply reheat in the microwave until fully reheated. These "chicken nuggets" are 100% worth a try, so add them to your meal plan today!
Sweet Potato Chicken Poppers
Kid-friendly, healthier version of baked chicken nuggets!
Ingredients
1

lb

ground chicken

or ground turkey

2

cups

shredded raw sweet potatoes

2

Tbsp

flour

2

tsp

garlic powder

2

tsp

onion powder

1

tsp

salt

1/2

tsp

black pepper
Instructions
Preheat the oven to 400°F, and line a baking sheet with parchment paper or a silpat.

Combine all the ingredients in a large bowl and mix thoroughly.

Begin rolling into small 1" balls and flatten slightly. I like to use a cookie scoop for uniformity in size.

Place in the oven for approximately 26-28 minutes, flipping halfway through. You can also set them under the broiler for a minute or two per side if you want them more crispy. Just watch so you don't burn them.
Notes
Note: Make a double batch and freeze the extras. Once cooled completely, flash freeze until completely frozen and transfer to a heavy-duty freezer bag. To serve, reheat in the microwave.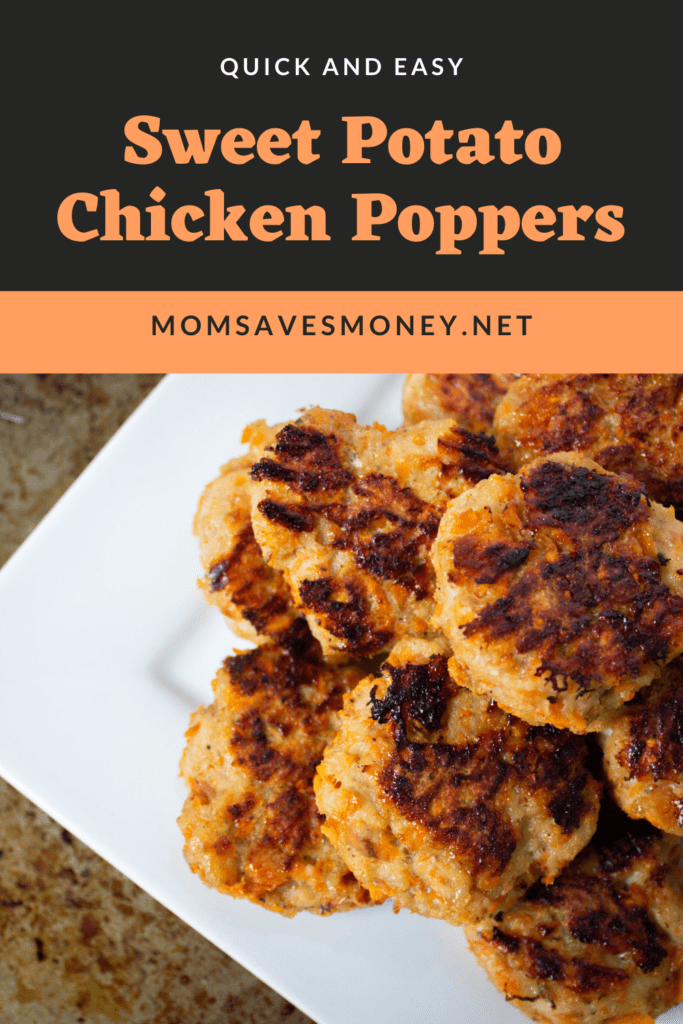 Jenny is a wife and stay at home mother of two. She loves good food, and enjoys experimenting in the kitchen. When she's not busy chasing kids, you can find her digging into a good book, enjoying the great outdoors, and trying not to kill her houseplants.