Are you looking to cut caffeine but not sure how you can go without your favorite iced beverage? Maybe consider giving this iced golden milk latte a try! Creamy and delicious, and packed with anti-inflammatory ingredients, it has become one of my favorite drinks to enjoy on a hot day. I recently learned of the incredible anti-inflammatory benefits of turmeric, but struggled to figure out how to incorporate a daily dose into my diet. It just didn't always fit with the meals I planned. So when I learned about golden milk lattes, I knew it was the perfect solution!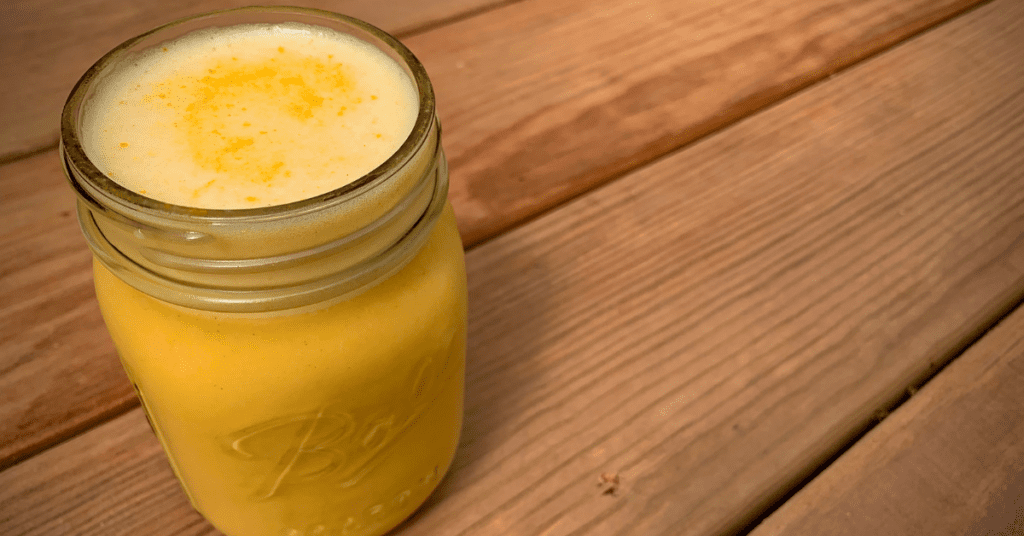 How to Make an Iced Golden Milk Latte
I've experimented with this drink a fair bit, and I think I've landed on the perfect combination of ingredients. You'll need to grab your favorite plant milk. I've tried oat and almond and like both equally. Add 1.5 cups to a mason jar (or any taller cup) and then add vanilla, cinnamon, ginger, turmeric, a dash of pepper, and some maple syrup. I'm sure you're wondering why I add pepper, and before you decide to omit it, please know that pepper is known to make the turmeric more easily absorbed by your body, so for maximum benefit don't leave out the pepper. You can't even taste it, so no worries there!
Now once all the ingredients are assembled, I used to just pop a lid on the mason jar, shake it up and be on my way. And you totally can too! But I have found that sometimes the spices will clump and not mix well if added all at once, so I now use a milk frother to blend them in as I'm adding them and it works great! Alternatively you could toss them in a blender, but just be aware that turmeric will stain a plastic pitcher so use caution. Glass pitchers should be just fine though.
When it comes to the maple syrup, I usually add 1-2 teaspoons, but obviously you can adjust it to your personal taste if you prefer your drinks on the sweeter side. I also like to add some flax oil to mine for an extra dose of anti-inflammatory goodness, and some good for you omega-3 fatty acids, and I do think it makes it a little creamier. I again use a milk frother to distribute the oil throughout the latte.
Once you've got the ingredients adjusted to your liking, you can head outside, kick your feet up and enjoy every drop! It's the perfect ice cold, good-for-you treat on a hot day!
If you're looking for more ways to add turmeric to your diet, be sure to check out these recipes!
Iced Golden Milk Turmeric Lattte
A creamy, delicious iced drink packed with anti-inflammatory ingredients
Ingredients
1.5

cups

milk of choice

1-2

tsp

maple syrup

¼

tsp

vanilla extract

¼

tsp

powdered ginger

¼

tsp

cinnamon

1.5

tsp

turmeric

Dash of pepper

Dash of flaxseed oil

optional
Instructions
Pour 1.5 cups of milk to a mason jar, large cup or blender, then add vanilla and maple syrup.

In a small bowl combine cinnamon, ginger, turmeric, and pepper. Then slowly add to the milk using a whisk or milk frother until thoroughly combined and no lumps are present. Serve!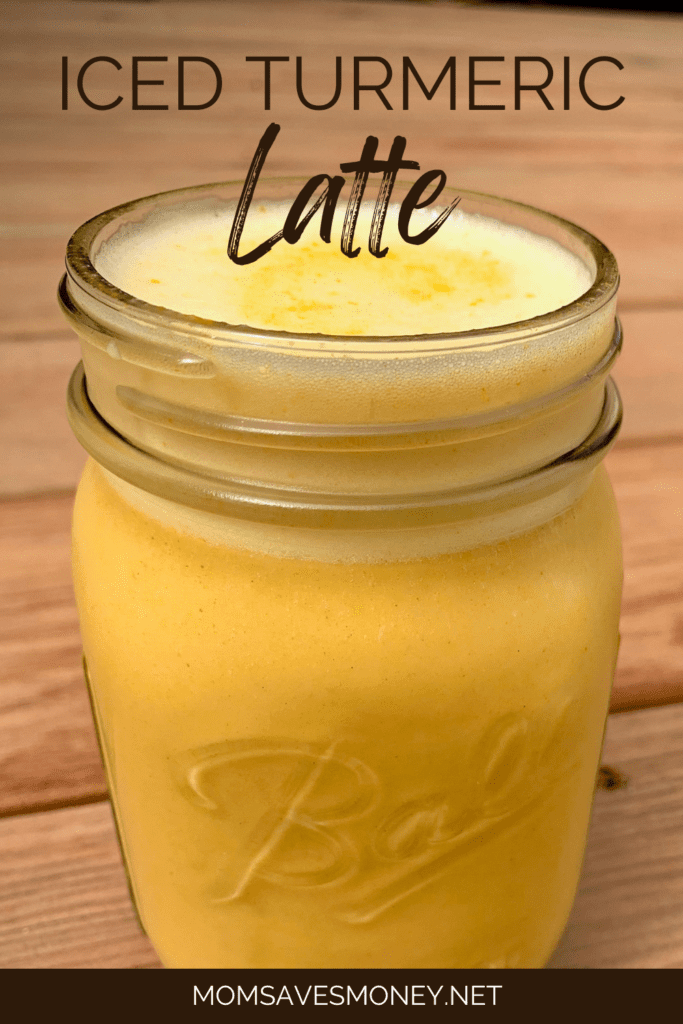 Jenny is a wife and stay at home mother of two. She loves good food, and enjoys experimenting in the kitchen. When she's not busy chasing kids, you can find her digging into a good book, enjoying the great outdoors, and trying not to kill her houseplants.