Disclosure: This post is sponsored by Nebraska Furniture Mart. All opinions are mine.
There's a big football game happening soon and a yummy soup is the perfect dish to serve a crowd. Prep in the morning before guests arrive and just let it cook all day in the slow cooker. By the time football is on, you can sit back, relax and enjoy the game and a delicious bowl of soup with your friends!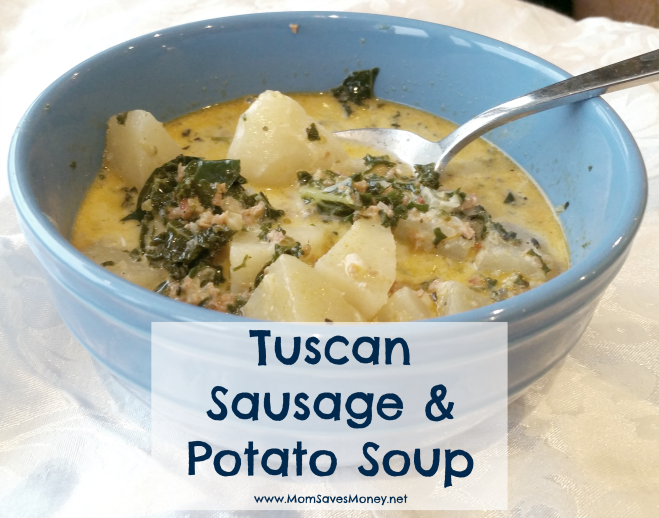 Tuscan soup is hearty and delicious with simple ingredients and quick preparation. This recipe is one of my husband's absolute favorite soups and when I asked him what recipe to share, he immediately said the one that tastes like Olive Garden's Tuscan soup. While this is probably not their exact recipe, it tastes very similar.
I created this version of Tuscan soup from several recipes I found online and almost all of them say to start with uncooked Italian sausage and cook in a skillet before adding to the slow cooker. I like quick and easy recipes, so I use smoked, already cooked, high quality Italian sausage in this soup.
I simply add the sausage and onion to my Ninja blender/food processor and viola – ground, cooked sausage and diced onions! This saves me about 15 minutes of cook time and I don't have to dice onions (my least favorite part of cooking, because they always me cry.) With this hack, the preparation time for this soup is very minimal, which makes it perfect for a busy day or party!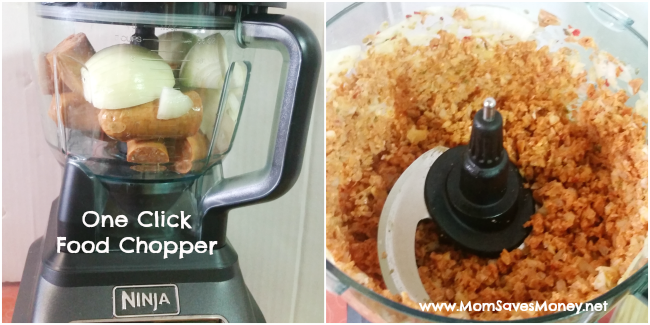 Tip: This recipe can fit a small 3-quart slow cooker, so feel free to double this recipe and use a 6-quart slow cooker to feed a big crowd.
Realistically, this recipe makes 5 big bowls of soup or 10 smaller cups. If you are feeding a family of 5 or 6, this recipe is perfect. If you are feeding a room of adults, then simply double the ingredients and use a larger slow cooker.
Tuscan Sausage & Potato Soup
Recipe makes 10 – 8 oz servings
Ingredients:
1 lb ground and cooked sausage
1 onion (diced)
6 medium potatoes (peeled and diced into 1″ chunks)
4 cups chicken broth
1 tbs Italian seasoning
1 tsp oregano
1 tsp basil
1 tsp granulated garlic
1/2 tsp ground pepper
pinch of red pepper flakes
2-3 kale leaves (destemmed and chopped)
1 cup heavy whipping cream
Directions:
1. Combine sausage, onions, potatoes, chicken broth and all the seasonings in a 3 quart or larger slow cooker
2. Cook on low for 4-5 hours or until potatoes are done
3. Add chopped kale and cream 1 hour before serving and continue to cook on low
4. Serve hot directly from slow cooker
If you love hosting football parties, you may also enjoy these posts: