I received an Instant Pot last Christmas and it was not love at first sight. In fact, it took me almost a month to bust it out the box and read over the manual. I guess I was still scared of the old timer stories of exploding pressure cookers. But, today's electric versions have many safety features and are very easy to use.
After watching a few YouTube videos, reading the manual three times, and washing the parts, I decided to give the pressure cooker a try. The first thing I cooked in my Instant Pot was a whole chicken. It was nothing short of AMAZING! The meat was tender and cooked much quicker than in the slow cooker and the meat just fell off the bone.
And, that is how my Instant Pot obsession began. Now, I use it at least 2-3 times a week and it has become my favorite and most used kitchen appliance. Here are the reasons I LOVE my Instant Pot: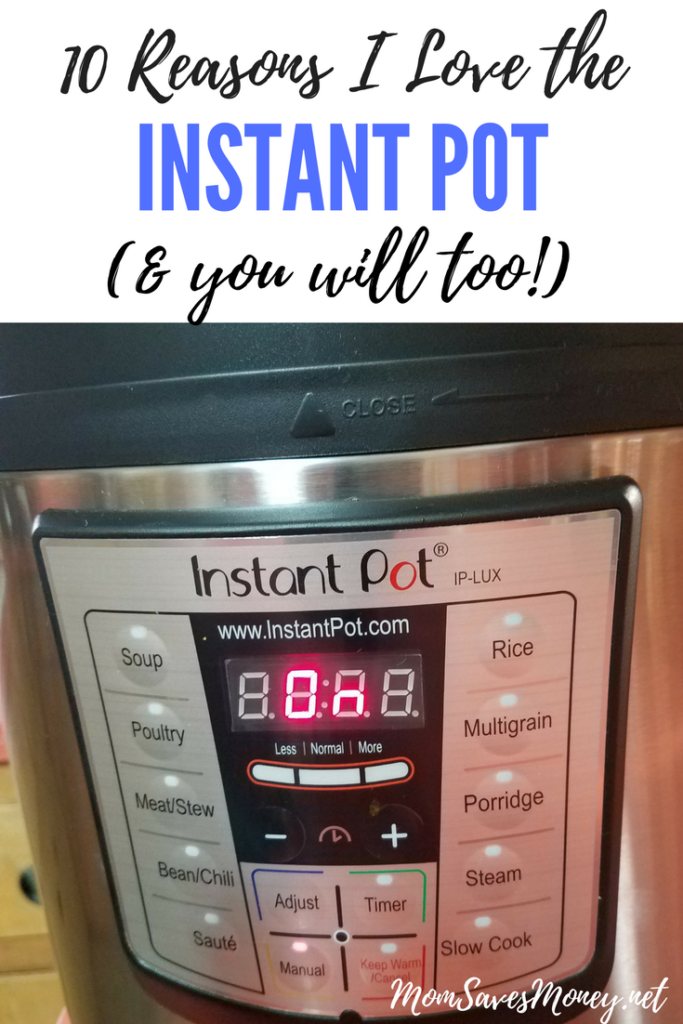 1. Rice cooks perfectly every time
Rice is incredibly easy to cook in the pressure cook and you don't have to worry about burning a pan (I have bad luck with stovetop rice.) Just add 2 cups water to every cup of rice, seal the lid, and click the 'rice' button on the Instant Pot. In 20 minutes or less, you will have perfectly cooked rice and no scorched pan.
2. No pre-soaking dry beans
I'm not always the best at remembering to pre-soak beans the night before I make a soup. With a pressure cooker, you do not need to presoak the beans and they cook perfectly and much faster than any other cooking method.
3. Easy to peel hard-boiled eggs
I make hard boiled eggs at least once a week with the Instant Pot. Just place your rack on the bottom of the pot, add a layer of eggs, 1/2 cup water, seal, and cook for 7-8 minutes. When it's done, give the eggs an ice bath to cool. You will have perfectly cooked hard boiled eggs that are extremely easy to peel. Want to do two layers of eggs at once? Check out this awesome Instant pot accessory.
4. Less dishes
If you are making a chili or soup, usually you have to dirty an extra pan to brown the meat and caramelize the onion. With an Instant Pot, you will do less dishes, because you can do it all in this one pot. Just turn the Instant Pot on saute mode and cook with the lid off.
5. Meat cooks perfectly
You can cook a roast in about an hour and a whole chicken in 30-45 minutes. The Instant Pot will cook a large piece of meat to fall off the bone tender. I used to slow cook roasts all day, but now my family prefers the pressure cooked versions. Win for me if I forget to start the slow cooker in the morning.
6. …Even frozen meat
Forgot to defrost the meat for dinner? No problem with the Instant Pot. You can throw in the meat frozen and it will cook perfectly. If you make dump and go freezer meals, like this Italian BBQ chicken or sweet Asian chicken, just drop it in frozen and pressure cook!
7. Make gravy in the Instant Pot
After you cook a roast or whole chicken, you can make gravy right in the Instant Pot. Simply remove the meat and vegetables, and add flour (or cornstarch) that you mixed with a little water to the broth. Switch the Instant Pot to saute mode and whisk until desired consistency. You can add a little more flour if necessary and should have delicious gravy in about 5 minutes.
8. Soups are more flavorful
In my opinion, soups taste amazing when they are pressure cooked. I make this easy beef stew and it's a family favorite. And, I don't have to babysit the soup, like I do when I cook it on the stove and nothing boils over. Here are more amazing Instant Pot soup recipes.
9. Easy clean-up
I love my slow cooker, but it can be a major pain to clean. There are times I let it sit overnight in soapy water and still have to scrub to get it clean. An Instant Pot is MUCH easier to clean. Typically it wipes clean right away, but if it needs a short soak, it will come clean without having to scrub.
10. You can even make wine
Wait, what? This blogger is a genius, creating this recipe to make wine from grape juice using the yogurt function on his Instant Pot. If the previous amazing reasons to get an Instant Pot didn't convince you to buy one, this little tidbit should.
Do you have an Instant Pot? Why do you love your pressure cooker?