Oh man, oh man, oh man.  Did you make a New Year's Resolution to lose weight?  How's that going?  Still a resolution?  Fall off the diet wagon?
Maybe you didn't want to lose weight per se, but maybe you just wanted to eat healthier.  How is that going?  Getting in your fruits and veggies?  Making better choices?
Maybe you're stuck in a rut and you want to get out of that rut!  There are many challenges to losing weight – some of it is mental.  Some physical.  Some are just practical challenges.  One of the practical things that often trip people up is not doing a menu plan.  So it comes to Monday at 5:30 p.m. and you're raving hungry and those cookies are on the counter, so you eat those instead of the chicken that you're going to wish you ate.  Uh oh.
So, let us help!  One of my specialties is creating meal plans!  I do a menu plan each month.  I've done a Master Menu Plan.  I've done an Instant Pot-Only Menu Plan.  I've done a Slow Cooker-Only Menu Plan.  Now here comes the Weight Watchers Menu Plan!
What's so nifty about this plan?
Most of these recipes should appeal to those with families.  Sure, you may need to double a recipe to feed everyone, but the recipes I've chosen are generally family friendly.  (Every family being different, of course).
Most of the recipes call for common ingredients. (Part of that is what makes them family friendly).  It's great to try new foods, but sometimes, easy and practical are what you need.
All of these dinners are 8 points or less.  The number of points one person gets varies, but an 8-point dinner or less should be doable –

when

you plan for it!
There's a variety of dinners.  Some stir frys.  Some Italian.  Some American.  Some vegetarian. Some protein-heavy.
Please note: I've done my best to make sure that they are 8 points or less, but you should always check your points, especially as ingredients can vary!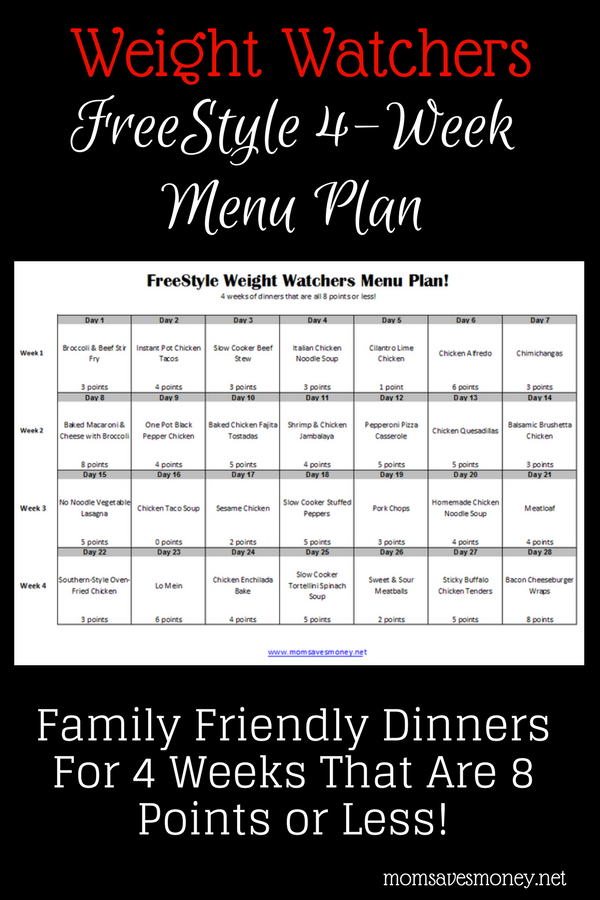 Notes:
The recipes that I suggest are linked below.
Recipes in this menu plan:
Week 1:
Broccoli & Beef Stir Fry
Instant Pot Chipotle Chicken Tacos
Slow Cooker Beef Stew 
Italian Chicken Noodle Soup
Cilantro Lime Chicken
Chicken Alfredo  
Chimichangas
Week 2:
Baked Macaroni & Cheese with Broccoli
One Pot Black Pepper Chicken
Baked Chicken Fajita Tostadas
Shrimp & Chicken Jambalaya
Pepperoni Pizza Casserole
Chicken Quesadillas
Balsamic Bruschetta Chicken
Week 3:
No Noodle Vegetable Lasagna
Chicken Taco Soup
Sesame Chicken
Slow Cooker Stuffed Peppers
Pork Chops
Homemade Chicken Noodle Soup
Meatloaf
Week 4:
Southern-Style Oven-Fried Chicken
Lo Mein
Chicken Enchilada Bake
Slow Cooker Tortellini Spinach Soup
Sweet & Sour Meatballs
Sticky Buffalo Chicken Tenders
Bacon Cheeseburger Wraps
Want more information on how to meal plan? Check out 'The Extraordinary Art of Meal Planning' for simple tips for busy families!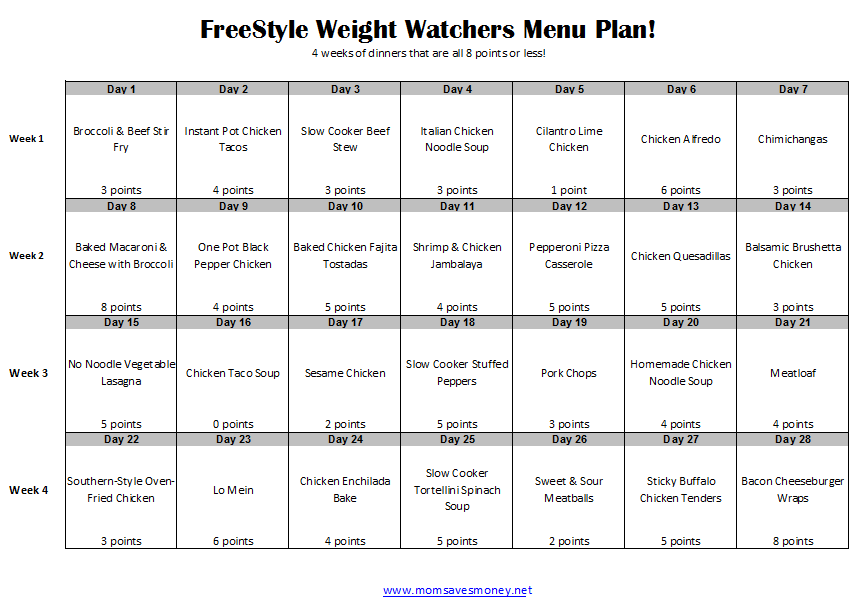 Jayme is a wife to 1 and a mother to four little boys. She tries to coupon, builds a smart stockpile, and always meal plans. While she likes to cook, she's in the stage of life where simple is usually better – she never knows how many hands she'll have free at dinner time! You can find her at No Regrets Living.