When I think of Peanut Butter cookies, I think of a big chocolate Hershey's Kiss in the middle of them.  And I think of Christmas as that's the only time of year that I've ever really made them.  But it doesn't have to be just a Christmas cookie!  In fact, I saw Dove chocolates in the store that were heart-shaped and it made me think of those cookies!
A simple swap of the Hershey kiss for a Dove heart-shaped chocolate and bam! You have a good Valentine's Day cookie.  Or a good "You Have My Heart" cookie.  Or a good "I just wanted to make cookies, okay?  I don't really need a reason to make cookies" kind of cookie.  Whatever situation applies.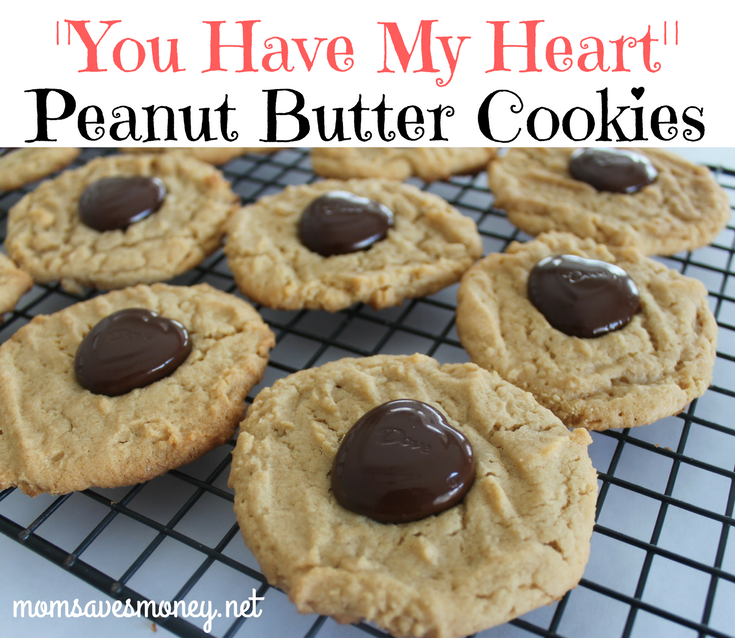 Peanut butter and chocolate are such a good combination that it makes sense that these cookies would be perfect for Valentine's Day.  I mean, they might be one of the best couples out there.  I'm not saying that foods can get married, but if they could…well, I bet chocolate and peanut butter would have the kind of love story that Nicholas Sparks could write about.  So creamy.  So dreamy.  True love!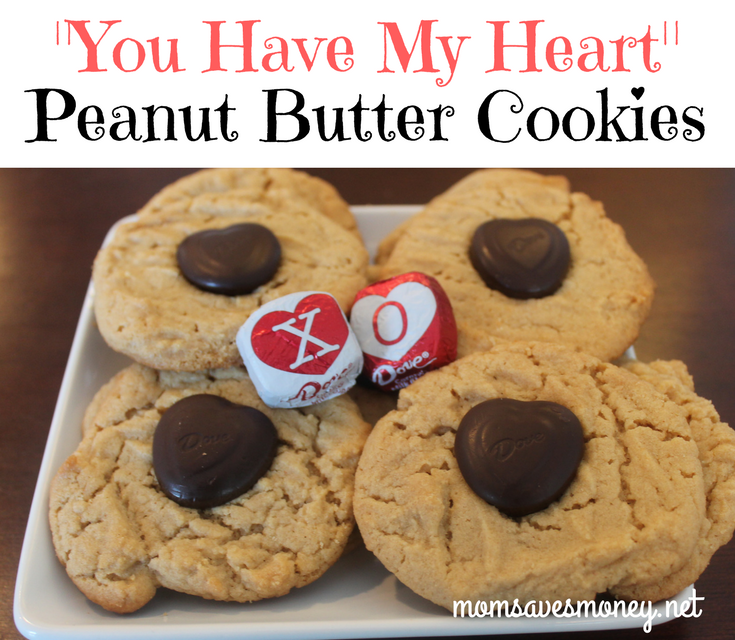 So make these.  Send a love message to someone!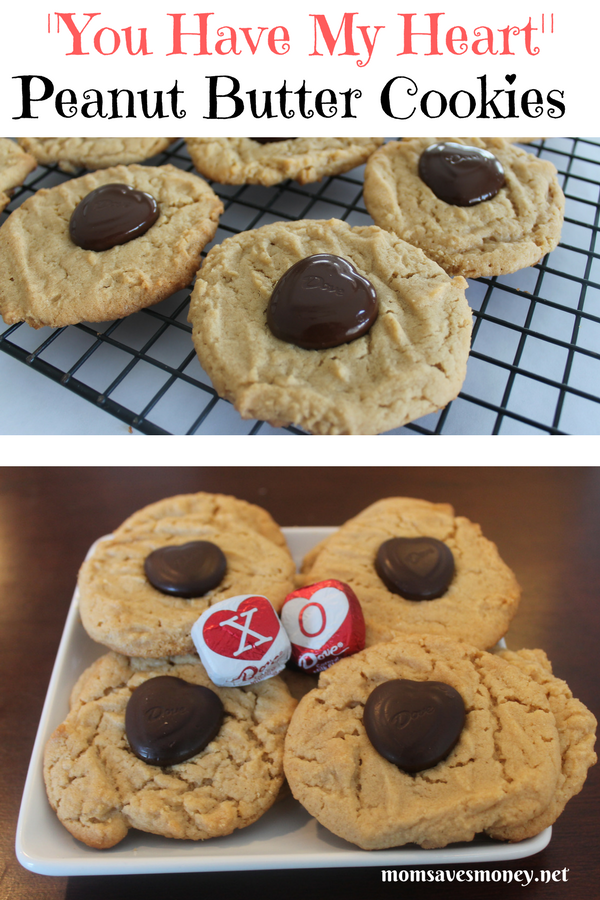 "You Have My Heart" Peanut Butter Cookies
Say lovely things to lovely people with these peanut butter cookies topped with a Dove heart-shaped chocolate.
Ingredients
1/2

butter, softened

1

cup

peanut butter(chunky or creamy)

3/4

cup

sugar

1/2

cup

brown sugar, firmly packed

1

egg

1

tablespoon

milk

1

teaspoon

vanilla

1 1/4

cups

flour

3/4

teaspoon

baking soda

1/2

teaspoon

baking powder

1/4

teaspoon

salt

30

Dove chocolates (a little less than 1 bag)
Instructions
Preheat oven to 350 degrees.

Beat the butter and peanut butter together until well mixed. Add the sugars and beat until smooth.

Add the egg and mix well. Add the milk and vanilla. Mix well.

Add the flour, baking soda, baking powder and salt. Mix.

Roll into balls and place on an ungreased cookie sheet. You can roll the cookie balls in a bowl of sugar, if desired - but it's optional.

Gently flatten the cookies with the back of the fork a couple of times, crossing over each other.

Bake for 10-12 minutes.

Let cook for a minute or two, then, if using, place the Dove chocolate in the middle of the cookie.

Let cool completely so that the chocolate doesn't get smooshed if you're going to put them in a container for later. If you need the chocolate to set quicker, place in the refrigerator.
Jayme is a wife to 1 and a mother to four little boys. She tries to coupon, builds a smart stockpile, and always meal plans. While she likes to cook, she's in the stage of life where simple is usually better – she never knows how many hands she'll have free at dinner time! You can find her at No Regrets Living.