Bust summer break boredom now with this huge list of FREE family fun in the Omaha Metro. Omaha is great family-friendly place to visit with many no cost activities all summer 2019!
You won't want to miss all the fun and excitement in Omaha that is budget and kid-friendly. Some of these locations even have special events, like outdoor movies and concerts, with no extra cost. Bookmark this list and you will never hear 'I am bored' from the kids this summer. (But, you may hear 'Mom, that was so much fun today and I'm ready for bed.')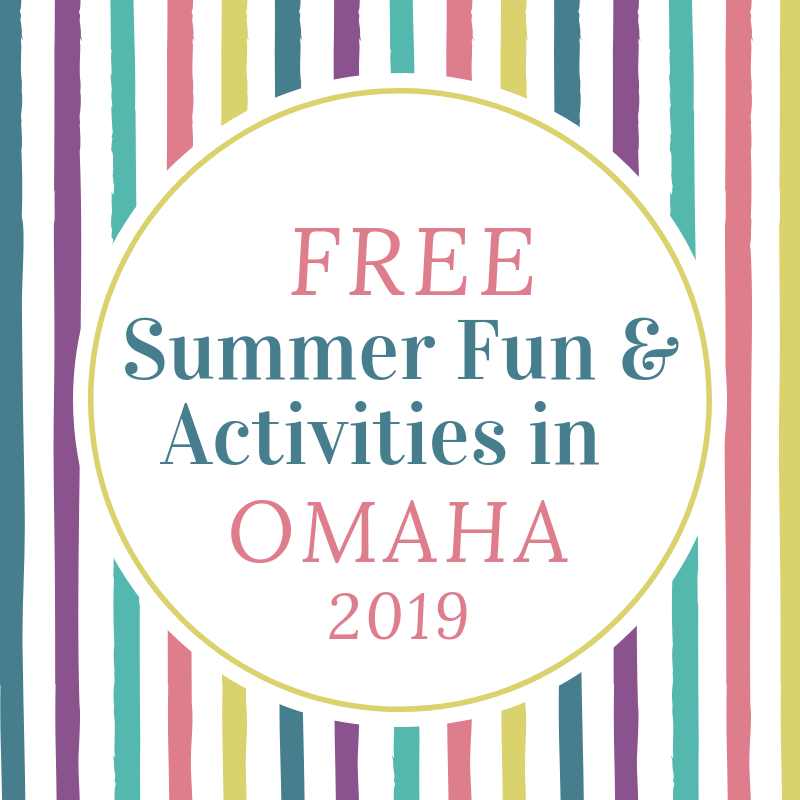 Places to Visit in Omaha (with no admission fees):
Omaha Farmer's Market – Check out the local farmer's market, watch street performers, and grab some yummy produce! I personally love stopping at the Aksarben market on Sundays where they have a playground and little splash area for the kids. Watch for special events throughout the year.
Public Parks – Did you know there are over 200 public parks with playgrounds just in Omaha? How fun would it be to visit as many as you can this summer and rate your favorites! Omaha now has an interactive park finder that helps you locate parks in your area and tells you the amenities and activities at each public park.
Public Libraries– The library is the best free entertainment for kids. Every library in the Omaha area offers free story times for kids (open to anyone), special programs, movie nights, and much more. They also started summer reading programs where kids can earn great rewards just for reading. Mom and dad can even participate in the adult summer reading program at Omaha libraries. What a way to be a great example for the kids! Leave with a handful of books, DVDs or CDs to continue the fun at home. (Check out our video below of some fun activities we do at our Bellevue public library.)
Joslyn Art Museum – View some amazing art and check out an Art Pack during your visit. There are art packs for different age levels and can include toys, projects and more to use while you visit.
Splash Parks – It's hot outside! Head to one of the free splash parks to cool off and have some fun. There are over 20 in the Omaha area. Check out this list from Family Fun in Omaha.
Kaneko – Their newest exhibit, 'Re*Purpose' opens June 11, 2019 and is free to the public. According to their website, they also have a KIDSpace offering "children's books on exhibition themes, fun engineering challenges, thoughtfully curated child-centric films, and sketching options geared towards an interactive, hands-on exploration of creativity in a relaxed environment."
Do Space – If you haven't checked out Do Space, you are missing out! Located on 72nd & Dodge, they offer free classes, technology and a fun play area for young kids and another for teens. During the visit, kids can check out kits with robots, Raspberry Pi's, cubelets and learn new technology skills through play.
Bob Kerrey Pedestrian Bridge – This 3,000 foot walkway over the Missouri river is fun for kids and a great way to enjoy some sunshine. Don't forget to stop at the Little Critters River play area on the Nebraska side and the water park featuring an interactive 10-foot tall water wall, a flooding wading basin, water bubblers, spray jets and an illuminated fog feature near River's Edge Pavillion.
Gene Leahy Mall – Located in downtown Omaha, slide down two massive slides and stroll through the 10 acre park.
Crafts & Building:
Kids Funfare – Enjoy fun kid activities on Thursdays from 10-11 am at Regency Court.
Lakeshore Learning– Every Saturday from 11 am – 3pm enjoy a free craft at Lakeshore Learning with your child age 3 and up.
Home Depot Kid's Workshop – Build a project with your child at Home Depot on the first Saturday of every month at select locations.
Michaels Craft Store – Check Michaels class list for free craft classes for kids throughout the summer. Note – some classes are offered with a small fee for supplies and classes vary by location.
What places and events do you plan to visit in Omaha this summer?