Some recipes are just born out of necessity. You've got a bit of this, and a bit of that, and some veggies that are on their last leg, and you just throw them all together and BOOM. You've got some delicious concoction that you need to give a name. I call mine, asian noodle stir fry. But, maybe you call yours something else. All I know is that while its not my favorite thing to have to just invent dinner from odds and ends, sometimes it really turns out incredible and we've got a new meal idea to add to the mix.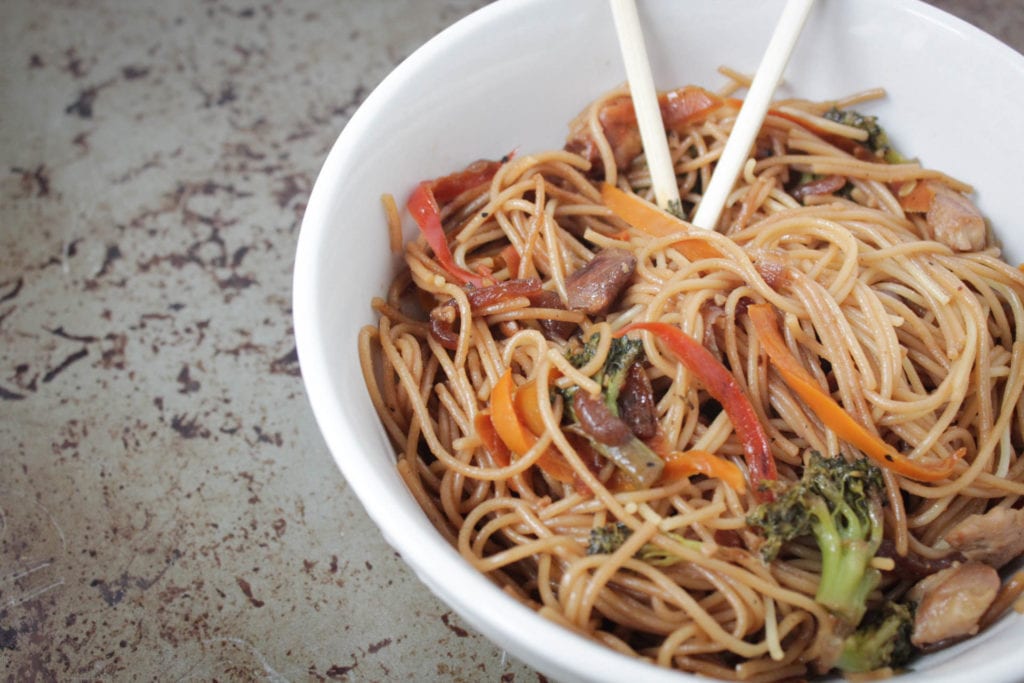 Early last fall, we were about to head out of town for a camping trip up north. I was so looking forward to being outside in nature with my family, soaking in the gorgeous fall colors and all the other sights and sounds as we explored the woods. (And by the way it was seriously SO amazing….never pass up an opportunity to visit the North Shore of Lake Superior if you have a chance). But the unfortunate thing about going camping is that you have to PREPARE to go camping, especially when you camp with kids (make sure to check out these tips for camping with kids.) Ugh….it's such a killjoy, right?
You've got to pack all the stuff, you've got to plan all the meals (like our favorite spaghetti & garlic bread sandwiches made over an open fire), you've got to clean up the house, and you've got to use up all the perishable food items so you don't waste them and come home to an ungodly smell. Sigh. On the bright side, this dish was born out of the madness.
I had some baby bell peppers I wasn't sure what to do with, plus half a head of broccoli. Scoured the pantry to find some spaghetti noodles and the ideas started flowing. Within no time at all I had added some carrots and onions, stir fried them up, and made a quick sauce by adding a bit of cornstarch to my favorite marinade. It turned out so good, and my kids scarfed it down. I was able to leave for our trip with not even a tinge of guilt over wasted food. *happy dance!*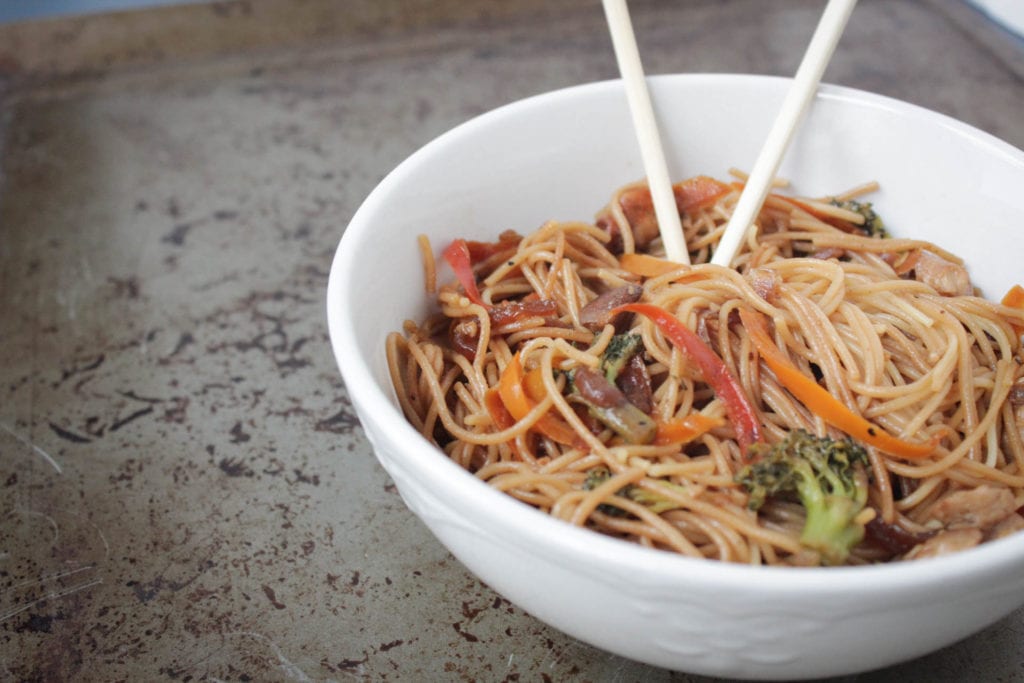 In summary: throw stuff together…you just never know. And, camping is a lot of work, but it's worth it. The end. 
Try more easy recipes that are better than your favorite Chinese takeout (and, for a fraction of the cost.)
Asian Noodle Stir Fry
An easy and delicious recipe with fresh vegetables and a homemade, flavorful sauce.
Ingredients
16

oz

spaghetti noodles

1

Tbsp

olive oil

or your choice of oil

10

baby bell peppers

seeded and sliced long ways

1

cup

matchstick carrots

1

onion

diced

1/2

head of broccoli

chopped
Stir Fry Sauce
1

cup

low sodium soy sauce

2

Tbsp

honey

1

Tbsp

minced garlic

1

tsp

minced ginger root

2

tsp

sesame oil

Dash cayenne pepper

1

Tbsp

cornstarch
Instructions
Prepare noodles according to package instructions, set aside

Add a bit of oil to the pan, and over medium heat stir fry onions and carrots for a minute or two, then add broccoli and bell peppers.

While those are cooking, combine the ingredients for the sauce in a small bowl or jar. Mix thoroughly.

When veggies are cooked through, add the sauce and stir until thickened.

Remove from heat. Add cooked noodles to the pan, mix, and serve.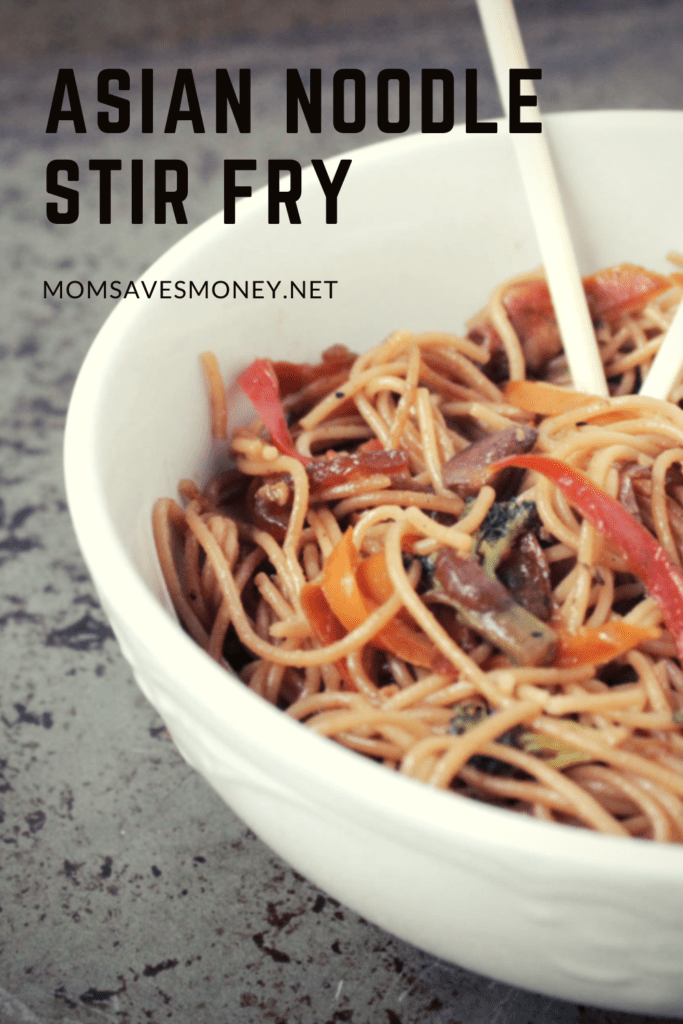 Jenny is a wife and stay at home mother of two. She loves good food, and enjoys experimenting in the kitchen. When she's not busy chasing kids, you can find her digging into a good book, enjoying the great outdoors, and trying not to kill her houseplants.