Okay ya'll. I have a confession. I might be a little obsessed with French fries. Like, they may not be the healthiest snack or side out there, but they are just so crave-able, dip-able, and delicious! Not to mention there are so many different ways to serve them up! So can we just talk about these homemade (and healthier) baked curry fries for a minute? Because they are definitely my new favorite.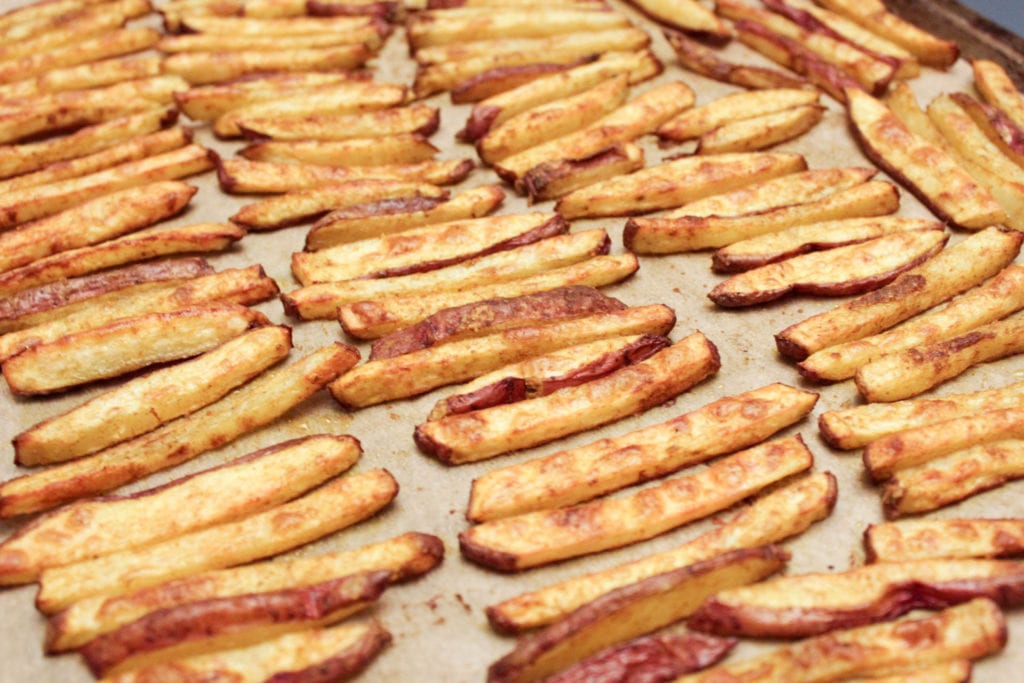 We have this local restaurant in town that I used to live within walking distance of when my husband and I were dating. We loved to stop in for the occasional falafel wrap…they have some of the best I've ever had! But my real motive for wanting to eat there was ALWAYS the curry fries! I have eaten a lot of French fries and baked potato wedges in my day, but these are just on another level altogether. They are 1,000% worth the yellow curry fingers I have for the next few days following a visit. Since we no longer live within walking distance, and now have children in tow, we don't get to frequent this place nearly as often, and wow do I miss it! 
How to Make Baked Fries Crispier
I don't like to deep fry food at home…it always tends to taste too heavily of oil. But, I think these baked curry fries definitely give the original a bit of healthy competition. Like really….they're a little more healthy not seeped in oil…if a bit a less crispy. Ha! But, the secret to crispy baked fries is soaking the cut potatoes in cold water to leach out the starch. The longer you soak them, the crispier they will be….so, if you like your fries extra crispy, let the potatoes soak longer! Then, make sure to pat them dry before seasoning. Viola! Crispier baked French fries.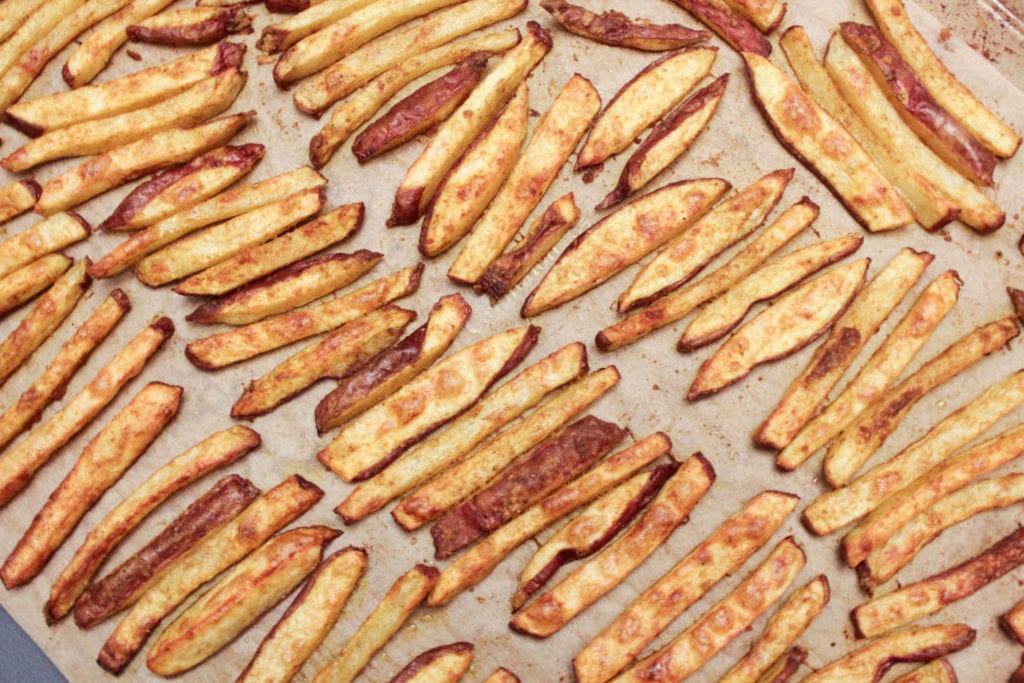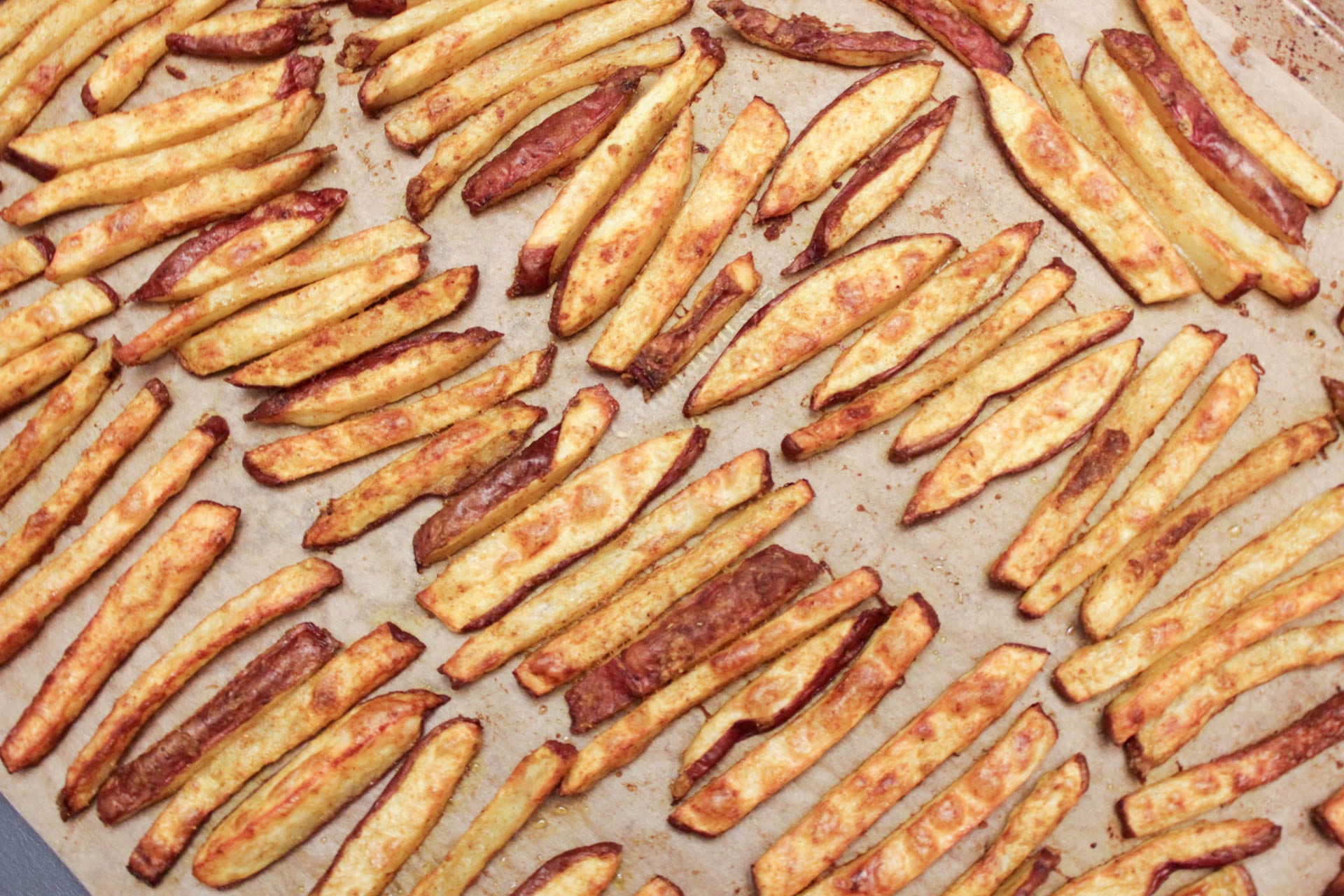 Servings Ideas for Curry Fries
Enjoy these delicious curry fries on their own or serve with a delicious main dish for an incredible meal:
Even if you are not the most adventurous eater…I think these curry fries are for you! They keep you close to that comfortable classic (because who doesn't love French fries) but take you for a little taste bud adventure with the seasonings. So give em a shot! Maybe you'll become as obsessed as I am!
Baked Curry Fries
Easy and delicious curry fries to satisfy your French fry cravings!
Ingredients
3-4

medium to large red potatoes

or 3 russet

1

T

olive oil

1

tsp

salt

1 1/2

tsp

curry powder

1/2

tsp

ground coriander
Instructions
Peel (if desired) and chop your potatoes into narrow sticks. Soak in a large bowl of cold water for 1-2 hours.

When finished soaking, lay out on a flour sack towel or paper towel and pat dry.

Preheat oven to 400°F and lay a silpat or parchment paper on a baking sheet.

In a large bowl, toss potatoes with oil and all seasonings until thoroughly covered.

Arrange in a single layer on the prepared baking sheet.

Bake for 20 minutes, then turn up the heat to 450°F and bake for another 15-20 minutes, checking occasionally until fries are cooked to your satisfaction. Remove from oven and serve!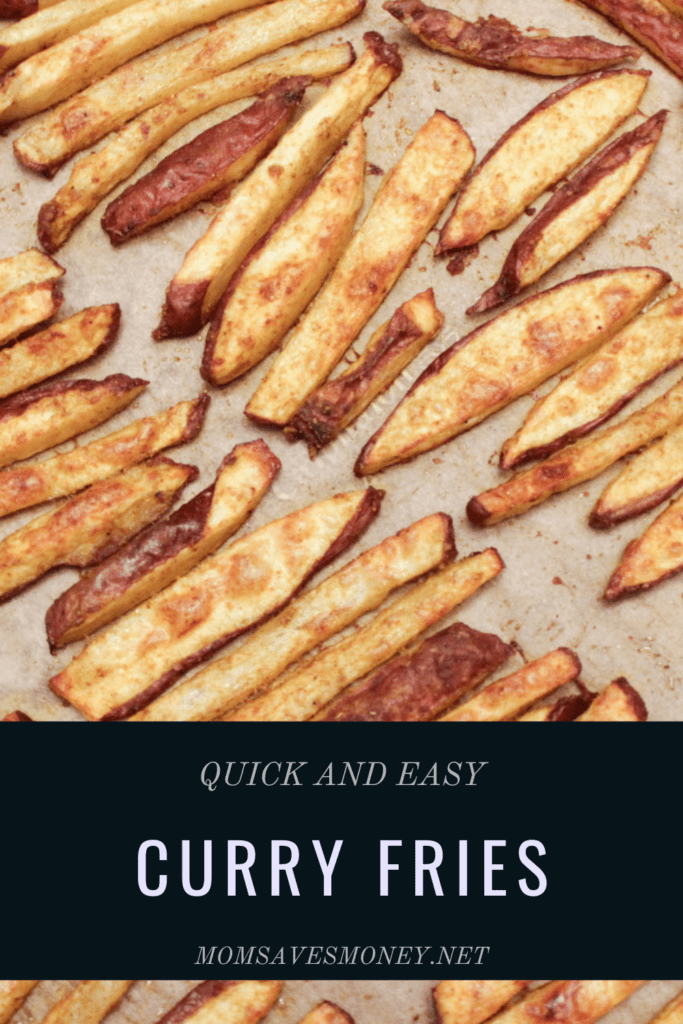 Jenny is a wife and stay at home mother of two. She loves good food, and enjoys experimenting in the kitchen. When she's not busy chasing kids, you can find her digging into a good book, enjoying the great outdoors, and trying not to kill her houseplants.