Can you believe that it's almost back to school time? Wowzers! I don't even have school-aged children and that amazes me! Better soak up those last few days of the summer while you can!
Even though school's almost in session, it doesn't mean that the heat has gone away. With this menu plan, I tried to maximize the number of slow cooker and grill recipes and minimize the ones that use an oven. But it's not 100% slow cooker – there's just too many good recipes that use the oven. But this would be a good month to break out more slow cooker recipes if you got 'em. And if you got 'em, share 'em. I could always use more!
That said, here's a monthly menu plan for the August!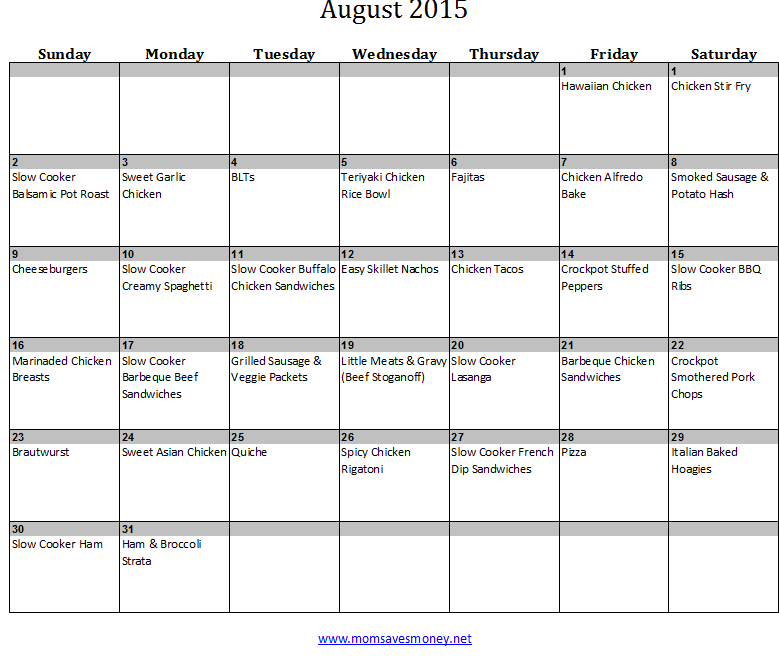 What if I don't cook every night?
Awesome! I don't either – we often have leftovers 2-3 night/week. Just take this basic plan, cut out some meals and make leftovers part of your plan!
What if I don't want a particular meal on a specific night?
Awesome! Just take this basic plan and swap meals around.
What if I want to see the Excel version?
Awesome! You can download it here.
What if I don't eat beef? Or chicken? Or pork?
Awesome! Just take this basic plan, remove the foods you won't eat and put in foods you will eat.
What if I don't know how to make that meal?
Awesome! Included are the links for the recipe that I usually use.
What if we always have pizza on Friday nights?
Awesome! (Can I come over?) Just remove my Friday meals and put in pizza.
What if I want to plan for more than just dinner?
Awesome! Feel free to print this out, write out breakfast & lunch meals. Or you can edit it in Excel and make it your own!
What if I don't like your recipe?
Awesome! Use which ever recipe you normally use and just use this basic plan as a suggestion.
What if I have my own monthly menu plan?
Awesome! Care to share it? Share it down below in the comments so that we all can see it and be inspired!
What's cool about this menu plan?
I tried to have a variety of meals each week – some beef, some chicken, and some pastas. That way you won't get too bored. Since its summer, I didn't include any soup recipes, but did try to focus on lots of slow cooker recipes! But there are also plenty of ways to save time when using this menu plan. Examples: When prepping chicken at the beginning of the month, make enough for the other recipes and freeze it for future use. When making ground beef, brown 2-3 times the normal amount and freeze that. It makes it super quick to pull meals together!
Recipes in this menu plan:
Hawaiian Chicken
Chicken Stir Fry
Slow Cooker Balsamic Pot Roast
Sweet Garlic Chicken
BLTs
Teriyaki Chicken Rice Bowl
Fajitas
Chicken Alfredo Bake
Smoked Sausage & Potato Hash
Cheeseburgers
Slow Cooker Creamy Spaghetti
Slow Cooker Buffalo Chicken Sandwiches
Easy Skillet Nachos
Chicken Tacos
Crockpot Stuffed Peppers
BBQ Ribs
Marinated Chicken Breasts
Slow Cooker Barbeque Beef Sandwiches
Grilled Sausage & Veggie Packets
Little Meats & Gravy (Beef Stroganoff)
Slow Cooker Lasagna
Barbeque Chicken Sandwiches
Crock Pot Smothered Pork Chops
Bratwurst
Sweet Asian Chicken
Quiche
Spicy Chicken Rigatoni
Slow Cooker French Dip Sandwiches
Pizza
Italian Baked Hoagies
Slow Cooker Ham
Ham & Broccoli Strata
Jayme is a wife to 1 and a mother to three little boys. She coupons, but isn't super extreme about it. She price matches and loves it! While she likes to cook, she's in the stage of life where simple is usually better! She never knows how many hands she'll have free at dinner time! You can find her at No Regrets Living.