Disclosure: Contains affiliate link. All opinions are mine. 
UPDATE – Deal extended through Monday, December 18!
One of my favorite Amazon deals is back! Save $5 off $15 or more purchase of print books from Amazon through December 14 December 18. Just use code BOOKGIFT17 at checkout.
Any book sold by Amazon qualifies for this offer, including adult coloring books and children's books. Just look for 'sold by Amazon' in the seller information to confirm that the book qualifies.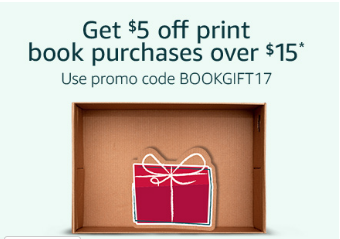 Looking for a good book for a gift, here are some suggestions:
If you are an Omaha native, consider picking up the new release 'Lost Restaurants of Omaha' for a unique gift!
Note – Offer limit of one per account and all items must ship to same address to qualify.
Shop Amazon books now to take advantage of this amazing deal!