Easy baked salmon topped with diced tomatoes and a homemade basil mayo sauce
Any other salmon lovers in the house?!? I am a huge HUGE fan, and there are so many delicious ways to prepare it, but today I'm going to share the quickest tasty recipe I have. It just so happened that my garden is overflowing with basil and tomatoes, and the stars truly aligned when this week I found myself loath to make dinner. Enter Tomato Basil Baked Salmon to save the day! Not only is this a 7-ingredient meal, it also comes together in 15-20 minutes and tastes AMAZING!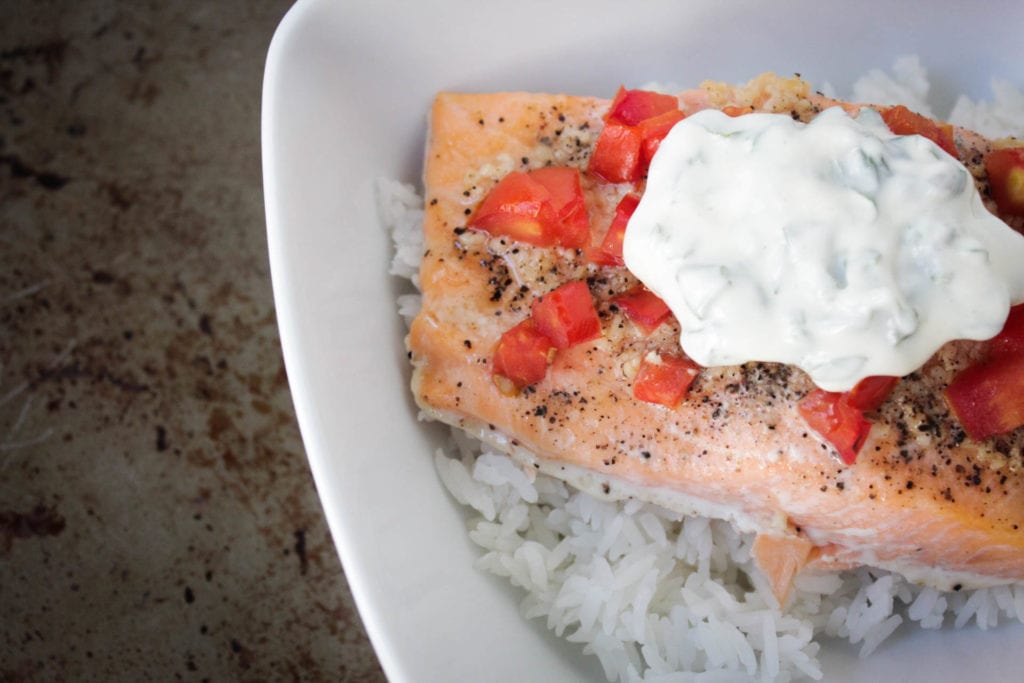 Growing up we didn't eat salmon a ton, but when we did, we always had it the same way. The recipe my mom used is incredible and I'll have to share it another time, but it requires several hours of marinating the meat, and to be honest, I'm rarely that on top of my game. Ha! This tomato basil salmon was the first new salmon recipe I had ever tried and I wasn't the least bit sorry.
How to Thaw Salmon
I think what I love the most is that it comes together so quickly. Even if I pull my salmon out of the freezer at 4pm, I can have this thawed and ready to go by dinnertime no problem….even without an instant pot! 
There are two ways to thaw salmon: quick-thaw method or refrigerator method. If you plan ahead, you can defrost your salmon overnight in the refrigerator. If you're like me and forget to defrost in time, the quick-thaw method is for you. Just place your salmon in a sealed bag (or the original packaging) and submerge in cold water. If you need to, change the water every 20-30 minutes until salmon is completely defrosted. In my experience, the filets are defrosted in less than 30 minutes.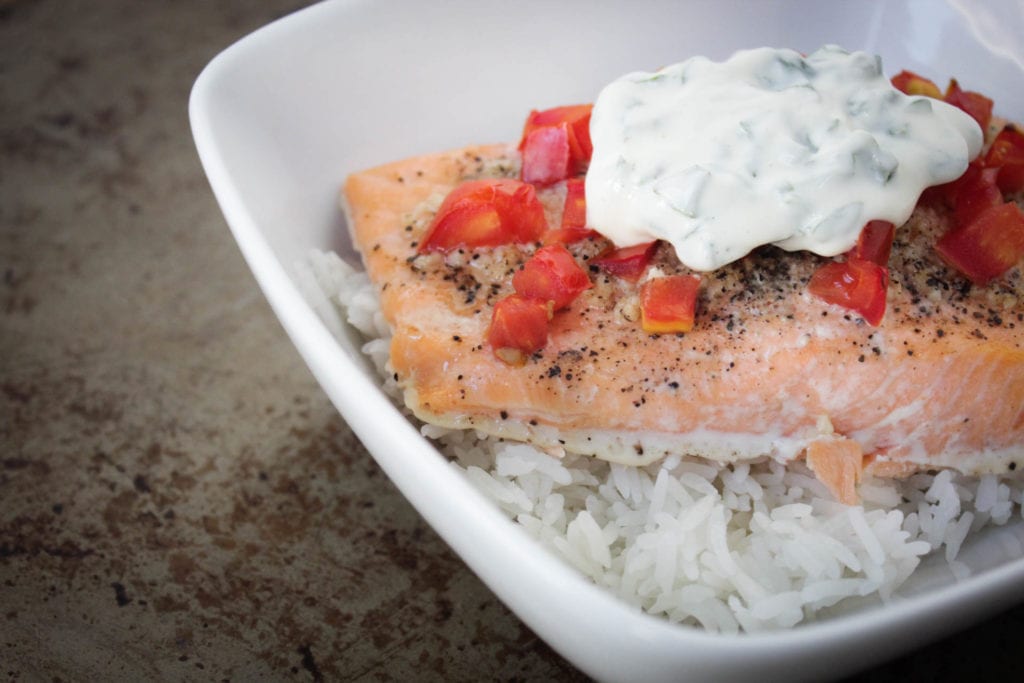 How to Save Money on Salmon
Now I know salmon isn't the cheapest meat option out there. And unfortunately for me, I've gotten a bit too snobby and the packages of frozen filets at Aldi just don't do it for me anymore. We instead like to grab one of the frozen bags at Costco, which is usually enough to last us 3-4 meals depending on how hungry everyone is. The frozen filets are typically less expensive than fresh salmon options from the fish counter. When the frozen bags go on sale, you can grab an extra package (or two) at the lower price and store them in your freezer until ready to use.
I usually serve it with cooked rice and some fruits and veggies or a simple side dish to make it stretch and feel more economical. It's definitely our splurge meal, but one worth having because it's just so easy and delicious.
Looking for more quick and easy meals? How about these:
Tomato Basil Baked Salmon
Simple baked salmon recipe with a delicious homemade basil mayo sauce
Ingredients
4

salmon filets

2

T

olive oil

4

tsp

minced garlic

Salt & pepper

to taste

2

large tomatoes

sliced or diced
Basil Mayo
6-8

large basil leaves chopped

1/2

cup

mayonnaise

1

tsp

lemon juice
Instructions
Preheat oven to 425, and cover a baking sheet with a silpat or parchment paper.

Rub salmon lightly with olive oil and place on baking sheet.

Spread 1/2-1 tsp of minced garlic over each filet.

Sprinkle with salt and pepper as desired.

Top with diced or sliced tomatoes and bake for 8-12 minutes depending on desired doneness.

While salmon is baking combine ingredients for basil mayo and let sit in fridge.

Top cooked salmon with basil mayo and serve over rice. Enjoy!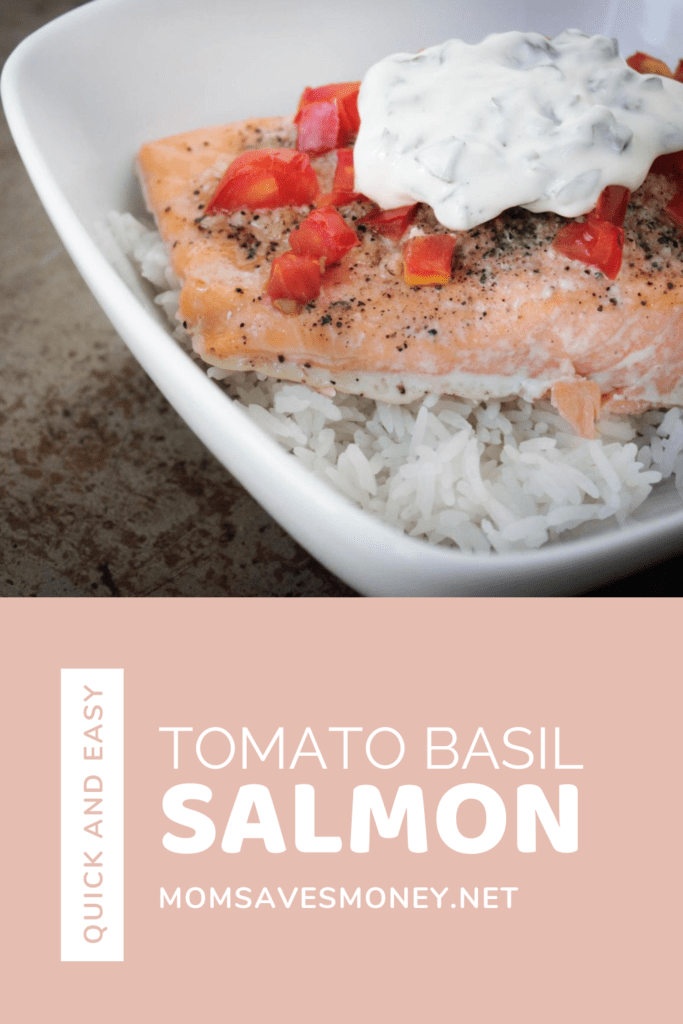 Jenny is a wife and stay at home mother of two. She loves good food, and enjoys experimenting in the kitchen. When she's not busy chasing kids, you can find her digging into a good book, enjoying the great outdoors, and trying not to kill her houseplants.
If you love this, check out more recipes: