Would you say you have a favorite type of cuisine? I really like experimenting in the kitchen so we have tried a pretty wide assortment of dishes. A few years ago I made beef and broccoli for the first time, and we were absolutely SOLD. The funny thing is that I actually never order it if we get Chinese take out. And now that I can make it myself (a whole lot cheaper) I have no need to. So without further ado, let me introduce you to one of our FAVORITE recipes of all time. It is incredibly difficult to mess up, and the flavor is sooooooooo fantastic.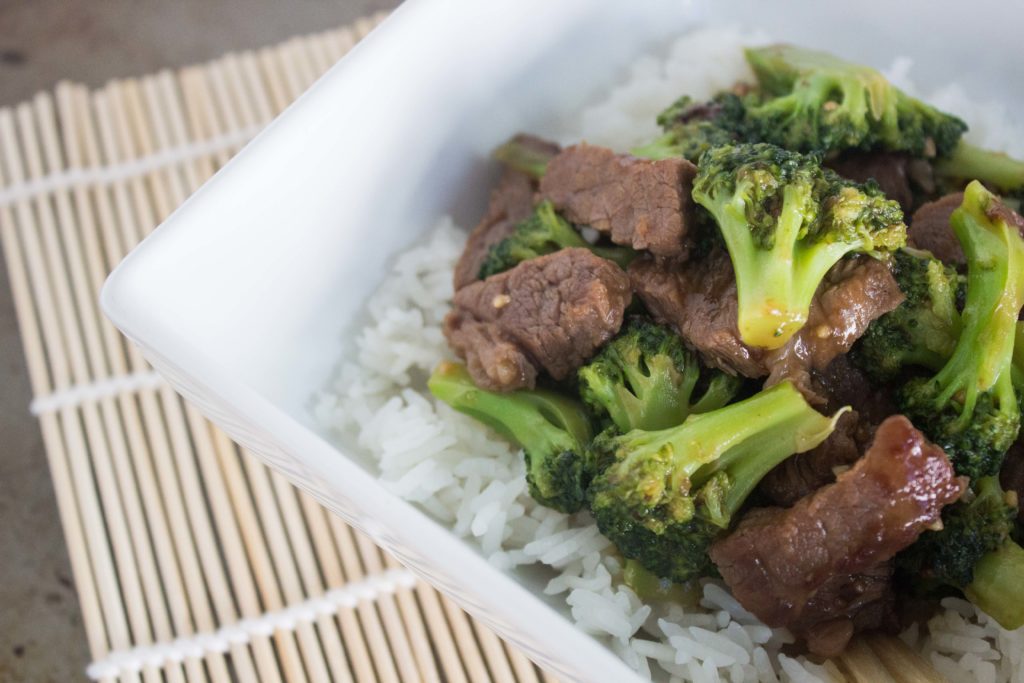 If you ever visit our household for any length of time, you will quickly discover that we kind of have a thing for Asian cuisine. At minimum at least one meal a week reflects that, and this recipe pops up any time I find a good deal on steak. This week I found an almost 2 lb. package for $8 and was able to use half of it for a super yummy steak salad yesterday, and the rest for the beef and broccoli tonight. Considering that I don't buy red meat very often, my husband was pretty excited to get steak 2 days in a row…ha!
What Steak Cut is Best for Beef & Broccoli
You can use any steak, cut into bite-sized pieces, or use pre-cut steak tips. I prefer top sirloin since it has a bold, beefy flavor, a nice bite, and typically less expensive than other cuts of steak. For a milder flavor and tender texture, try filet mignon. Ribeye and New York strip steak have incredible marbling and will be very flavorful in this dish. Basically, any steak cut will work in this recipe and only slightly change the flavor profile. So when you find a great deal on steak, snatch it up and make this recipe!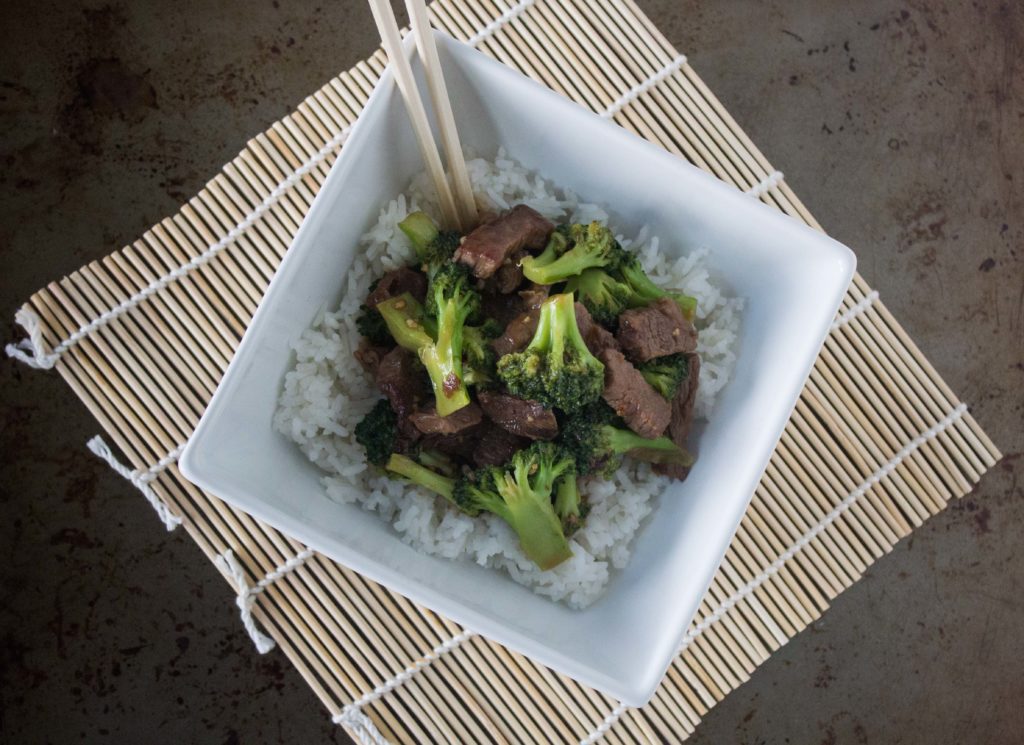 How to Make Beef & Broccoli
One of the highlights of this dish is how incredibly easy it is to whip up. In 35 minutes or less you can have a delicious and healthy meal on the table with minimal effort. I have to be honest…there are a ton of reasons why I love this recipe, but what I love the most is how great leftovers are. Sometimes I actually think it tastes BETTER the next day because the flavors have had time to meld. So what are you waiting for? Get going and make yourself some of this deliciousness!
What to Serve with Beef & Broccoli
This recipe can be a complete meal, but I recommend serving it over cooked rice. I freeze rice using this technique, so I always have it on hand for a quick and easy side dish with my meal. You could also serve this dish over your choice of cooked noodles. Easy-peasy and delicious!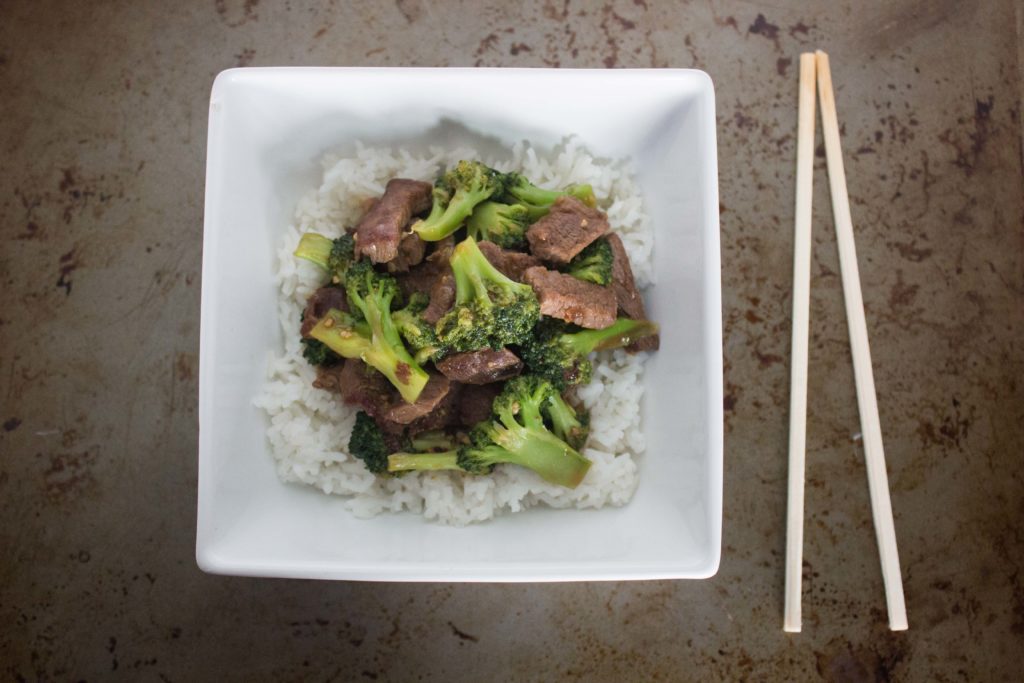 Love Chinese food that's better than takeout? Try these Asian-inspired recipes:
Beef and Broccoli
Quick & easy Chinese-inspired recipe that is better than takeout!
Ingredients
Main Ingredients
1

lb.

Steak Cut of Choice

cut in bite sized pieces

2

heads

Broccoli

cut in bite sized pieces

3

Tbsp.

Avocado Oil

2

tsp.

Minced garlic

1/4

cup

Oyster sauce

1

Tbsp.

Soy Sauce

1/2

tsp.

sugar

Marinade

(see recipe below)
Marinade
4

tsp.

Cooking Sherry

2

tsp.

Soy Sauce

2

Tbsp.

Cornstarch
Instructions
Place steak pieces in a bowl and add marinade ingredients. Mix well and place in refrigerator for at least 20 minutes.

Bring a large pot of water to a boil and add the broccoli pieces. Blanch for 1 minute, then drain the broccoli and set aside.

Add 3 Tbsp. of avocado oil to a large pan or wok over medium-high heat. Once warm, add the minced garlic and sauté for a minute until garlic becomes fragrant. Add marinated steak to the pan and cook, stirring frequently, until no longer pink, about 3-5 minutes.

Add the blanced broccoli, oyster sauce, soy sauce, and sugar to the pan, and sauté for another 3-5 minutes.

Serve immediately over rice or noodles.