Enjoy this May meal plan with a printable calendar and easy, family-friendly recipes.
Welcome to May! We're in full Spring season over here. Last weekend, my 3 baseball-playing boys had 6 baseball games in 4 days. That's not very much for some of you, but that's a lot for us. It's our busy season.
Which means that many a night my menu plan is "sandwiches" or "hot dogs at the ball field". That's just our reality. Might as well embrace it! Want a menu plan that's even more simple than this one? AND includes a shopping list? Try this one: 'Incredibly Easy 5-Ingredient Meal Plan and Cookbook' available on Amazon!
Available Formats: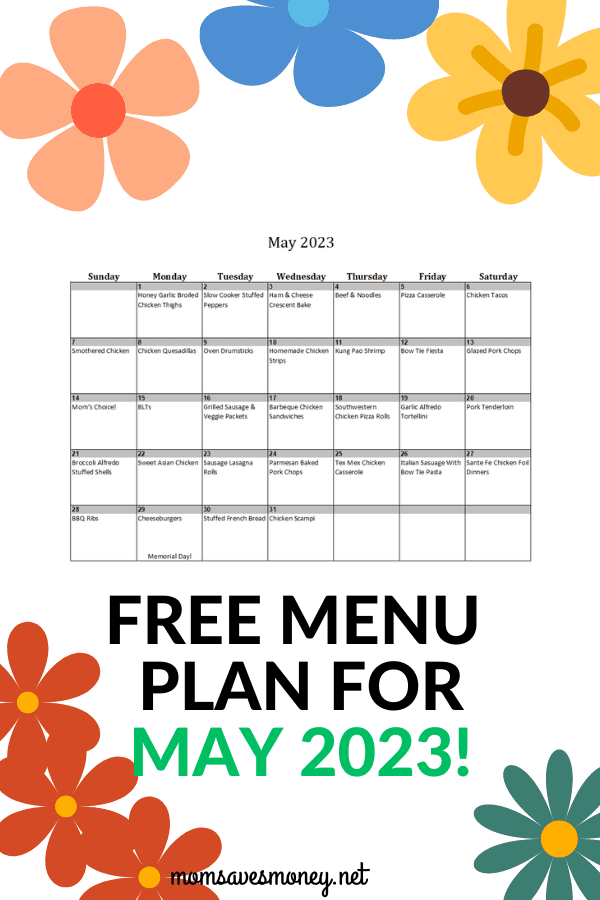 Honey Garlic Broiled Chicken Thighs
Slow Cooker Stuffed Peppers
Ham & Cheese Crescent Bake
Beef & Noodles
Pizza Casserole
Chicken Tacos
Smothered Chicken
Chicken Quesadillas
Oven Drumsticks
Homemade Chicken Strips
Kung Pao Shrimp
Bow Tie Fiesta
Glazed Pork Chops
BLTs
Grilled Sausage & Veggie Packets
Barbeque Chicken Sandwiches
Southwestern Chicken Pizza Rolls
Garlic Alfredo Tortellini
Pork Tenderloin
Broccoli Alfredo Stuffed Shells
Sweet Asian Chicken
Sausage Lasagna Rolls
Parmesan Baked Pork Chops
Tex Mex Chicken Casserole
Italian Sausage With Bow Tie Pasta
Santa Fe Chicken Foil Dinners
BBQ Ribs
Cheeseburgers
Stuffed French Bread
Chicken Scampi
Jayme is a wife to 1 and a mother to four boys. She tries to save money in the kitchen by building a smart stockpile and meal planning. While she likes to cook, she's in the stage of life where simple is usually better – she never knows how crazy it'll get at dinner time. You can find her on Instagram.
If you love this, check out more posts: