"I'm still hungry!" seems to be the neverending story in this house. With kids that are growing like weeds, we constantly find ourselves in need of filling high-protein, easy-to-make snack ideas to satisfy their little bellies. I don't know about you, but I have found myself suffering from snack idea fatigue. You know, when you get totally burnt out of always trying to come up with new snack ideas that will satisfy the kids insatiable hunger? I have been at this parenting thing so long and it's still a struggle. But I'm here today to save your tails and mine, with a list of 20 high-protein snack ideas that most kids will love!  
Probably the most important thing we sometimes miss in this snack-making endeavor, is that a lot of the options we reach for are lacking in protein and fat. Kids (and adults) need these two things to help them feel full. When I just let my kiddos snack on crackers or an apple, they end up always asking for more. When I pair those foods with some protein like hummus or peanut butter, then we're starting to get on the right track.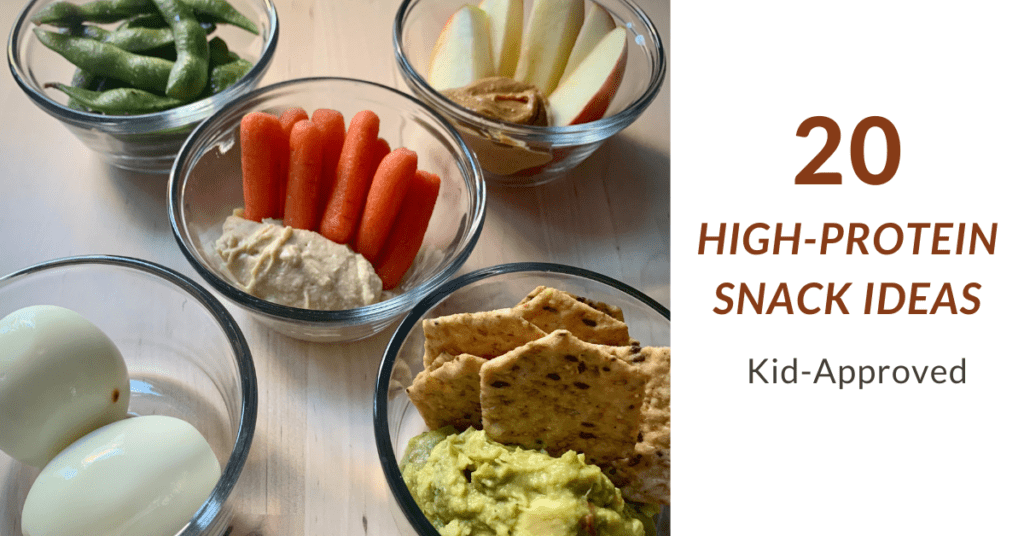 Kid-Approved High-Protein Snack Ideas
Hard boiled eggs – Make it even easier on yourself and make them in the oven! 
Berry yogurt bark – Almost looks too pretty to eat! 
Greek yogurt with honey – We like to top ours with frozen fruit and granola for extra yum factor. 
Apples with cream cheese dip – You can also be lazy (cream cheese is hard to mix, okay?!) and just do greek yogurt with a little maple syrup or honey. My kids approve. 
Veggie pizza – Even my veggie-adverse kiddo loves this! 
Cheese and crackers – A classic and easy to make gluten free with your favorite gf crackers. 
Peanut butter banana tortilla rollup – Get super fancy and slice it up for some banana sushi. 
Tuna and crackers – The real question here is do you add sweet relish, dill relish, or no relish? 
Strawberry cheesecake popsicles – Good anytime of year, but really can't be beat on a hot summer day! 
Gluten-Free & Vegan Protein-Rich Snack Options 
Blueberry chia seed pudding – This deliciousl pudding has to set for at least 4 hours, but it's a winner, and you can make a large batch to last a few days. 
Apples with peanut butter – A classic that never seems to go out of fashion. For a new flavor profile, try dipping the apples in almond or cashew butter.
Carrots with hummus – Mix it up and try different kinds of hummus! 
Multi-grain crackers and guacamole – We really like the gluten-free crackers from Costco.
Edamame – Steam the edamame with a little salt and garlic powder for a healthy snack.
Chocolate granola with milk – We make this chocolate granola all the time, but this maple cinnamon granola is delicious too!
Avocado toast – Our favorite gluten-free bread is Little Northern Bakehouse. 
Peanut butter toast – Or mix it up and try something new like cashew butter (swoon) or sun-butter. 
Celery with peanut butter – Add a few raisins or chocolate chips on top if you wanna get fancy. Hello, ants on a log! 
Chex mix – Pair this savory snack food with a cheese stick for an delicious protein boost.
Strawberry chocolate smoothie – You can't even taste the avocado in the smoothie..it's so creamy and delicious. Definitely hits the spot on a hot summer day.
Jenny is a wife and stay at home mother of two. She loves good food, and enjoys experimenting in the kitchen. When she's not busy chasing kids, you can find her digging into a good book, enjoying the great outdoors, and trying not to kill her houseplants.